The first time I saw the Sans Peur collection from luxury lingerie and resort-wear brand Âme Nue Intimates, it took my breath away. The brand itself is named after the French phrase meaning "naked soul", and each piece in this new collection does an excellent job of conveying both the power and vulnerability behind that idea. The elegant, floor-length silk nightgowns – among them the Delphine Silk Dress – were the first designs to catch my eye, but the more I saw of the rest of this collection, the more I fell in love.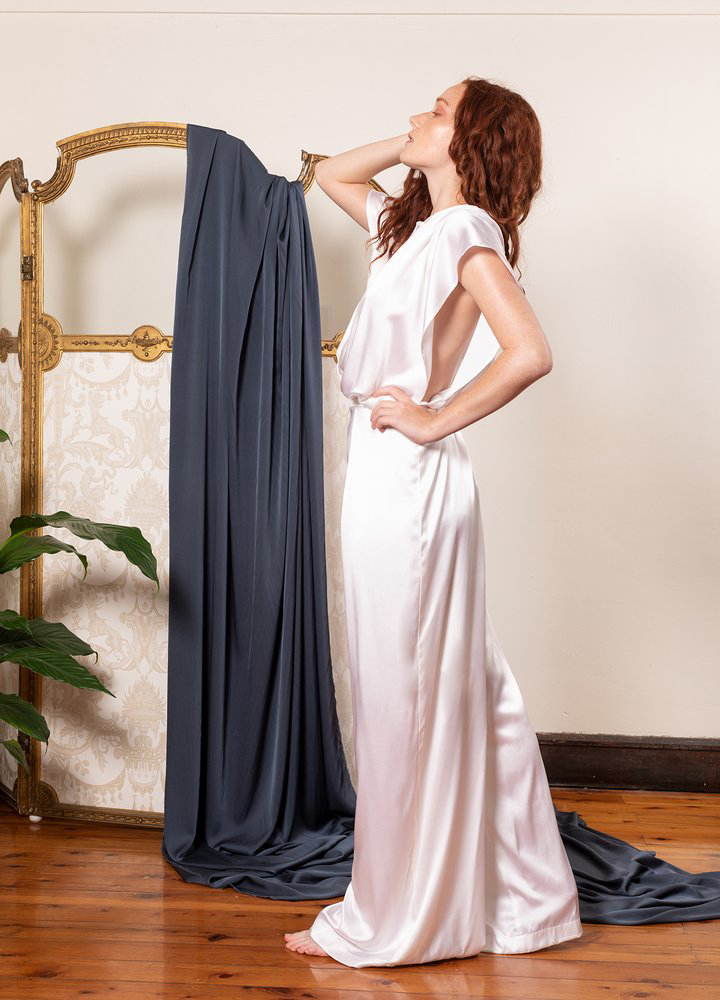 I spoke with Mira, one of the lead designers at Âme Nue, who said that this collection is inspired by the idea of a woman who is comfortable in her own skin, "unashamed and happy to lay bare her naked soul", and designs use airy silks and 'old-world' French lace to convey the lightness and natural feeling of the freedom that comes with being yourself.
Âme Nue also seeks to celebrate the duality of softness and strength that's within women. In the words of the brand: "It is for a woman who wants to live in her own power and undress her fears". The intention is to create clothing that allows women to value themselves, their bodies, their attitudes, and their presence in the world while experiencing the joy of being swathed in the highest-quality fabrics available.
From the moment you lay your eyes upon Sans Peur, the amount of care and consideration that went into each piece is apparent. You won't find anything less than the finest silks and French laces in the designs here; this entire collection looks as though it would feel absolutely divine against the skin. If part of empowering women means supporting them in feeling both beautiful and comfortable, Âme Nue has certainly accomplished that.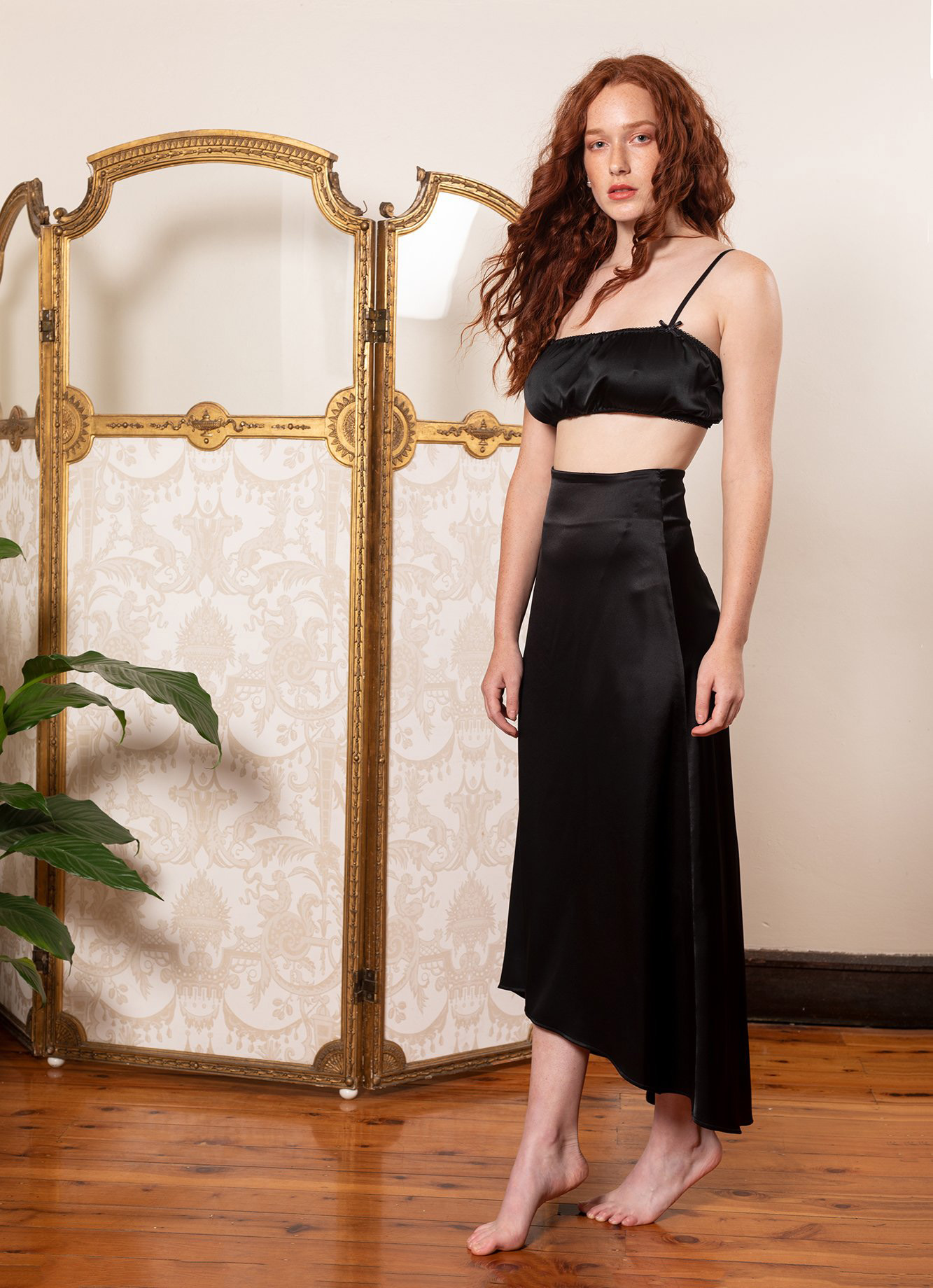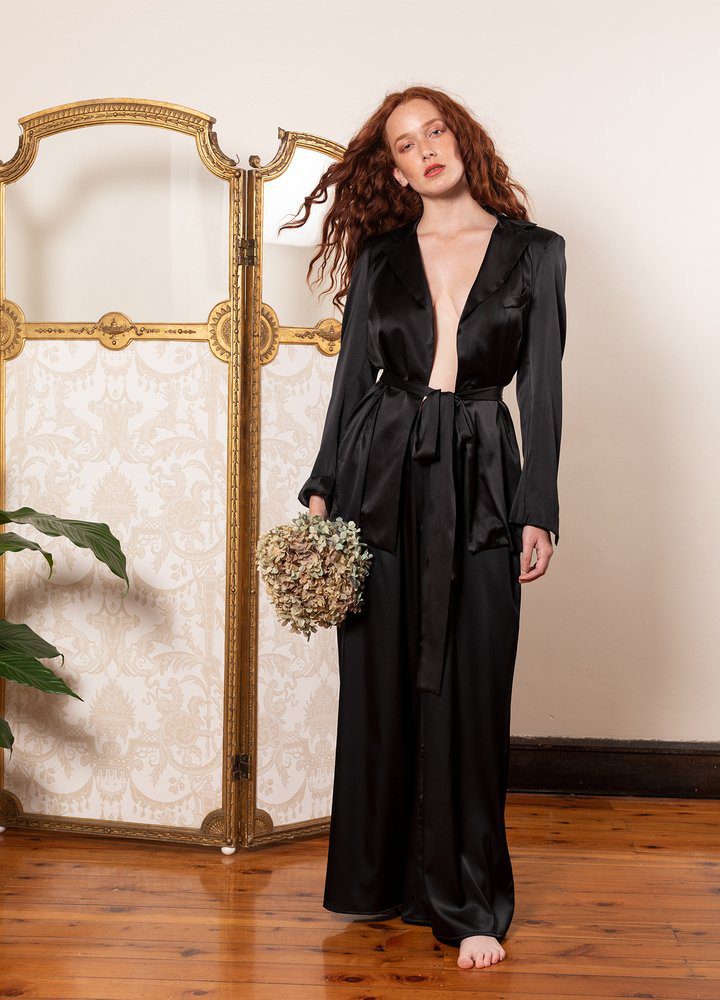 One of the best things about Sans Peur is that these designs blur the lines between lingerie and outerwear. They are versatile – just as perfect for a cocktail party as an evening at home. And with how breathtaking these designs are, you probably won't want to keep them hidden! The cuts are so flattering, and the silk falls over the body so beautifully, that no matter where you wear them, they're sure to make you feel graceful and unstoppable.
If I had to pick a favorite, it would be the Helen Silk Dress in a wonderfully mellow blue shade called 'menthe'. The delicate ruching, front tie, and modest length reminded me of a Greek chiton even before I realised it was named for the mythological princess of Troy. It certainly does look like something a demigoddess would wear, but even more fun with the modern twist of geometric cut-outs on the shoulders and waist.
Indeed, many of the designs in this collection are named after figures in Greek mythology, such as the Nephele Silk Slip Dress and the Demeter Lace Bow Knicker. The brand describes this collection as "dedicated to the women who came before us, and the women who will come after" – including, it seems, the long lost goddesses and heroines of ancient times. The draped, flowing cut of the Lyre Silk Dress in particular harkens nostaligically back to this foregone era.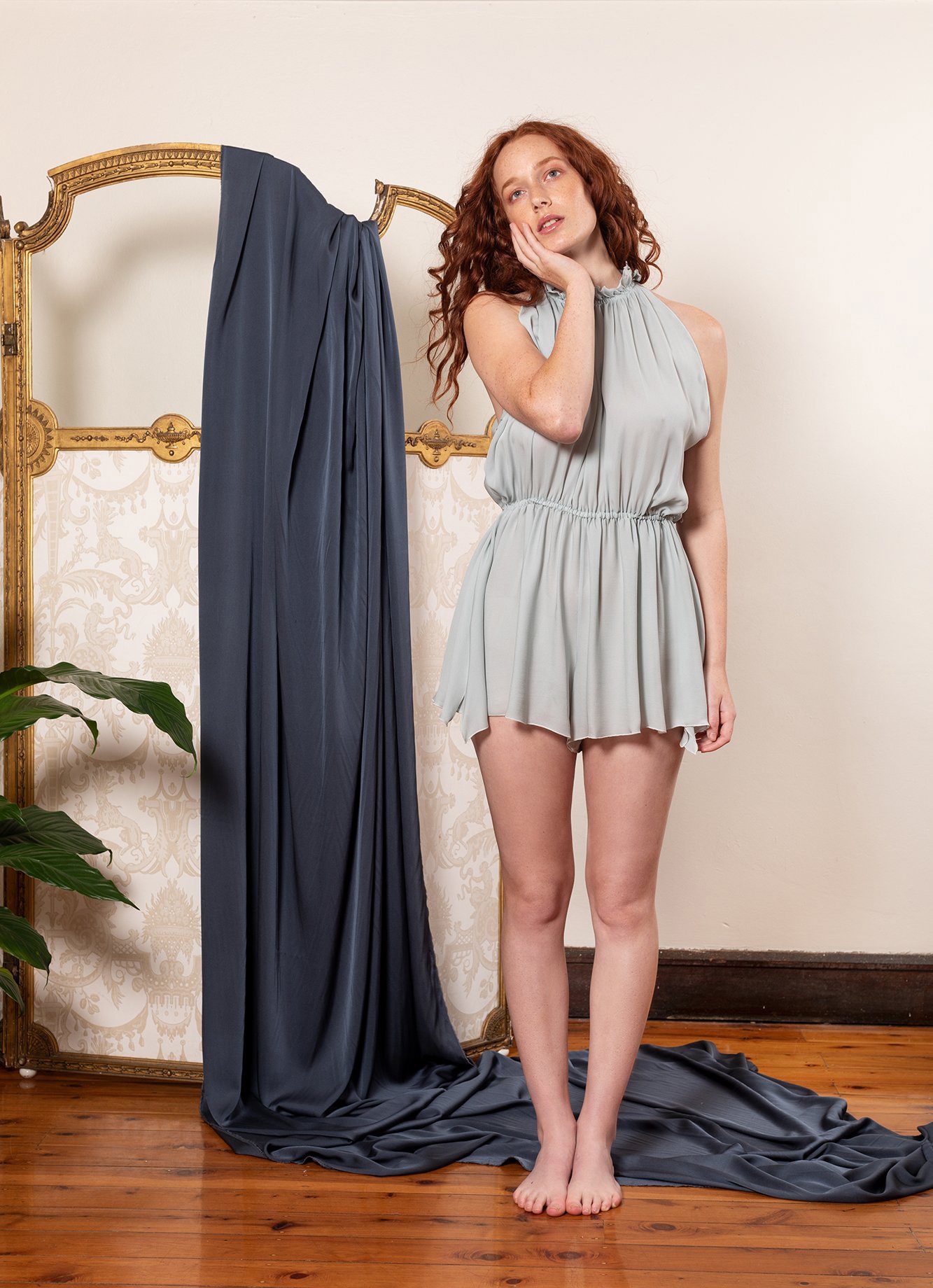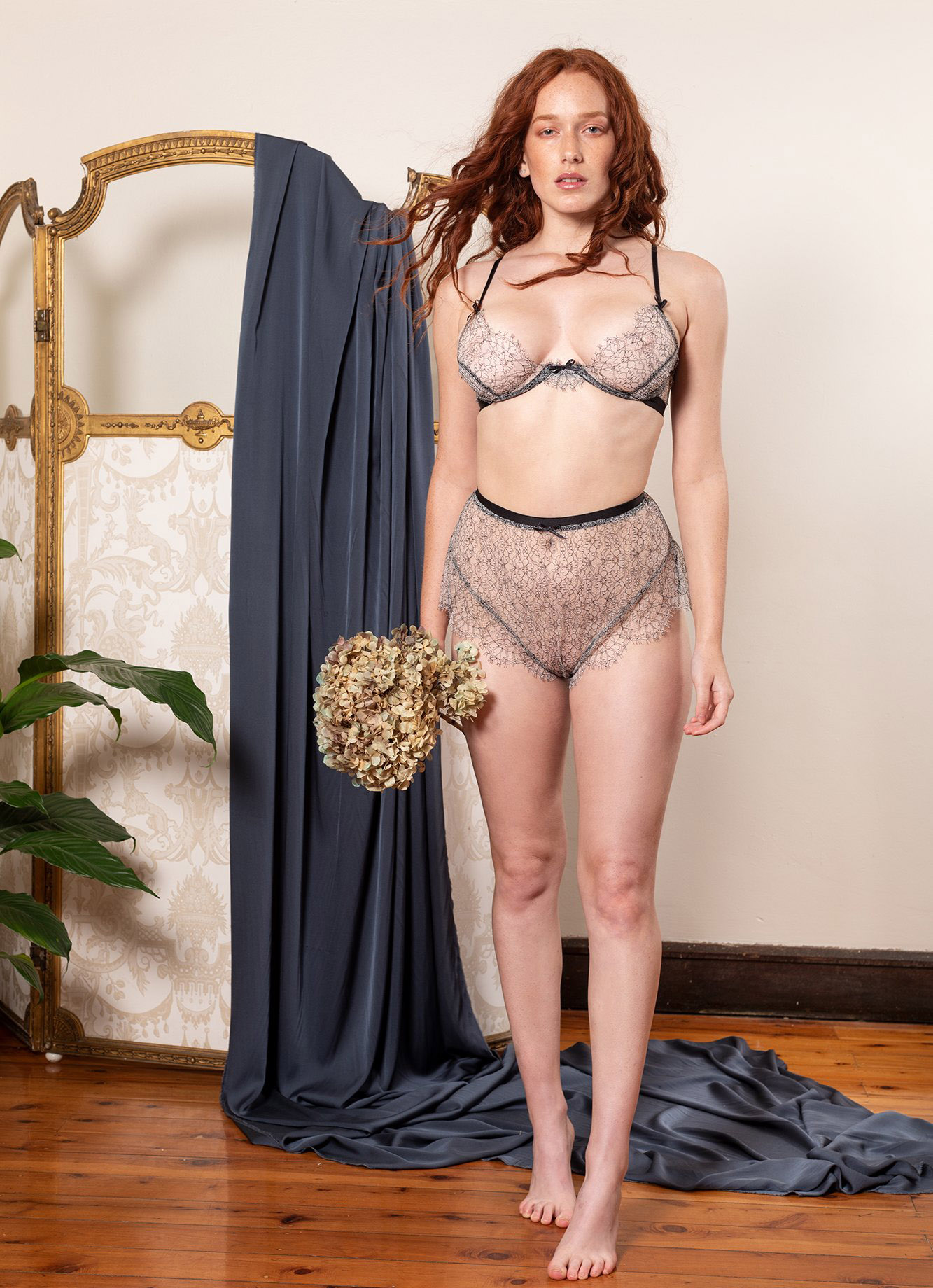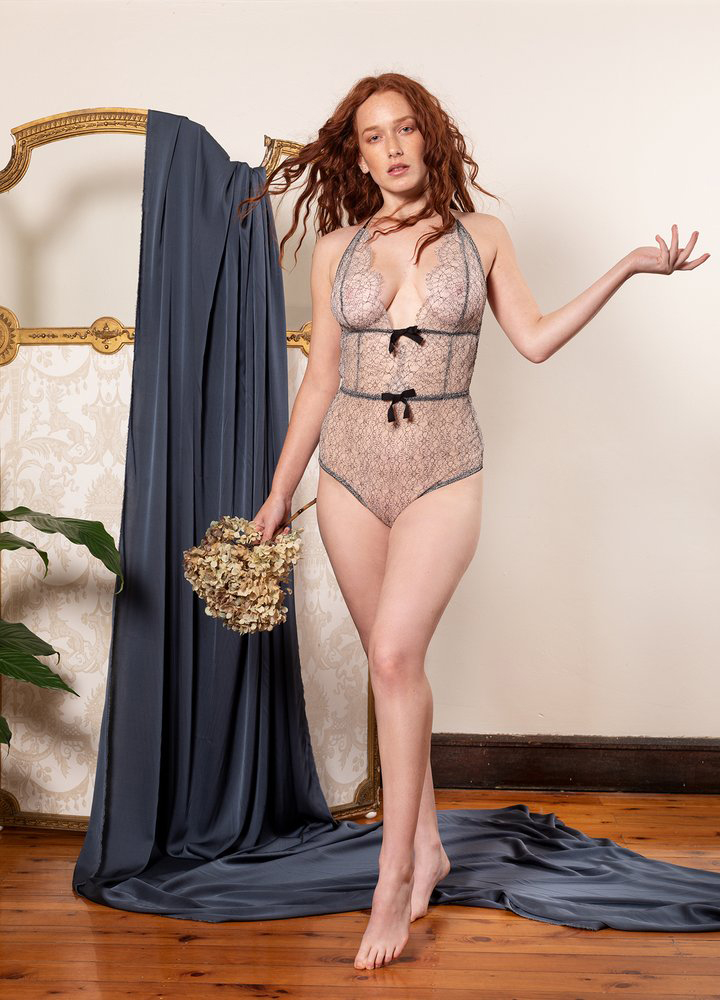 This collection is one of contrast. Sheer fabrics and exposed skin represent vulnerability, but there's also modesty with some designs covering much of the body. The Fae Dress, for example, is a midi nightgown that's lined from waist to thigh, yet leaves the bust only lightly-veiled. The Nymph Silk Dress features floor-length billowing silk that covers the front, while a low cut and narrow spaghetti straps expose the back. The extra-high neckline of the long-sleeved Cadence Silk Top contradicts its revealing transluence. And the gorgeous Genevie Dress also has a high neckline, but almost completely-exposed sides.
Likewise, each design in this collection marries vintage, even antique, inspiration with modern twists. The Pan Silk Retro Bra and matching Ariadne High Waist Knicker, with their wide elastic straps and delicate French Leavers lace panels in the front, look almost like they came straight out of the 1940s. The Roxane Silk Bodysuit takes a classic design and puts an understated spin on it via cut-outs on the sides and in the back. And with their timeless look and high quality, each of these designs will age well, so you can wear them for decades to come.
Overall, Âme Nue has done an excellent job of portraying the complexities of what it means to be a modern woman. Sans Peur balances the nostalgic yearning for the great women who came before us with the vulnerability that comes from baring your own naked soul. It's a common thread that ties every design together, creating a collection that is both cohesive and compelling.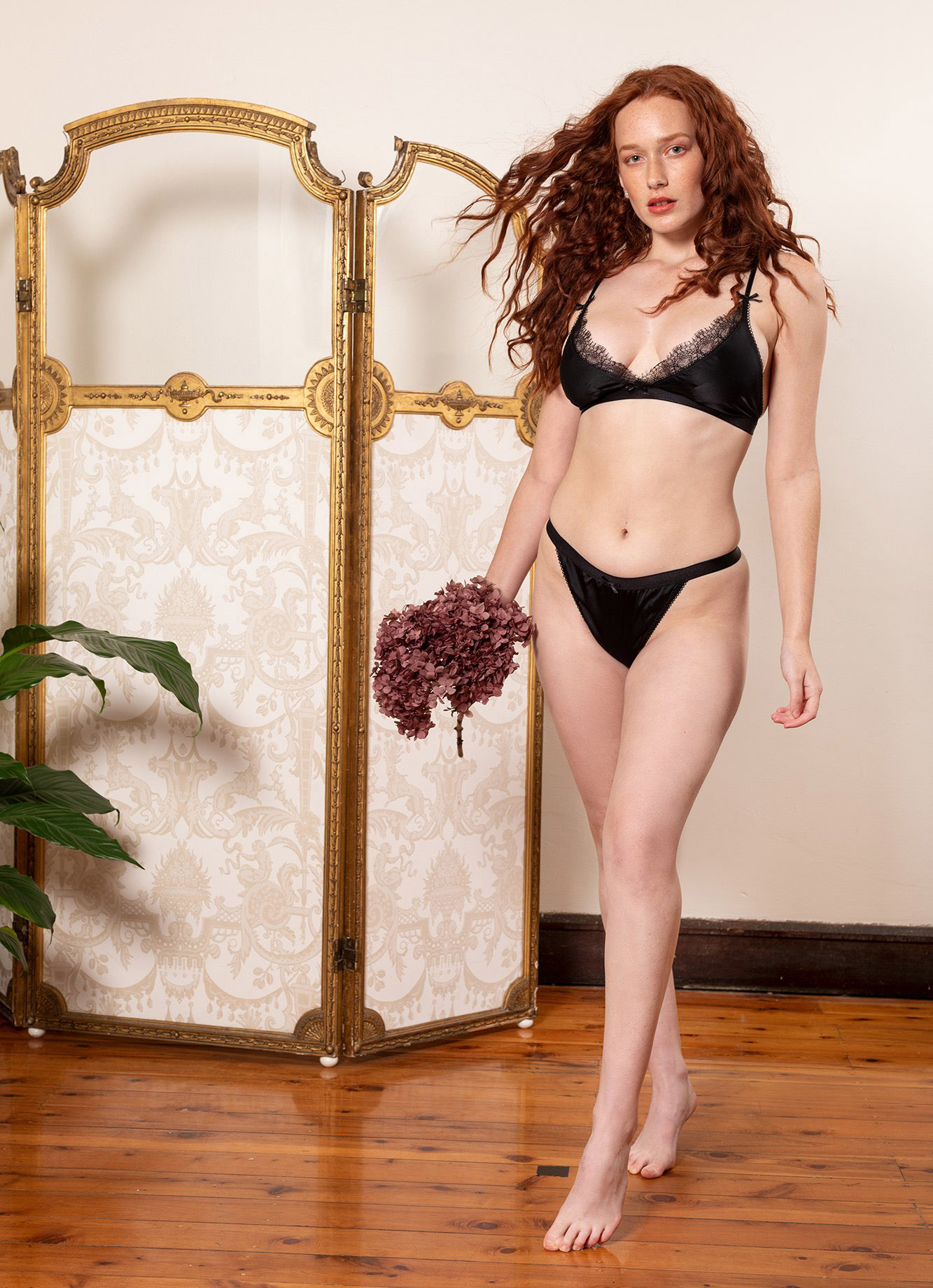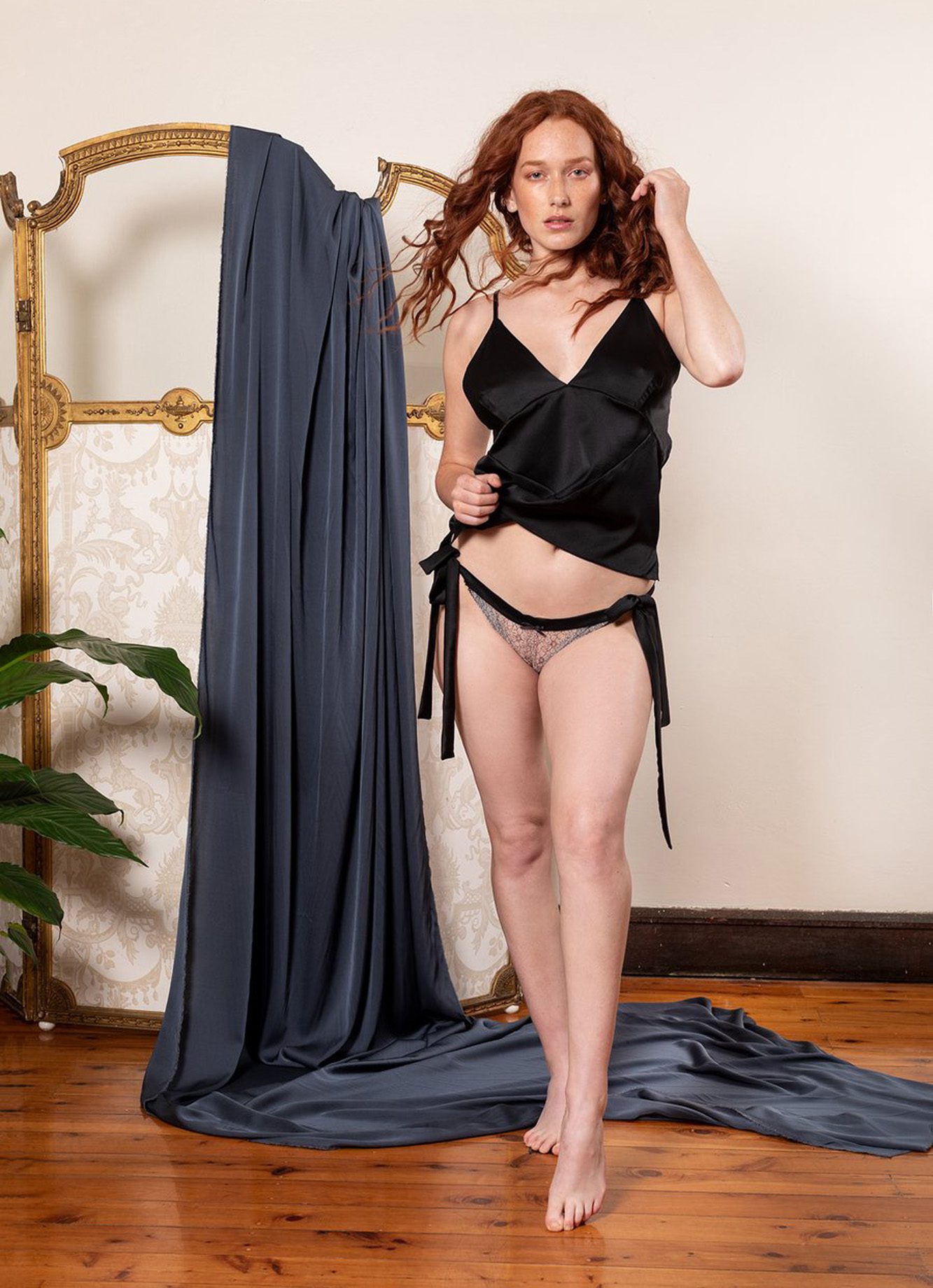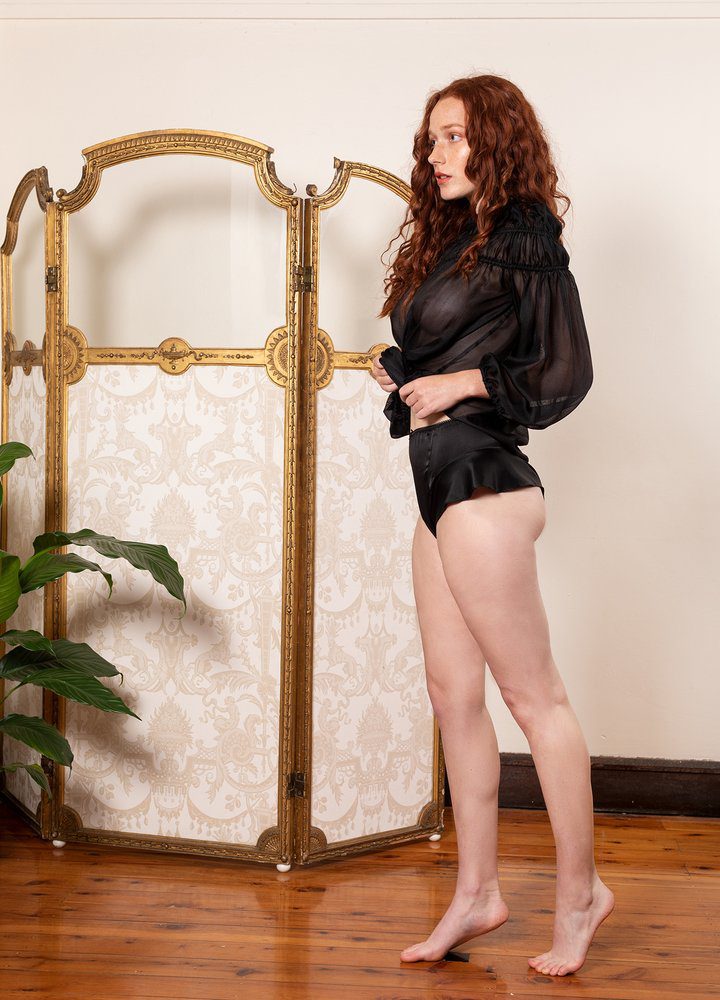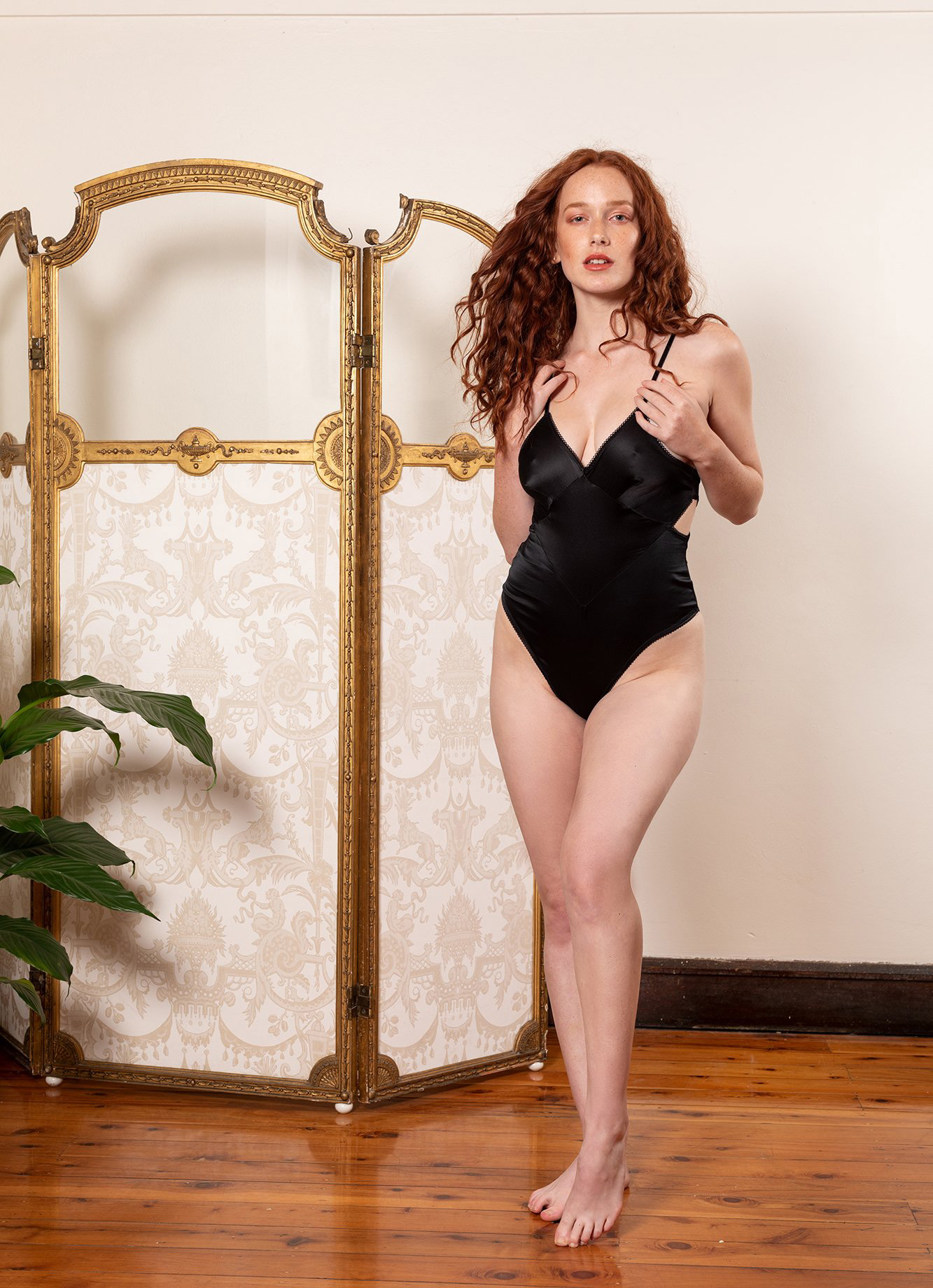 Each Âme Nue piece is designed by Polly and Mira, the duo of mothers who started the brand. Their philosophy is to take only what you need, and in return to give others something that is special and will last a long time. As such, they generally don't hold stock and almost all styles are made to order in Sydney. As Mira said: "We do it with love and for love".
Prices range from 160 AUD (~£87 / ~118 USD / ~102€) for the Anastasia High-Waist Knicker to 535 AUD (~£292 / ~395 USD / ~342€) for the Helen Silk Dress. Most of the pieces in this collection are available from XS – L while the Genevie Dress, which comes in one size, has adjustable side ties that allow for a range of sizes to fit.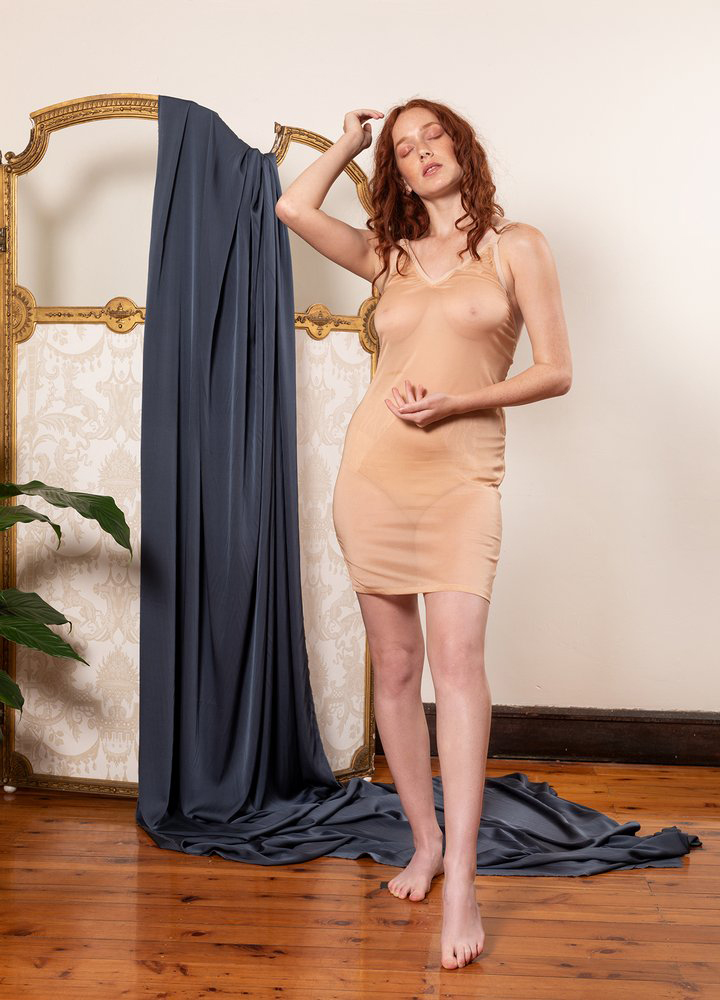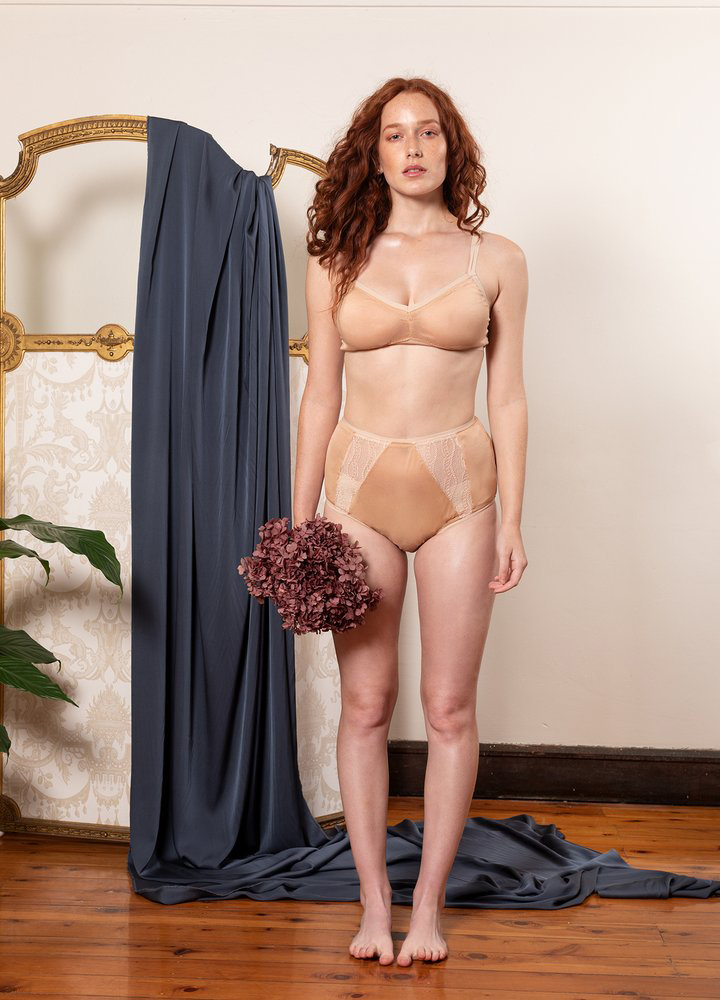 Which design in the Sans Peur collection is your favourite? What occasion would you wear it for? I can definitely see the Cadence top over an elegant bralette quickly becoming a popular evening-wear look!