A little over a year ago, I interviewed Ade Hassan, the founder of Nubian Skin, a revolutionary lingerie brand offering skin-tone lingerie specifically for black women. A couple of weeks later, Bianca Miller was pipped to the post by her co-finalist in The Apprentice Series 10, with her idea to launch a line of luxury nude hosiery in 8 different skin colours.
After decades of being ignored and unnoticed, the issue of finding skin-tone lingerie that wasn't the same ubiquitous shade of beige was all of a sudden being talked about everywhere! The response from media and customers alike has been so overwhelmingly positive over the past year that more nude-for-all type lingerie brands are starting to pop up.
Far from 'jumping on the bandwagon', these brands are springing up to fulfill a suddenly very vocal, very big demand that couldn't possibly be met by one or two brands alone. You wouldn't expect to have to shop at one brand only to buy your beige bras, after all.
Buff You Intimates is one such brand, and so far a very successful one! They have yet to officially launch, but they've already been backed by over 250 customers and exceeded their $20,000 crowdfunding goal on Indiegogo. I got in touch with founders Rae and Alex to find out more about their business journey so far…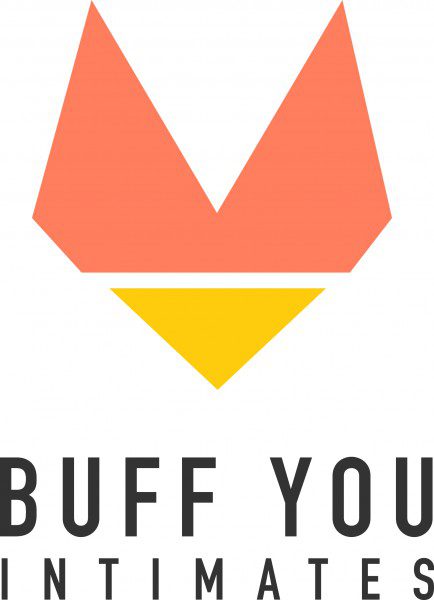 Estelle: Firstly, can you tell our readers a bit about yourselves and what sparked the idea for Buff You Intimates?
Rae and Alex: We're two best friends who've known each other since college and were shopping for nude bras for each of us one day when, what seemed to Alex a super simple task, turned into a huge debacle for Rae. We literally tried every store in the mall looking for something that even remotely matched Rae's golden brown skin and came up with nothing.
We knew that this couldn't be a problem just for Rae, or even just women with her skin tone, but for women of all shades that didn't fall into the traditional definition of 'nude'. We decided that instead of waiting to see if existing brands would fix this issue, we would roll up our sleeves and create a brand that would change the view on 'nude'. And Buff You was born.
E: Congratulations on your successful Indiegogo campaign! Why did you decide to crowdfund the business?
R & A: What's great about being entrepreneurs today is that there are so many options for funding outside of the typical venture capital track. Since we're still a small start-up, we narrowed down what options were feasible for us considering our product, size, and projected sales. Crowd funding was at the top of this list.
It appealed to us because we were in charge of everything – the images and video, the message, the marketing, communications, driving the hype, etc. – and because it gave us a direct connection to our first customers. This hands on experience meant we were solely accountable for the outcome, which was crazy successful!
Beyond that, we had the chance to add our unique voices to the campaign and see just how much our mission spoke to the needs of women of all skin tones and sizes. Being able to connect with our customer base on that level and experience such genuine support and feedback made the success of our campaign that much more meaningful.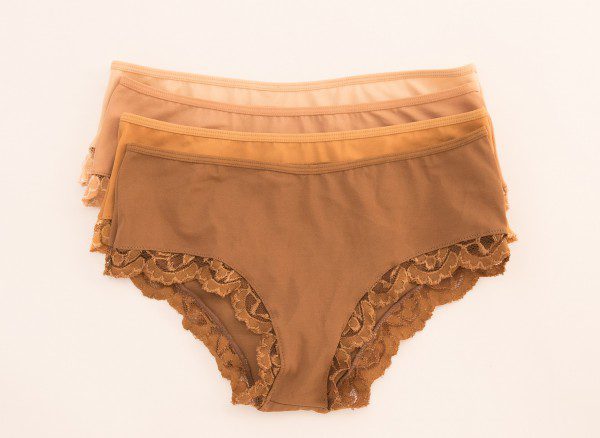 E: Some people (myself included!) were surprised that you doubled your size range before even launching – it seems ambitious! What made you decide to expand, and did you face any issues to get it done?
R & A: Almost immediately upon launching our campaign on Indiegogo, we started to hear from potential customers that were dying to buy our products but didn't see their size listed. We knew from our market research before the launch that this was a significant issue for a lot of women looking for nude undergarments that matched a variety of skin tones and sizes.
It was clear that if we wanted to be able to truly fill this void in the market, we would have to address this immediately, so we spoke with our factory and made arrangements to include larger sizes. While it was a challenge, we strongly felt that it was a necessary change to provide the best products to our customers. We are here to serve them!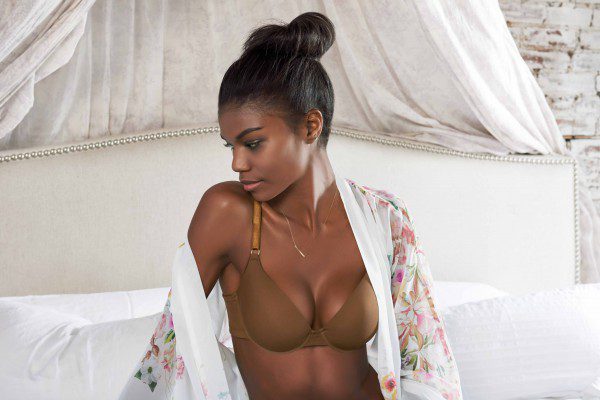 E: I'm sure you've heard of Nubian Skin who recently debuted a range of multi-tonal nude lingerie too. What makes Buff You Intimates different, and do you think there's room for more brands like this in the lingerie industry?
R & A: At Buff You Intimates, we distinguish ourselves by offering shades that cater to women of all ethnic backgrounds and skin tones. As we grow, we'll continue to perfect our color offerings to fulfill this promise to our customers. We've also worked hard to add sizes to our lineup that are not currently available in the market.
Finally, we are passionate about helping women in need. We've partnered with Win NYC to provide much needed undergarments to women less fortunate than us.
And we absolutely think that there is room in the industry for more than one brand to provide lingerie in truly 'nude' shades. Women come in many shapes and shades and we believe more options are better for our customers – they'll be able to find something that's a perfect fit and color for them.
Competition will only drive us to continue evolving our brand and improving our products to answer the needs of our customers.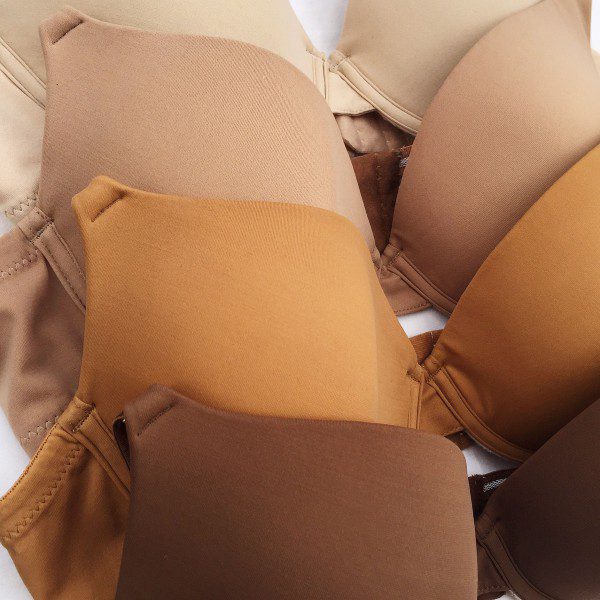 E: What has been the most fun or exciting part of launching Buff You Intimates so far?
R: Honestly, the most fun has been turning my already strong friendship with Alex into a viable business! She's so smart and has strengths that compliment mine, so it's been really enjoyable and an exciting ride. Second to that, becoming part of the 'fashion industry' has been pretty thrilling, especially given that I have a science background.
A: That's so sweet, Rae! I have to agree – starting a business is risky and tough and thrilling and empowering and frustrating. It's a roller coaster. But I'm lucky enough to be doing this with a friend whom I trust and who is honest and as excited and passionate about succeeding as I am!
E: And the most challenging part?
R: Neither of us has business degrees, so there are some basic concepts that we had to really take time to nail down, all the while maintaining extremely demanding full time jobs and graduate school throughout the entire business development process. I'll also add that I had a baby over the summer, and it wasn't easy to take conference calls with a crying baby in my arms!
A: The most challenging bit has been trying to learn everything about a new industry from scratch as fast as we can. We're constantly trying to stay ahead of issues and anticipate our next move while being very new to the fashion business. Luckily we've connected with some amazing resources and built an incredible team, with the experience and knowledge to help us bring Buff You to where it is today.

Practical lingerie in more ways than just one!
E: What are your hopes and dreams for the brand? Any new products to come? Where would you most love to see it stocked?
R & A: Short-term, we want to make our product more accessible to all women – be in more stores, more online shops, appear on more blogs, etc. We would love to see our product at a major national chain here in the US because it's important that our customers see and feel the products to find the perfect fit and trust in our brand. We also have some new products waiting in the wings that we're eager to unveil early next year.
Long-term, too many to name! Being an entrepreneur is addicting – as soon as we solve for one problem, we realize there are 10 more out there yet to solve. We have a long wish list of ideas we can't wait to start working on!
E: Where can our readers buy Buff You Intimates now?
R & A: At the moment, we are still accepting orders via our Indiegogo site, but soon we will be accepting pre-orders on our website, www.buffyouintimates.com, in advance of opening our online store early next year.
I hope you enjoyed this interview and I'd love to know what you think of Buff You Intimates, as a brand concept and what you think of their actual designs!