A couple of weeks ago a new lingerie brand popped up on my Twitter feed that really caught my eye, so I got in touch with the designer Heidi to see if she'd be interested in talking to me about her designs.
Called Glitter and the Moon, the brand specialises in retro-inspired satin loungewear. Heidi's debut collection, which launched earlier this month, comprises a robe, a bed jacket and French knickers, all available in red, black or cream. Prices range from £25 to £125.
What really sets these pieces apart for me though is the gorgeous embroidery – each design (and there are quite a few to pick from) is designed by Heidi, embroidered on at her studio and then hand finished with sequins and beads. I particularly love her intricate Lucky Star embroidery shown below!
Head designer and founder of Glitter and the Moon, Heidi Cannon
Estelle: Congratulations on your recent launch! What has it been like getting Glitter and the Moon off the ground?
Heidi: Thank you! Honestly it's been pretty hard work, but I think like all independent, creative businesses it tends to take longer than you ever envisage! It's great to finally launch and have lovely positive feedback – it's been really encouraging.
Just Rose french knickers and bed jacket
E: Tell us a little more about your brand. Who do you envision wearing Glitter and the Moon?
H: Glitter and the Moon is all about adding a bit of vintage-inspired indulgence and having fun with your clothing, the pieces are meant to be worn and enjoyed. I want the wearer to have the ooooooh feeling from when they open the tissue-wrapped parcel to slipping it on and prancing around decadently! It doesn't matter whether you're wearing it whilst preparing for a night out with your girlfriends, your wedding, a date night in or just to lounge around on your own watching films and eating chocolate.
And it's ageless too. Yes, not everyone is going to want to wear french knickers and pasties but they might… and they should if they want! It's all about how we feel and style it ourselves.
Just Rose french knickers
E: How has your background in fashion come in handy for this new venture, or is designing your own brand a totally different ball game?
H: It definitely came in handy, this combined with running my own stationery business for the last few years has given me a great standing. But it's been quite different too and there are new challenges… daily!
Lucky Star bed jacket embroidery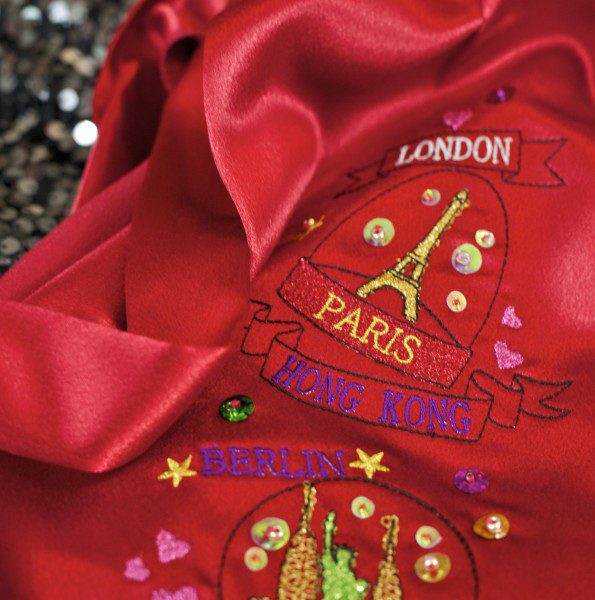 Snow Globe Cities bed jacket embroidery
E: Glitter and the Moon is all produced here in England, which I think is great. How important was it to you to keep manufacturing local?
H: It is important; as well as knowing all the garments are made ethically and to a high standard, I think it's great to support garment manufacturing in the UK. It also means for smaller businesses like mine we can have smaller runs and test the market with new ideas.
Burlesque Cocktails robe
Just Rose robe
E: There's definitely something retro about your designs! Are you inspired by a particular era, or what else inspires you?
H: I do love vintage / retro style. There's something a little bit mystical and magical about it, in particular the 1950s if I had to choose. My other list of inspirations could go on forever, from the amazing colours of old shop signs and peeling paint, to other creatives, Wes Anderson films, cake blogs and little daily things. It can be quite random, often I'm not sure where an idea comes from either!
Lucky Star robe
E: What will 2016 have in store for Glitter and the Moon?
H: I'm really excited to bring new embroidery designs and products in for 2016! I want to add more gorgeous loungewear pieces, in particular some fabulous nightdresses and knickers are in the planning. I'm also working on a luxury collection of pasties which I can't wait to share soon.
Lucky Star bed jacket and french knickers
Snow Globe Cities bed jacket and french knickers
E: Thanks for speaking with me! Where can our readers find you online?
H: Thank you too x
If you'd like to check out the shop, the website is www.glitterandthemoon.co.uk and come join us via Twitter, Instagram, Pinterest and Facebook.
I hope you've enjoyed this interview, and I couldn't resist picking a little something for myself (tip: there's 20% off until tomorrow with code BLACKGLITTER) so I'm sure a review will follow soon if you'd like to learn more!