Today I'm getting a bit ahead of myself by introducing a brand that hasn't actually launched yet, but I just couldn't wait to share this awesome lookbook with you! The brand is the wonderfully named Peaches and Cream, founded by London College of Fashion graduate Grace Jenkinson who has previously worked at Bordelle and Coco de Mer. Though there's no official launch date yet, Jenkinson is currently taking one-off and custom orders so if you see something you absolutely must get you mitts on soon, drop her a message on Instagram.
Peaches and Cream is just as delectably sweet as the name suggests. The debut collection features only shades of light, sugary pink, in a vast array of materials from satin to sequins and mesh to marabou puffs. In a world where most lingerie aims to look sexy, Jenkinson has set out to create something that's simply fun to put on, for a woman to wear for herself 'just because'.
It's girly for sure – how could it not be with all the pink, the sequins and the love hearts? – but it's modern girly. There are no bows or lace, those trappings of most ultra-feminine lingerie. Instead, there's latex with cutaway hearts and graphic pleats in place of ruffles. Jenkinson's inspiration comes from, amongst other things, 90s nostalgia, My Little Pony and all things pastel and kitsch, and it shows!
The piece that first caught my eye on Instagram, the one that made me click through to see more of her stuff, is the simple but lovely leg harness. Made from thick satin elastic with attached garters and bold pleat detailing, it's a pretty and fun new take on the strappy lingerie trend.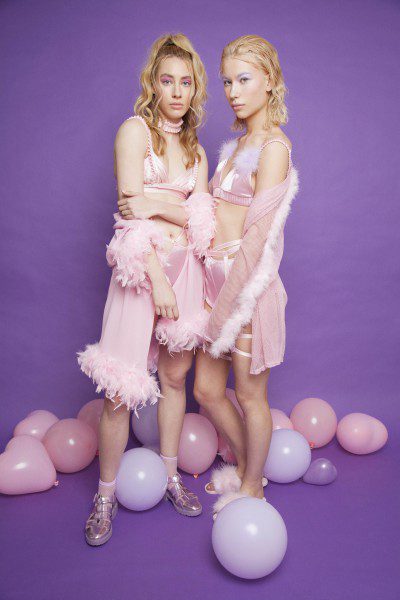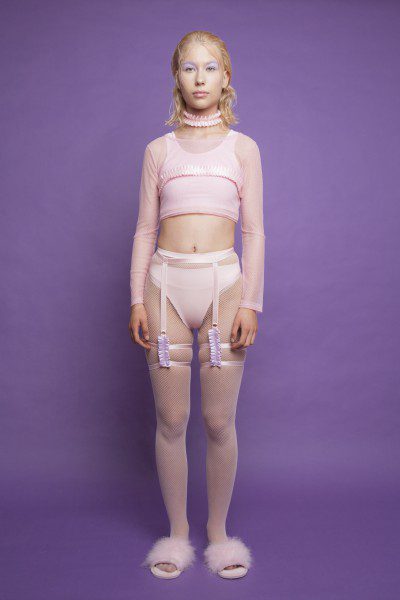 In the lookbook, it's paired with satin shorts with an elastic waist strap which looks like a design that's been done a million times before, until you see the back! It's not shown in any of the photos here, but you can see it on Instagram – a giant, heart-shaped cut out.
Some of my favourite pieces in Peaches and Cream's debut collection are the sequinned ones – the bra and knickers with cheeky, hand-sequinned hearts for modesty, and bralette set with its on-trend, 80s style cut. Design-wise though, one of the stand out pieces is the draped latex crop top with all its heart-shaped holes (featured at the top of this post). It looks like it could have stepped right off the catwalk runway at Meadham Kirchhoff or perhaps Christopher Kane, and would be the perfect layering piece to show your Peaches and Cream purchase off to the world.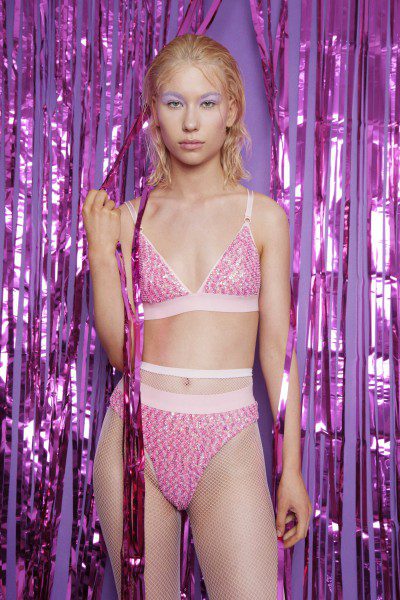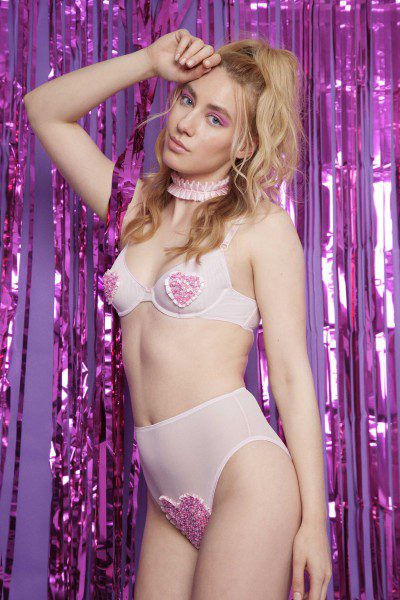 Speaking of purchases, I think the prices are very reasonable for such unique, handmade designs. Knickers start at £30 and go up to to £90 for the high-waisted mesh ones with the hand-sewn, sequinned heart. Bras cost £50-150, the most expensive one being a 3D printed cone bra (not pictured) that's made to measure just for you. Handmade latex pieces range from £40-85.
The Peaches and Cream size range goes from XS-L for knickers, harnesses and tops. The bra size range is somewhat limited with 32A-34D available as standard, but Jenkinson says she can take custom orders in any size.
What do you think of Peaches and Cream's debut lookbook and collection? Which is your favourite piece?