Image courtesy of The Underpinnings Museum
. 

Photography by Tigz Rice Studios.

Have you heard about The Underpinnings Museum? Three lingerie aficionadas have teamed up to launch what I believe will be the world's first ever online museum dedicated solely to underthings. The founder is Karolina Laskowska, the award-winning young lingerie designer and occasional blogger, whose own work has been inspired by some of the pieces in her extensive vintage lingerie collection. She's joined by Lori Smith, a researcher of and regular academic speaker on the topic of lingerie who has spoken at the likes of the Victoria and Albert Museum, and Tigz Rice, a renowned lingerie and boudoir photographer whose job it will be to make this digital museum as close to the real thing as possible for the viewer.

I did wonder when I first heard about the project whether an online museum could really compare to a traditional one, but Rice's photography beautifully captures the finer details of the garments in the preview shots here. It's not like you get to see the lingerie really up close in a regular museum anyway, it being locked away behind glass. This crisp, close-up photography may even add another dimension to the experience that you just don't usually get – part of The Underpinnings Museum's mission is to document things like the garments' interiors and unique construction details so the viewer really gets a sense of how each piece was made.
Lace detail on a 1930s Kestos bralette. Image courtesy of The Underpinnings Museum. Photography by Tigz Rice Studios.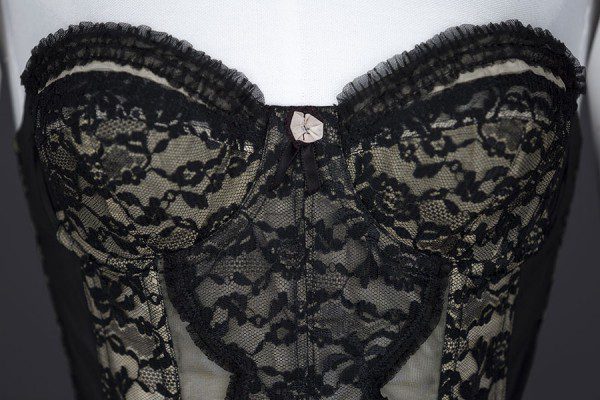 1950s lace merry widow. Image courtesy of The Underpinnings Museum. Photography by Tigz Rice Studios.
Indeed, as well as the imagery, each garment at The Underpinnings Museum will be accompanied by extensive technical information such as the fabrics and construction techniques, as well as looking at things like the garment's origin and its historical significance. For the lingerie lover or fashion historian, it sounds like a dream come true. Did I mention that the museum will be entirely free to view?
For the contour design student or the home-sewer, the museum promises to be even more of a resource because, over time, Laskowska is hoping to take patterns from many or even all of the most interesting pieces so that they can be recreated by anyone. If that sounds like something you'd love to do, then you'll be glad to know that you can already purchase a pack of three bra patterns taken from pieces that will be on The Underpinnings Museum, including detailed technical illustrations and high-res images of details from the original garments.
This pack is just one of many rewards available when you pledge a donation to the museum via its Kickstarter campaign, which just launched a few hours ago and is already at the time of writing close to 10% funded. Other rewards include access to a behind-the-scenes blog that will document the launch of the museum for a mere £5, a 2017 calendar for £25 and much more. If you've got £1000+ to spend, you can even commission a custom, luxury lingerie set made by Laskowska herself.
If you're a lingerie brand reading this, then there are options for you to get involved and be a part of The Underpinnings Museum. The museum won't just be about antique and vintage underwear, but will showcase contemporary designs too. You can contact info@theunderpinningsmuseum.com to enquire about submitting a garment or sponsoring an entire exhibition.
I for one am super excited about this project and can't wait to start learning more about the lingerie of the past (which, for all my love of lingerie, I don't know a huge amount about) and of course poring over images of pretty things. Now, I'm off to choose my pledge!
What do you think of the concept of an online museum? Are you excited to start learning more about the history of lingerie?