Disclosure: This blog post contains affiliate links.
If you haven't heard of Lacegrenade, you're missing out on one of the most promising new independent designers on the market. Annalisa Tomassetti, the one-woman show behind the brand, creates dark, dreamy styles that fuse sexiness with wearability.
I was first drawn to Lacegrenade back when there were only a handful of products in the shop. As soon as I saw the Deadly Nightshade set – a gorgeous black spiderweb design – I knew this was a brand to keep my eye on. In the past year, Lacegrenade truly came into its own as nearly a dozen new styles entered the shop. Designs such as Ivy (pictured below) and Dana in particular caught my attention; I love the sexy cut-outs and strappy details.
I wanted to go behind the scenes to find out more about the inspiration behind the brand, so I interviewed Annalisa to ask about her creative process and how she came to design lingerie.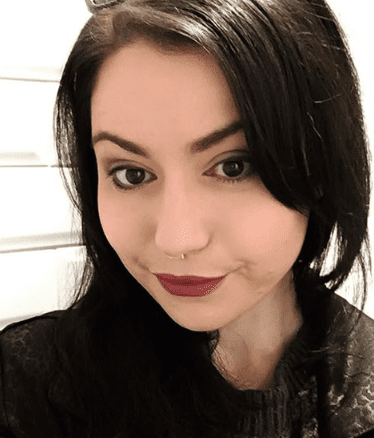 Lacegrenade founder Annalisa Tomassetti
How did you learn to sew, and when did you realize it was a passion?
Designing was a building passion for me. I first learned to sew when I was about 21 doing short courses and local sewing schools. Then when I was about twenty-six I got into the Sydney fashion TAFE [Technical and Further Education] course. I studied there predominantly part-time while I worked full-time, and that's where I learned the bulk of my sewing. This was when it solidified for me that this was definitely a path I wanted to go down.
But what originally got me interested in sewing and fashion was meeting a group of girls at a nightclub when I was 21 who were corset makers. They told me about what they made and how much they enjoyed it, and it really sparked my interest in creating things with my hands, specifically fashion. Initially that's what I wanted to do, corsetry and lingerie, but I didn't have a lot of confidence in myself so it felt like such a pipe dream. During the course of studying at TAFE I questioned whether I wanted to do clothing or lingerie or both, but I settled on lingerie. A lot of what I learned from designing lingerie is self-taught from books and experimenting.
When I was trying to figure out what I wanted to do, I read up about a lot of Australian designers. I think our TAFE teachers were trying to give us hope but prepare us for the worst. They weren't shy about telling us how hard it is to be a designer, especially an independent one. A lot of them were telling us to just get jobs but I decided to do my own research about designers who were successful, just to prove to myself that it is possible. If these people can create something in an industry that is apparently impossible to create in, what makes me any different?
Blue and White Floral Lace Bralette, AUD$50 (approx. £31 / US$38 / 35€)
Blue and White Floral Lace Brief, AUD$55 (approx. £34 / US$41 / 39€)
What made you decide to start an Etsy shop?
I actually quit my job to focus on designing full-time. When I left school I worked in corporate jobs to pay the bills and figure out what I wanted to do with my life, but when I finished studying at TAFE I decided I needed to take a leap and do this. I just kind of decided I was going to stop working for a while and really give this everything, which was terrifying. I thought, this is scary and it's going to take a lot of time, but I was worried that if I didn't push through it I was going end up getting talked out of it, or talking myself out of it.
Setting up a shop, even just an Etsy shop, needs a lot of time and concentration. So basically I quit my job and had a few months where I really focused on that. I am hoping to move away eventually and have my own website, but there are a number of things I want to knuckle down with first and having a storefront already set up takes a bit of workload off. So I can focus on other things, like improving my designs and creating more of the garments I want to create, until I have my own website.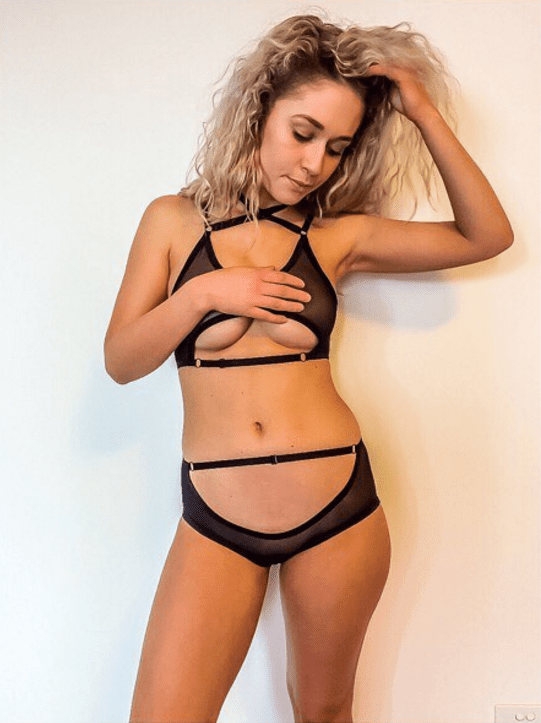 Ivy Black Cut-Out Bralette, AUD$55 (approx. £34 / US$41 / 39€)
Ivy Black Cut-Out Brief, AUD$50 (approx. £31 / US$38 / 35€)
Which lingerie brands are your personal favorites?
I really like Agent Provocateur, mostly because I love the fabrics they use. They are not fabrics I would expect to see in a well-known, mainstream brand. I also love Sugar Lace Lingerie; that really girly lingerie screams nostalgic youth, and I just think it's gorgeous. And Agashi by Christina O, I love her sailor moon sets. She did a Little Red Riding Hood cape at some point which I thought was really cool. One of the mini-collections I made while in TAFE was inspired by fairytales, so when I saw that I just thought it was amazing.
And of course I can't ignore Hopeless Lingerie, and everything Gaby has done as a designer, particularly in Australia. For her to have built up a company and a business, and to have the momentum she's got, is inspiring for me, and of course her designs are incredible.
Black Hearts Club High-Waist Knickers, AUD$38 (approx. £23 / US$29 / 27€)
Where do you see your brand in five years?
In the future what I'm really aiming for is to be stocked in other places, internationally and in other lingerie stores. I'd also really like to have my own storefront, even if it's just online. I really do love making clothing as well as lingerie, but I sort of stepped away from it so I can really focus on and understand lingerie. Now that I'm increasing my knowledge and feeling comfortable with lingerie – I'm still not at the level I want to be at, but I know I'll get there as I keep going with the momentum I have – I would like to start creating sleepwear.
I also want to work with larger sizes, not just A-E cups, and as a result would be working with things that give more support, like underwire. In the next five years I'd really like to have expanded the products that are available to people and also just be more available, whether through my own website or through actual storefronts, and basically be more recognized as a prominent brand in the industry.
Black Floral Lace Crop Bralette, AUD$45 (approx. £28 / US$34 / 32€)
Black Floral Lace High-Waist Knickers, AUD$35 (approx. £22 / US$26 / 25€)
Where do you draw inspiration for your designs?
It's funny because a lot of the things I hear other designers say "oh, you shouldn't do this for inspiration" about are exactly what give me inspiration. One of the things I've often heard is not to look at the fabric, that you should come up with your design and then find the fabric that suits it. But I really find a lot of inspiration spending an hour and a half in a fabric store, and I'll just go through fabrics, look at them and think, how would I make this? How would this look on the body, around the bust and on curves? How would it feel for someone to lay in this and feel comfortable?
The other thing a lot of people say it to not to look at designers, which I also don't agree with. That's like saying painters shouldn't look at other paintings—if you love the medium, you're going to want to look at other people's work as well. And I'm not talking about only other lingerie designers, I look at even furniture designers, that sort of thing – design in itself is an inspiration.
Aside from that, generally my biggest inspiration is women. Women I know, women in film, women who I looked up to as a teenager. Some of my idols as a teenager were Drew Barrymore, Courtney Love, Christina Ricci – a lot of the 90s rock children, women who are strong in themselves and are really empowering. I think that when it comes to lingerie, there's this idea that you can be sexy just for yourself, feel comfortable in your own body, love your own body, and these women embody that.
So you draw inspiration from independent women?
Basically, yeah. I look at them and I think, what would they want to wear? What sort of style do they have and how would I be able to incorporate that into my designs? Would I think of them if I saw this item, could I imagine them in it? That sort of thing.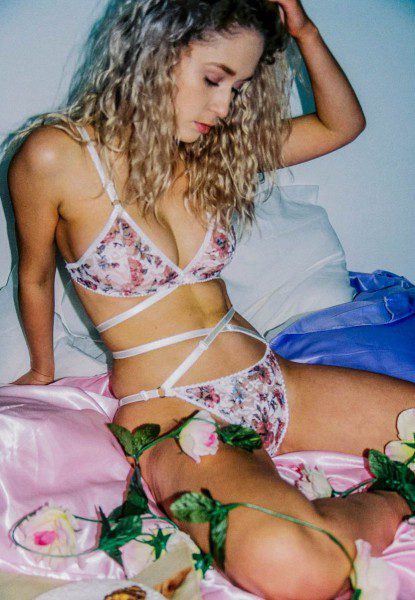 Sprite Floral Lace Bralette, AUD$60 (approx. £37 / US$45 / 42€)
Sprite Floral Lace Brief, AUD$55 (approx. £34 / US$41 / 39€)
Usually how many prototypes does it take you to settle on a design?
For most designs, I would say a minimum of three just to make sure I'm as happy with it as it can be. I also create different prototypes to make sure it caters for all types of busts. I have a mannequin that I would say is about a B cup, and I'm an E cup, so usually I'll make one in a size that suits her and one in my size. I try it on and I make sure that it looks just as good on me, as someone who's got a bigger bust, as on someone with a smaller bust.
Experimenting is definitely really important, because not every single thing you come up with is going to work perfectly the first time, so you need to allow yourself to fail, whether it's once or twenty times, to get an end product that you're happy with. There are definitely things that I've done and thought, that didn't work at all. But because of that I've been led somewhere else and found a better design.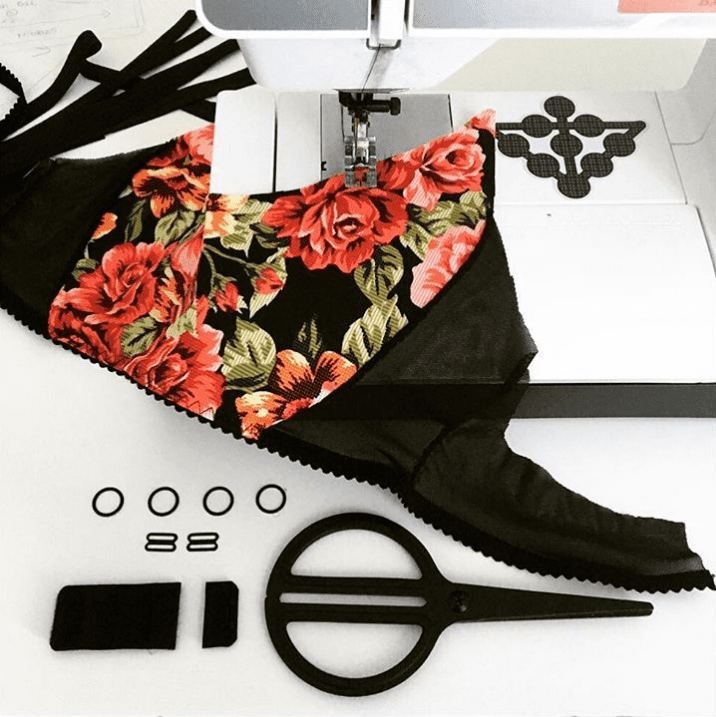 A floral Lacegrenade bralette in production
Is there anything else you want people to know about the brand?
This year I would like to focus on incorporating my brand into some charity work. I'm a big supporter of animal rights and of women's rights, so I would like to somehow get involved with those issues, whether it's by donating a percentage of sales or just by getting the word out.
I also try to avoid using materials that are not cruelty-free. I very much don't want to use leather or silk in any of my work, because I don't agree with the processes through which those materials come about. I'm getting to the point now where I want to start making a bit more noise about these things, because my brand isn't just like, "hey, here's lingerie, feel good about yourself". There's nothing wrong with making people feel good, but I want to do more. I think anything a business can do to help the world we live in is more of a responsibility than a choice.
As a special treat for readers of the blog, use code ESTYBLOG15 for 15% off Lacegrenade until the end of January!
Eliza.