Disclosure: I purchased the lingerie featured here myself. Links with a * are affiliate links.
My love for Playful Promises goes back several years to the first time I saw a pair of their harness knickers – lingerie + irreverent religious iconography? Be still my heart.
Unfortunately, the brand's size range at the time was not designed to accommodate my hips and butt. I sighed and moved on, vowing to revisit the brand if I ever took up distance running  or caught a tapeworm. Imagine my delight when the brand released its Curve collection* in the summer of 2016 and I had to do neither of those things!
Here I'll be discussing some of my favorites from the line, then using the traditional Esty review format to share my thoughts. Read on, and feel free to hit the comments with any questions about the line.
The Pieces
Candace Curve Bra and Brief* (bra no longer available)
This is the look that first motivated me to try out the collection. (PP, if you're reading this, more harness knickers in Curve, please!). The strap on the knickers can be worn at the waist (super flattering) or up around the neck, over or under a bra (a little more unusual and interesting). This set reveals one of the collection's biggest strengths: bra construction for larger bands and fuller busts. On this bra in particular, the slightly wider straps keep everything very secure and supported without looking too matronly or utilitarian.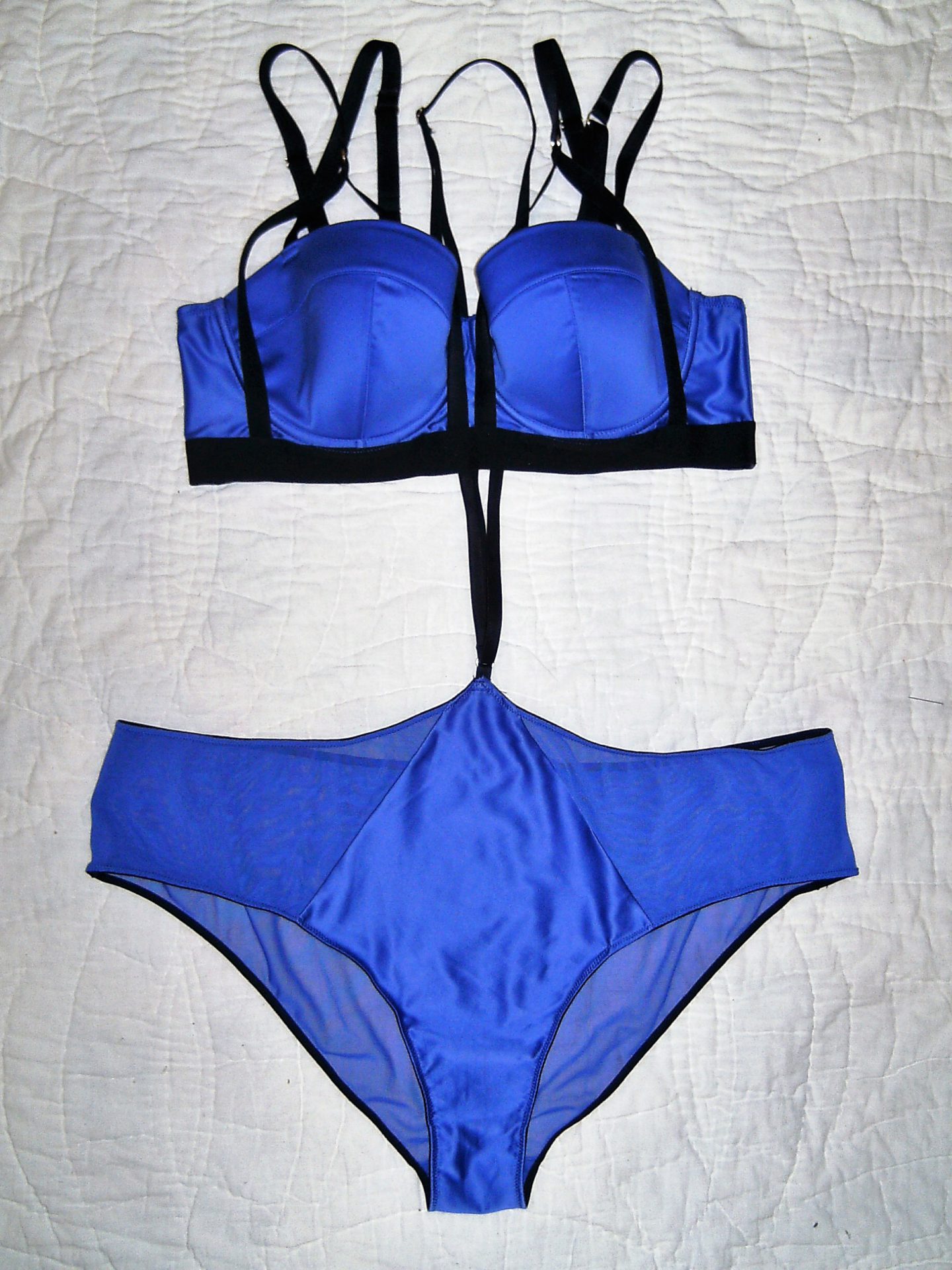 As Estelle pointed out in her review of the Frida harness brief, wearing these undies with the strap around your neck can be slightly inconvenient. It doesn't detach from the briefs so using the restroom can turn into a complete undressing situation. You can remedy that by wearing it just to lounge around seductively, as was clearly intended.
Tamara Curve Bra* and Brief*
I was afraid of these briefs at first, to be honest – my lower tummy/hip crease region is not exactly my favorite feature, and these are very exposed in that area. I was delighted to find that the side openings are placed very strategically to minimize any wobbly bits that I'm not crazy about (I know, we're all flawless goddesses, but hang-ups are still allowed!). And the diamond shape in back is super flattering to bums large and small.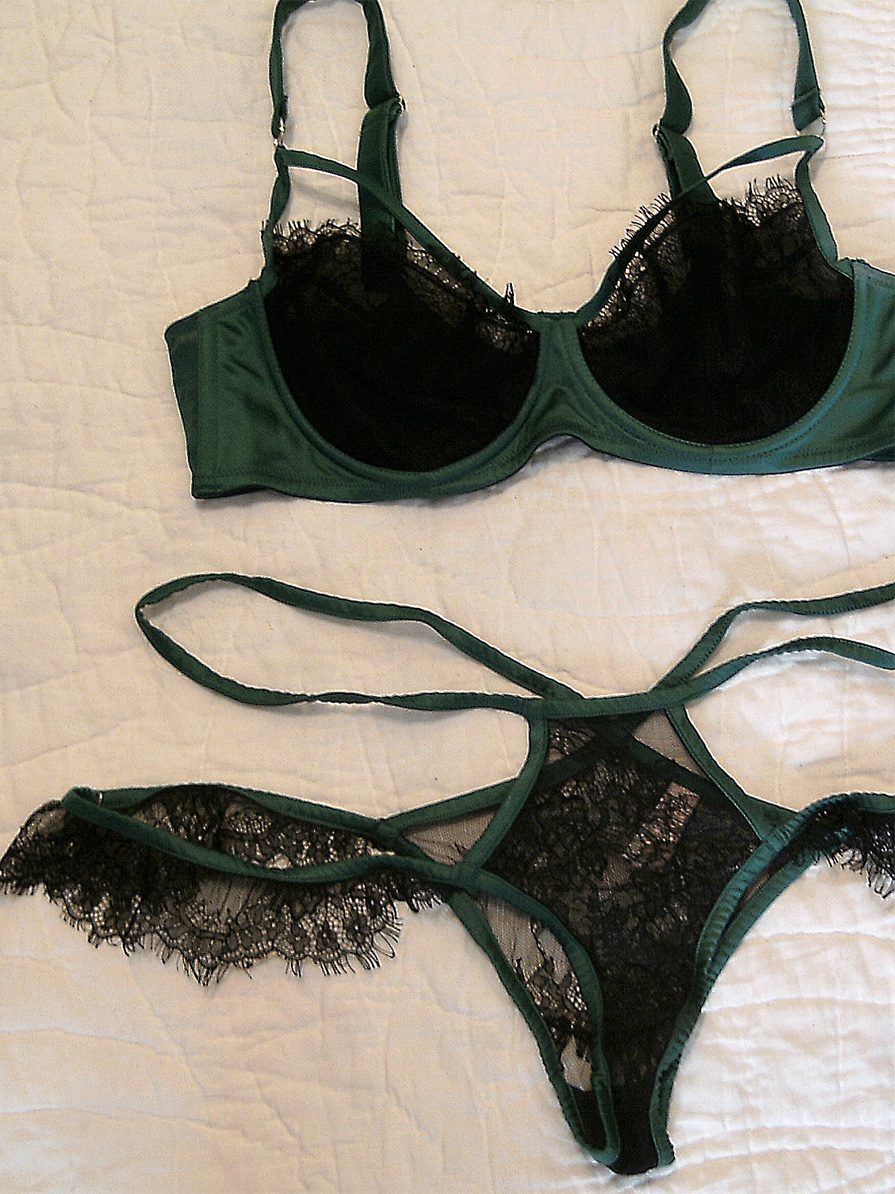 I bought this set in the original forest green and loved it so much I had to snatch up the rust version* when they included the briefs free with purchase of the bra. It's now available in a pale peach lace* as well.
I liked this piece from my first view of the collection, but I hesitated because of the opaque under-layer that covers the bust – while it's obviously practical, I was concerned that it would look jarring or mismatched against the sheerness of the body. However, during the brand's most recent sale, I could wait no longer to try it out.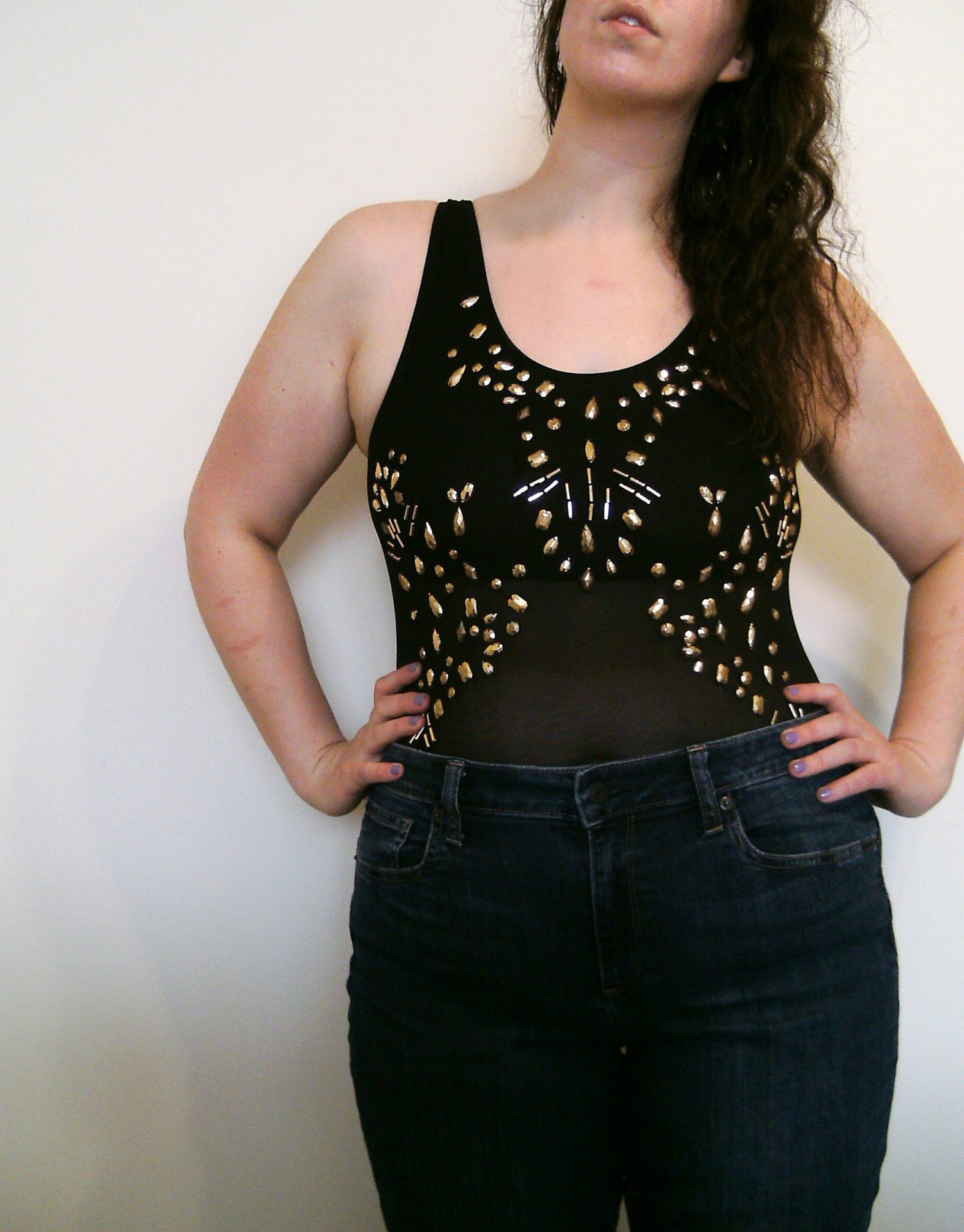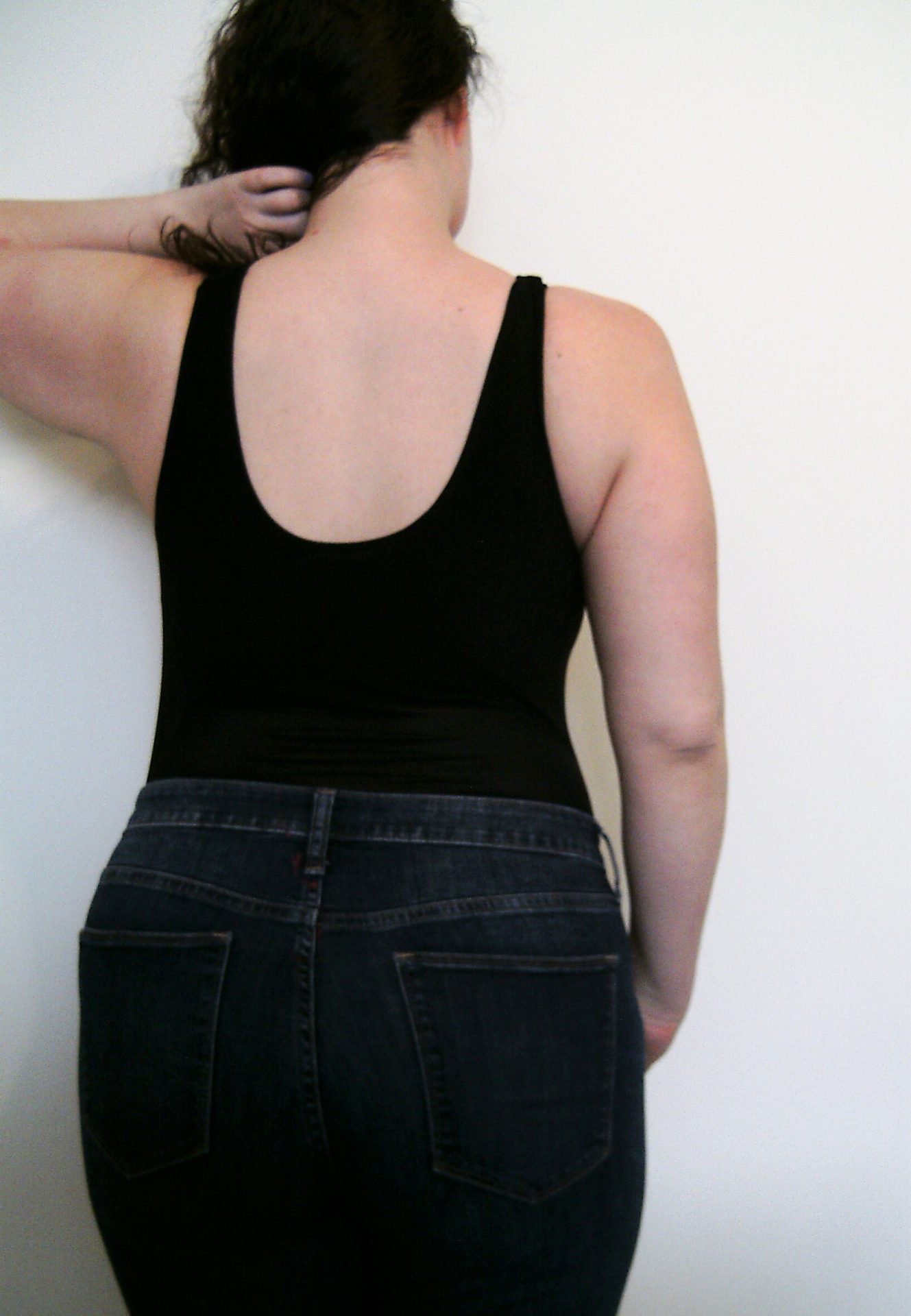 I am really happy I took the plunge – the piece is beautiful, versatile and sturdy despite looking sheer and gorgeous. I wore this out dancing last weekend under jeans and found it flexible, breathable and comfortable. That dreaded opaque under-layer is super comfy, moderately supportive and not too obvious. It's not going to give the support of a sports bra, of course, but it is totally acceptable for everyday wear. I wore a bra underneath for maximum oomph (chest pop safely, children), but it's not necessary unless you're quite large in the bust.
Emily Chemise (no longer available)
God, this thing is beautiful – so beautiful that when my size sold out super quickly, I ordered it two sizes too big because I just needed it. Despite being too large, this is a go-to piece for me. It's sexy in a luxe-looking way and makes me feel like a million dollars.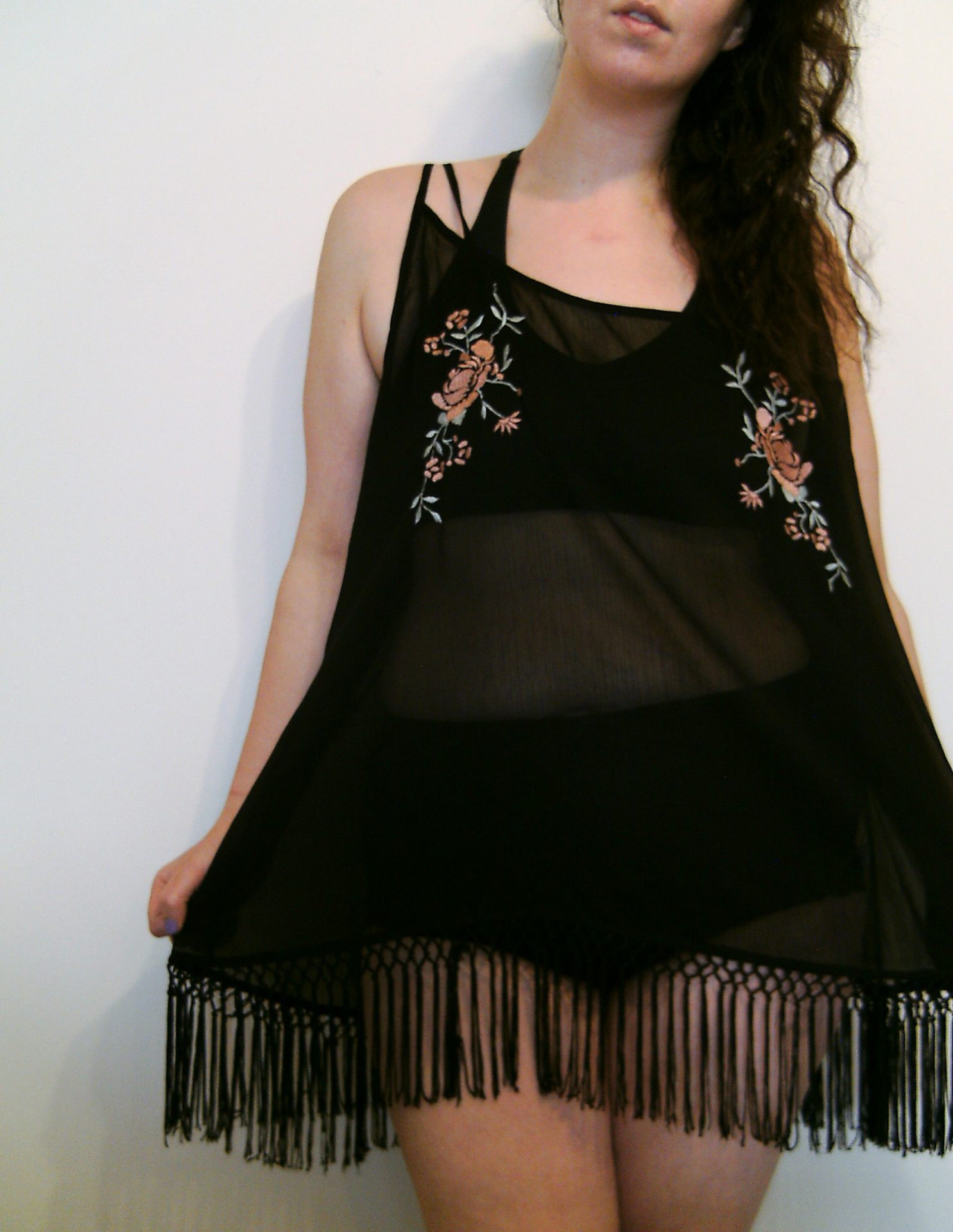 The floral embroidery is impeccable and the strappy, low-cut back is delicately gorgeous. But I think my favorite part has to be the fringe trim – it definitely imparts that 1920s feeling and makes the garment extra fun to wear.
The Review
Appearance
Of course this is a matter of taste, but I find many of the designs in this collection to be innovative and gorgeous. As a longtime lingerie enthusiast, I often find myself browsing collections without getting particularly excited about anything. Especially in plus sizes, designers tend to fall into one of three camps: conservative and boring, hyperfeminine burlesque styles, or strappy black dominatrix-wear.
However, the designs in the Playful Promises Curve line are fresh and unlike anything I've come across from mainstream plus-size lines. I consider many of these pieces 'big deal lingerie' worthy of a special occasion or even photo shoot, particularly for people without an insane (ahem, substantial) collection like mine.
The fabrics are rich and beautiful, particularly some of the colorful satins used in the bra/brief sets. They've definitely nudged me out of my usual black-and-pink comfort zone. And perhaps most importantly, these pieces are cut with a true understanding of what flatters the body. There is a lot of smart design in these pieces that allows them to be flattering and supportive while remaining unique and playful.
Verdict: 10/10
Construction
Unlike our fearless leader, Estelle, I'm not an expert on lingerie construction. However, I know what cheap feels like and this isn't it. The seams are sturdy, the pieces feel secure and there are no unsightly signs of poor construction like fraying stitches. All of the briefs I've purchased so far have cotton gussets. Some of the fabrics are quite delicate, so handle any mesh and lace bits with care.
As I mentioned above, the bra construction is particularly impressive. Many of them have slightly thicker straps for support, but not so thick that they look frumpy. The cups are shaped well and I always feel comfortable and supported while wearing them.
Verdict: 9/10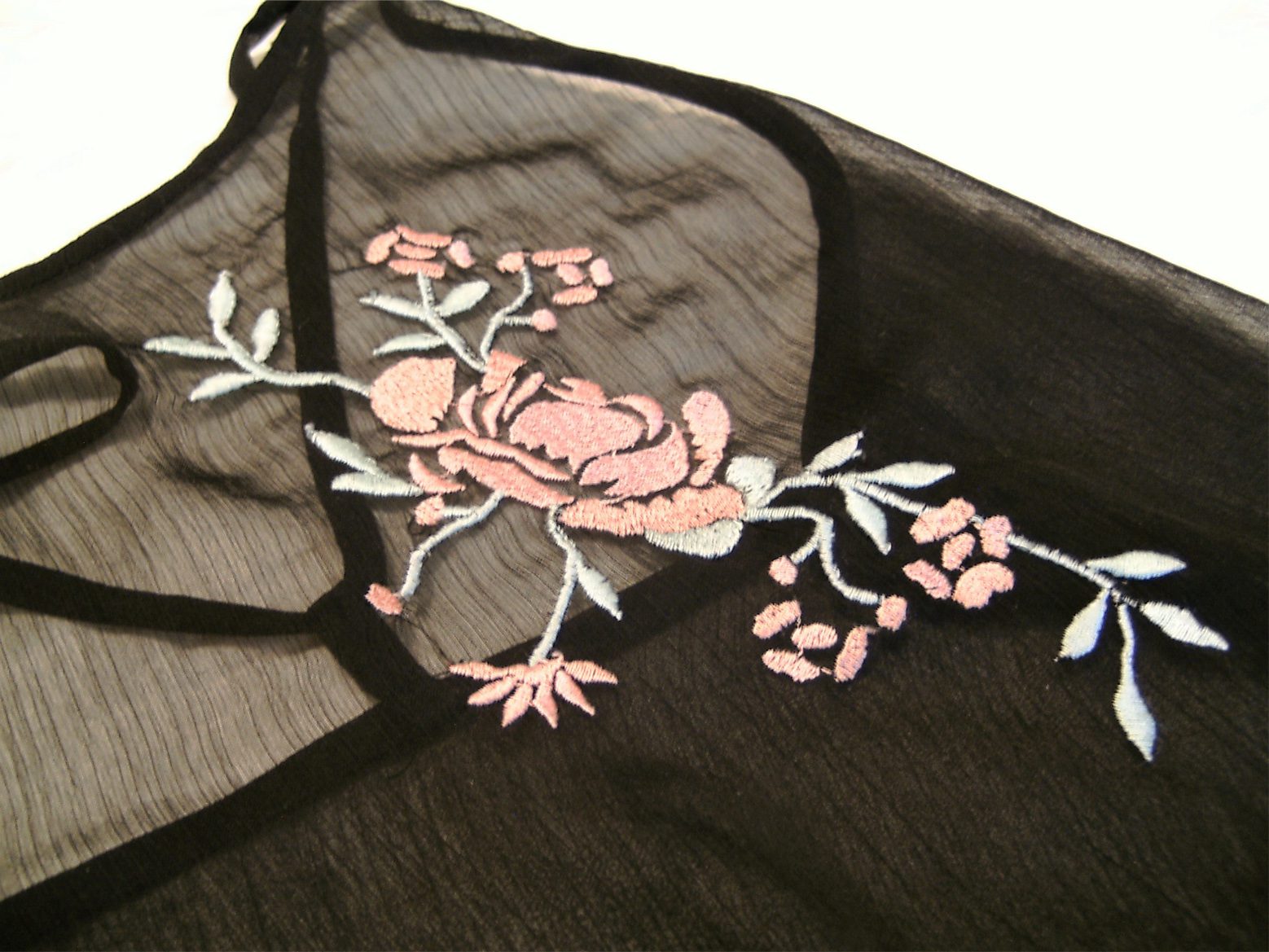 Fit
The flipside to stellar bra-making, however, is a slight difference in fit between these bras and others I'm used to. Despite ordering my usual size, I found the bands to be a bit snug. I imagine this has to do with the mesh shelf lining and "stronger back" mentioned in the product descriptions, which presumably provide a little less stretch. If your regular bands feel even a little small, I might consider sizing up.
While many UK brands seem to run a bit small to us Americans, the briefs in this line are cut quite generously. I consulted the size chart (always consult the size chart!) and ended up ordering 1-2 sizes below my usual.
Once I found the right size for me, I found the brand's sizing to be consistent and perfectly suited to my body. One thing I truly appreciate about the label's sizing is that there's no big gap where straight sizes end and plus sizes start. And with several pieces spanning both size ranges, it's possible to mix and match sets if you're different sizes on the top and bottom. If you live on the border between straight sizes and plus sizes, I cannot recommend this line highly enough.
Verdict: 8/10
Durability
I've been collecting pieces from Playful Promises' Curve line since it launched, and all have held up superbly well to wear, attentive laundering and, shamefully, being balled up in a hamper from time to time. They are labeled hand-wash only, unfortunately, but I've fudged it and machine-washed on gentle a couple of times with no disasters (but don't do that with any of the more delicate mesh/lace pieces!). The stitching has remained secure, the colors have stayed vivid and they look as good hanging in my closet today as they did when I purchased them.
Verdict: 9/10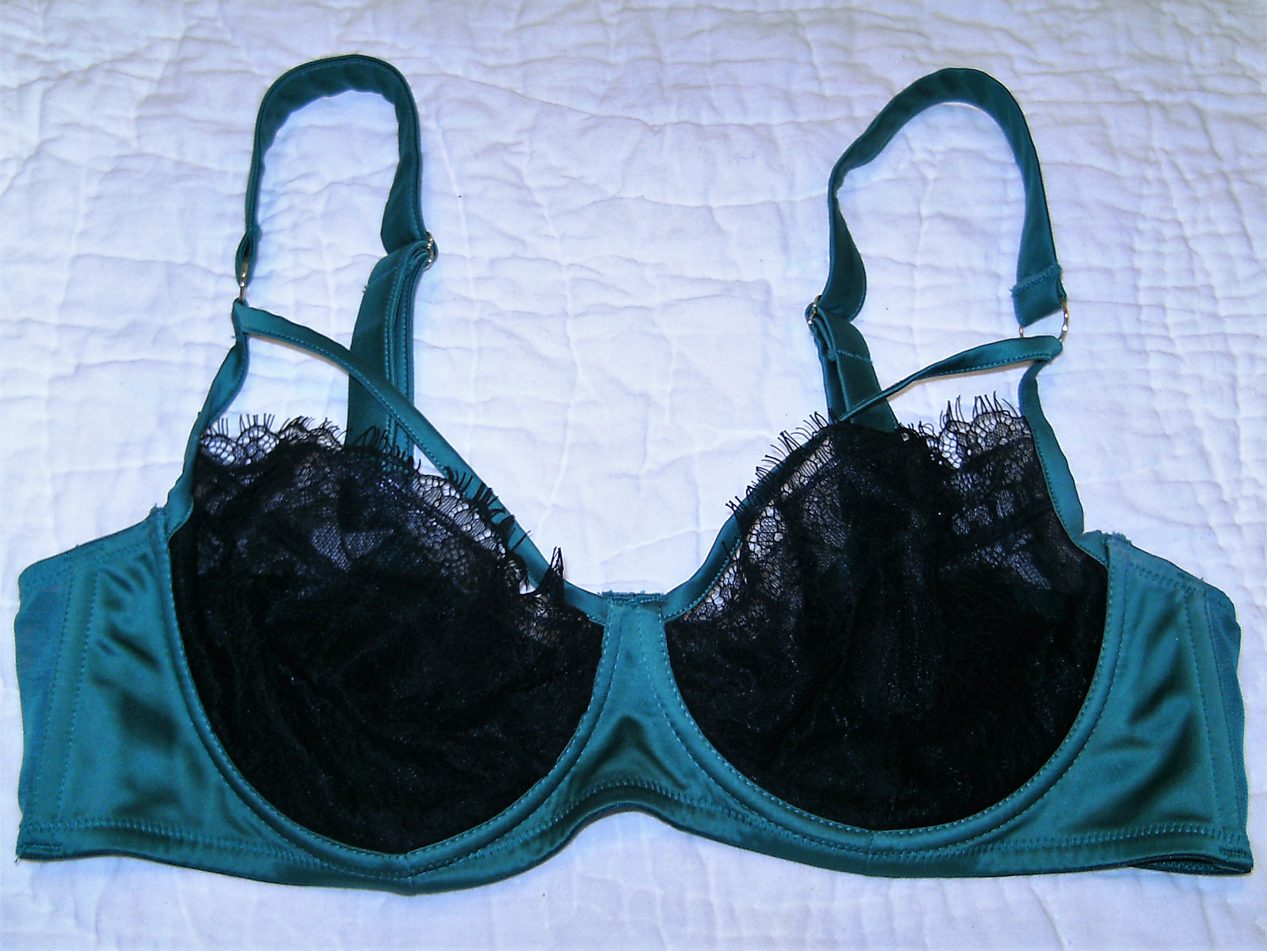 Value 
The price of Playful Promises is substantial for this broke writer, but so is the payoff. I have been consistently delighted by the beauty and quality of the line.  I'm stunned when I pause to think that some of my Curve bras cost less than a standard Victoria's Secret offering. With briefs starting at $20 (~£15 / ~18€), bras at $40 (~£30 / ~36€) and the bodysuit above at $68/£50/60€, the prices are comparable to lingerie you could find at the mall, but with a level of design and construction that far exceeds other brands.
Playful Promises also runs sales regularly, which means they don't always wait until a piece is low in stock to make it available at a discount. If you follow them on social media, they also post deals like a free brief when you buy the matching bra, so it's possible to get these pieces at a very reasonable price. Considering how happy I am with everything about the collection, I find them to be a tremendous value.
Verdict: 10/10
—
Can you tell I really love this collection? I think it's a tremendous step in the right direction for plus-size lingerie lines. I particularly love that each piece has unique design elements that don't sacrifice beauty for function, but embrace both.
What do you think of Playful Promises Curve*? Let us know your thoughts below – especially if you've tried their stockings because I need one last little push to take the plunge and try them myself.