Disclosure: All hosiery featured here was received free of charge from APM Fashion to review.
One of the things I didn't anticipate when I moved to Spain was just how cold winter would feel here. I've spent most Christmasses here over the past decade so I should have known what to expect, but when you're visiting from the freezing UK it feels positively warm by comparison. Living here on the other hand, you definitely notice that transition from autumn to winter.
Thinking I wasn't really going to need it, I left most of my hosiery (and all of my opaque/thermal hosiery) back in the UK when we moved out here. So I was really glad when APM Fashion contacted me and offered to send some bits back in October. Though I won't lie, mostly what I was interested in was the fact they told me they had the Ars Amandi hold-ups by Gatta that I wrote about here. I definitely wanted to try those out!
Although stockings are usually more my kind of thing, APM offers a much wider selection of tights and hold-ups and those are the designs I ended up being drawn to. Fiore is a brand I know and like, but Gatta and Marilyn were both new to me.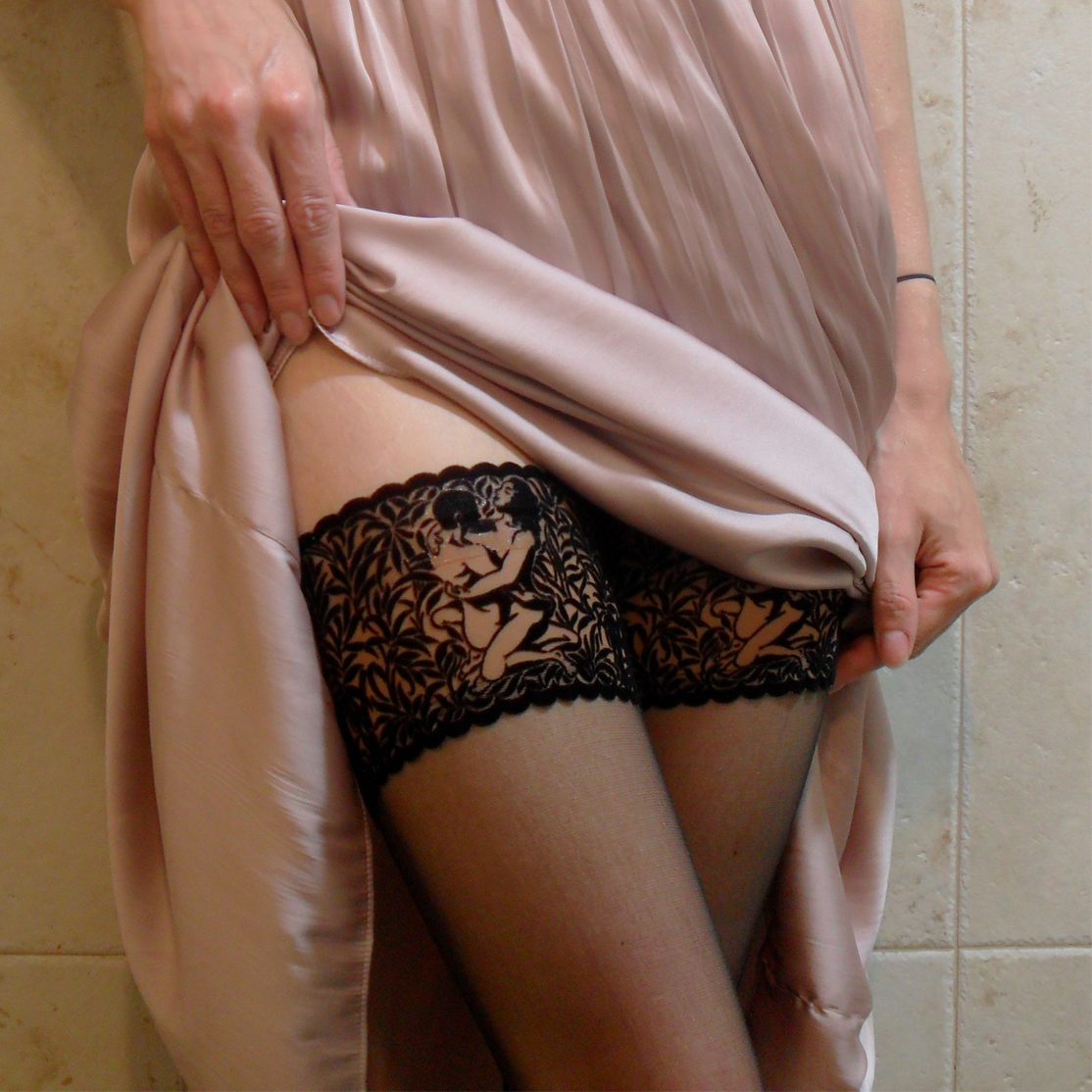 Gatta Ars Amandi hold-ups
£11.99, shop here (approx. $17 / 14€)
So let's start with my favourite design. I love the look of these hold-ups, they're just so fun and cheeky and different from everything else that's out there. Up close, the welt design has a soft, velvety finish that looks rather luxe. They are one of the more premium ranges by Gatta and therefore at the higher end of their price range, but let's face it, they're still very affordable. They also come in a fold-out cardboard box, which has been great for storing them in between wears.
These hold-ups are exactly the right size on me i.e. they come up high on the thigh but not too high. The XS/S I'm wearing is intended to fit up to 5'5 and I'm 5'3, so it's pretty spot-on. They've been perfectly comfortable to wear and are good quality too – minus a couple of teeny-tiny snags that are inevitable with sheer hosiery, they still look almost new.
Verdict – 8 / 10
Gatta 3D Comfort Silver Chic tights
£7.59, shop here (approx. $11 / 9€)
The other Gatta design I tried, I picked these tights out to have something a little bit festive over the Christmas period. Unfortunately, they're rather less silvery than I'd expected from the product photo and title. They do have a slight metallic sheen, but they're definitely more grey than they are silver.
Fit-wise though, these are great. The size chart says 5'2-5'4 for S so they should be exactly my size, and they are. The fabric is smooth and non-irritating, so overall they're perfectly fine for budget tights. I just wish they were sparklier or shinier!
Verdict – 6 / 10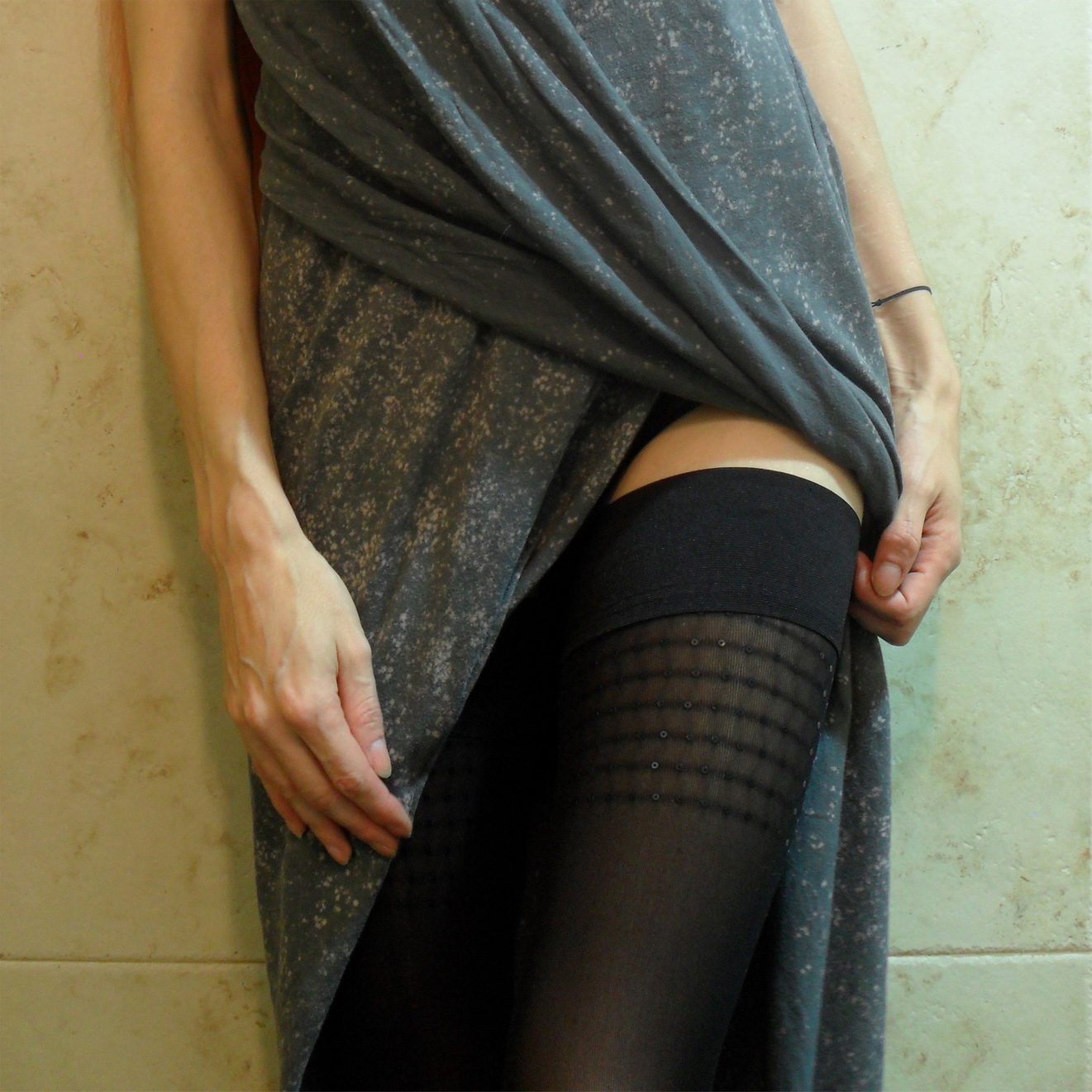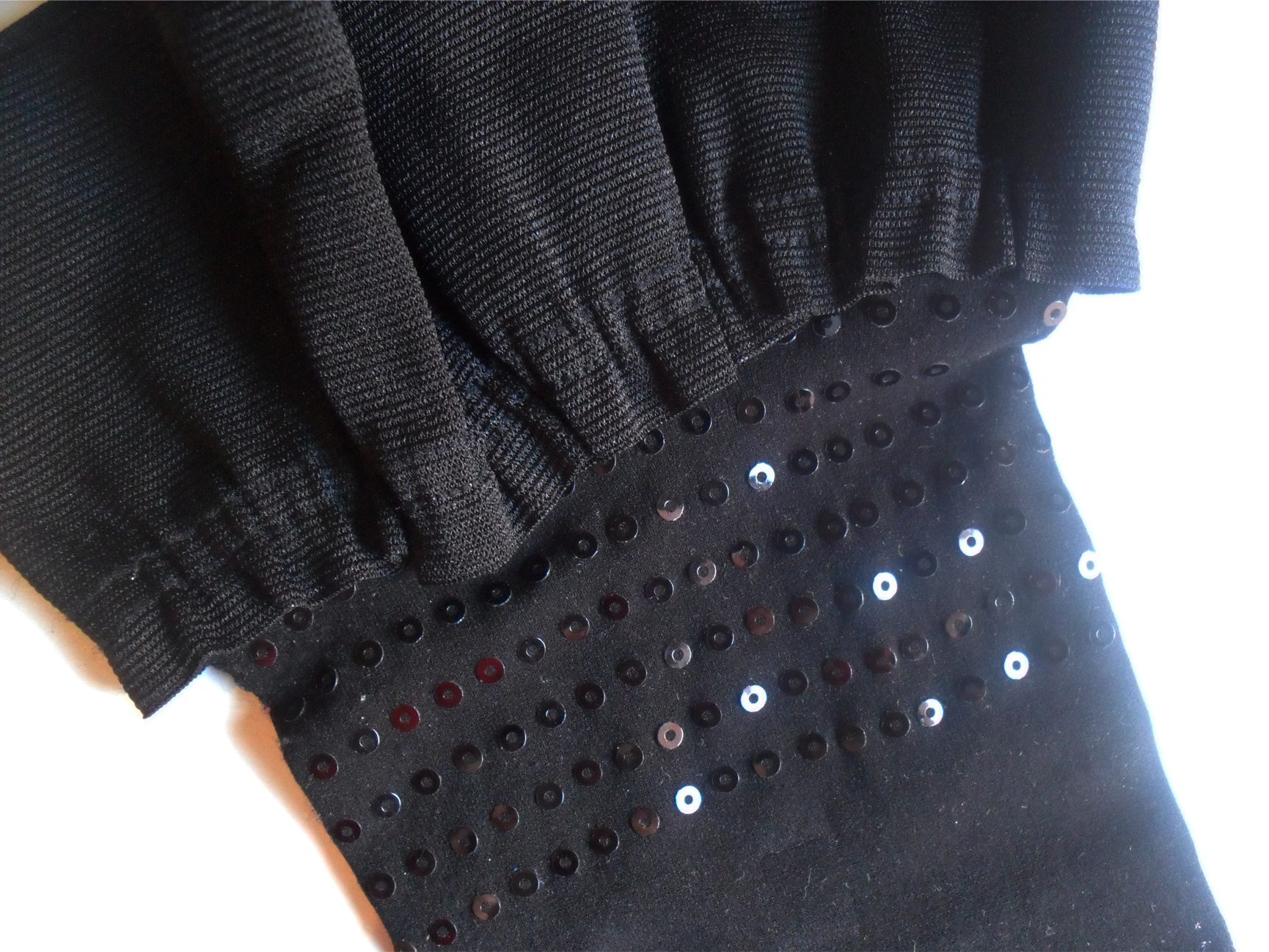 Marilyn Coco 40 denier hold-ups
£8.90, shop here (approx. $13 / 10€)
These are slick, semi-opaque hold-ups with a sparkly touch – rows of tiny sequins just under the welt. They're glued on and seem secure, I haven't noticed any fall off despite a few wears and gentle hand-washes. Not visible in the product photo though is the way the knit of the fabric deforms around each sequin when stretched, giving this part of the hold-up a striped or chequered appearance. They're pictured as being more opaque than they really are.
The single silicone strip inside the welt does a good job of holding them up. Fit-wise, they do fit me okay but only just. I like my hosiery to come up relatively high on the thigh, but when I do that with these ones I can feel them pulling uncomfortably on my toes. Considering this size is supposed to fit up to a height of 5'5 and a hip size 16cm larger than mine, I'd advise sizing up to the larger M/L if you're at the upper end of their range for either measurement in the size XS/S.
Verdict – 6 / 10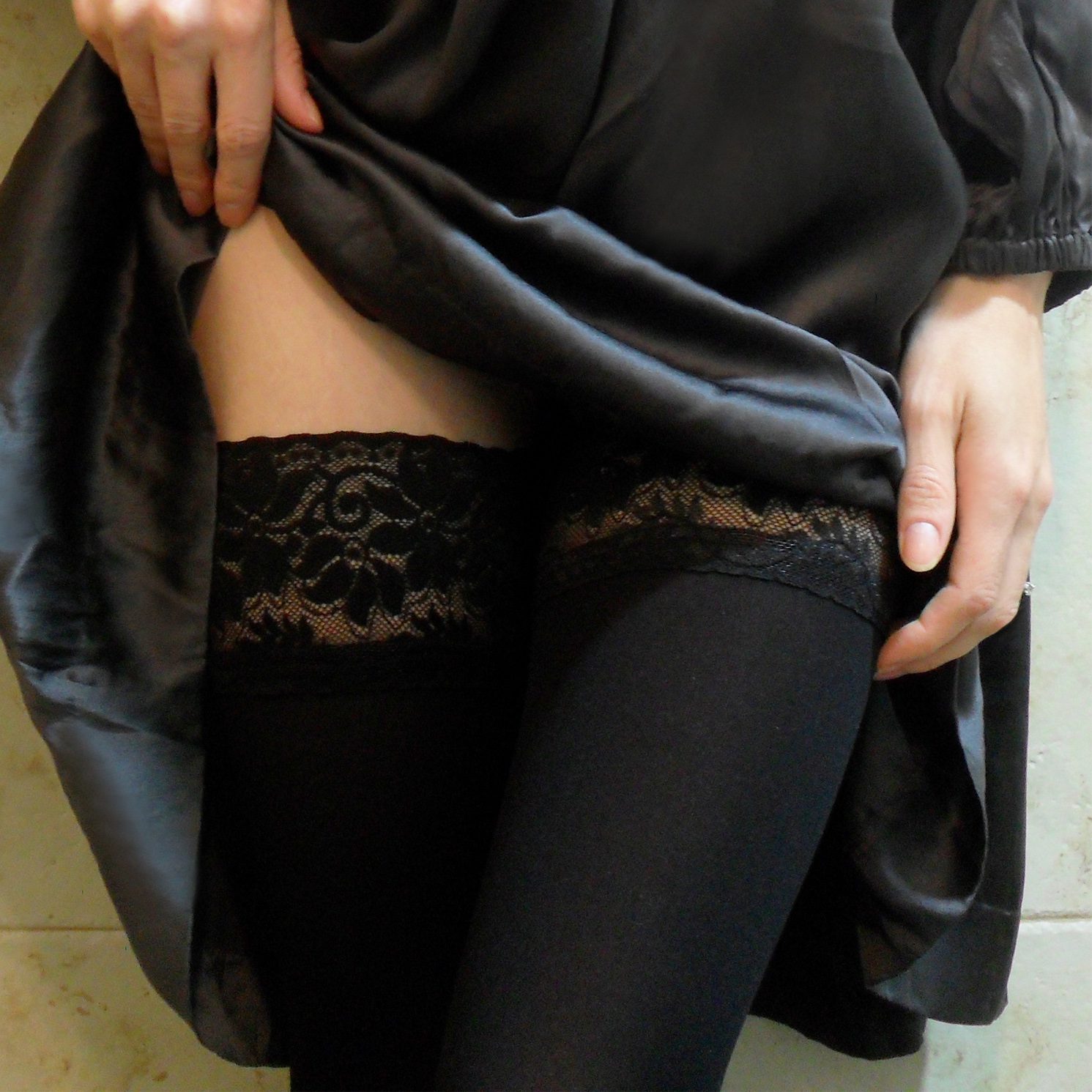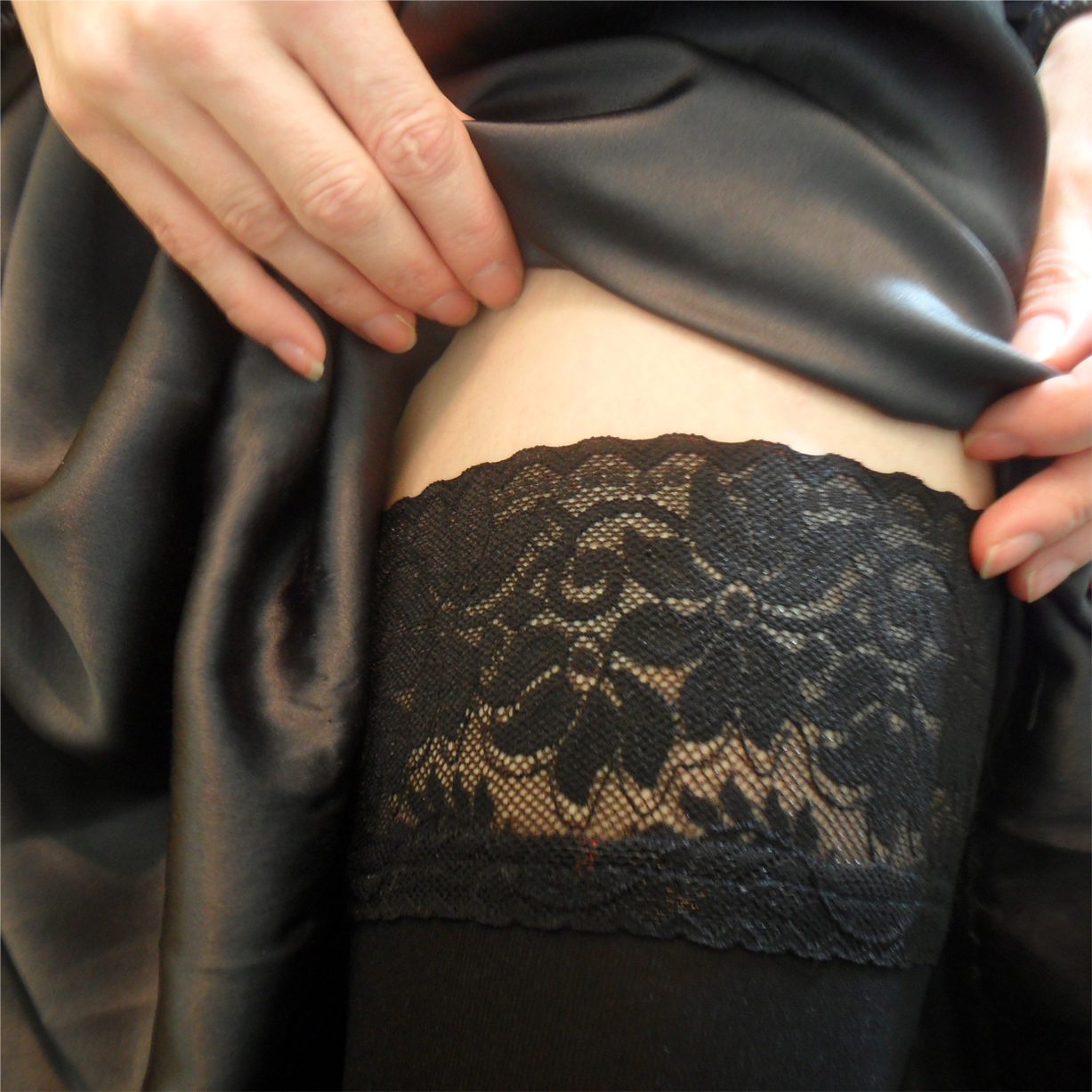 Marilyn Chanel 100 denier hold-ups
£7.49, shop here (approx. $11 / 9€)
At 100 denier, these are pretty solidly opaque, and very warm because of it. The deep lace welt is nice, and they stay up alright thanks to two flat strips of silicone inside it. The fabric is smooth and comfortable, and the fit is okay (though like the other Marilyn pair above they do pull on my toes a little bit).
If you look close-up, you can tell that they are a budget product. Where the lace welts have been stitched closed at the back of the leg, there are trails of extra overlocking hanging from each, and some elastic threads sticking out. For costing what they do though, they're really not that bad.
Verdict – 7 / 10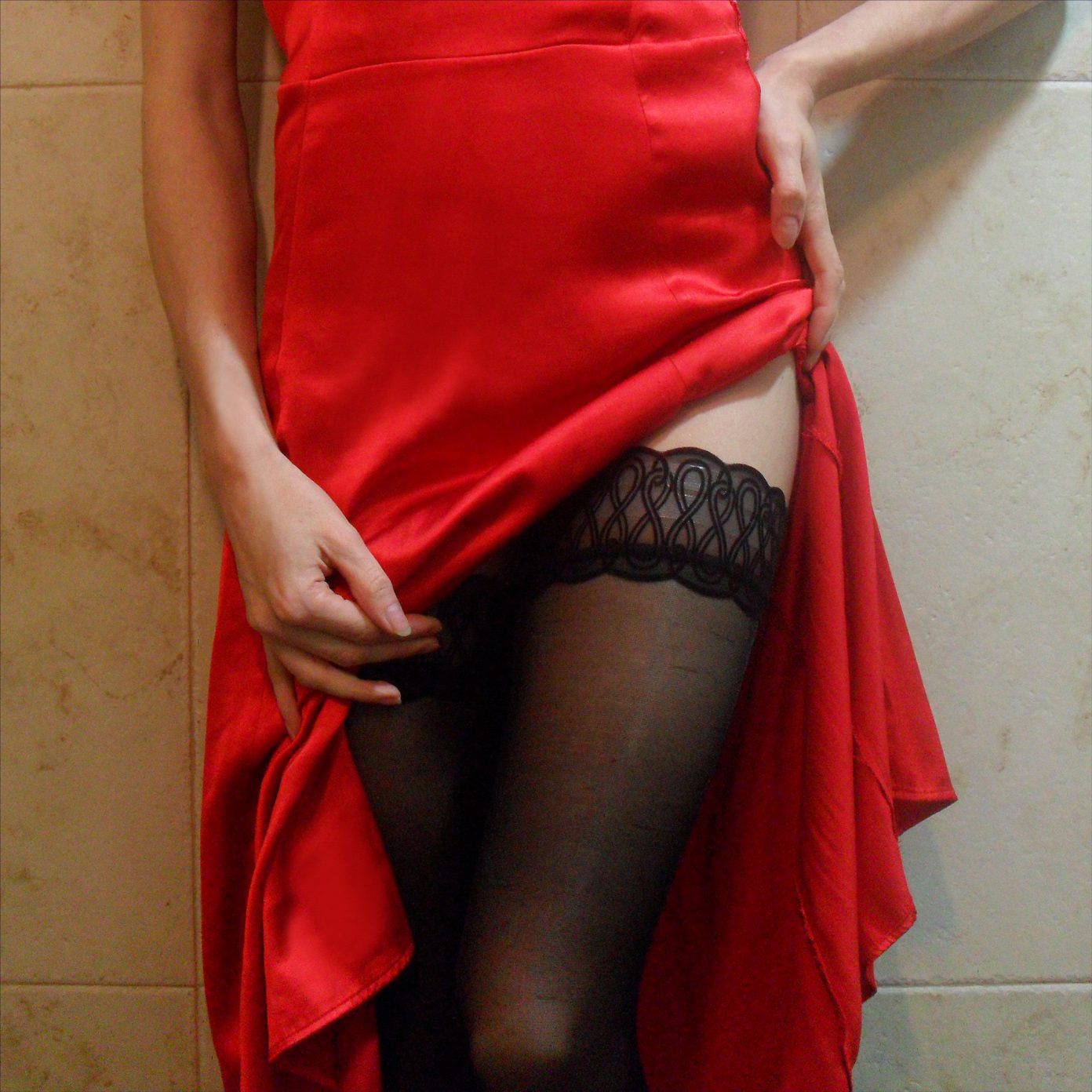 Fiore Contessa hold-ups
£8.49, shop here (approx. $12 / 10€)
I chose this fun Fiore design because I thought it would look good with the embroidery pattern on my Escora Zohra set. It's such an unusual top, right? Of the three brands in today's review, these had the most generous fit. The size chart for this item goes by leg length, not height (which makes a lot of sense really – why don't more hosiery brands do this?) and the S is meant for 27.5-28″ legs. I wear a 32″ inseam and can still comfortably pull them all the way to the top of my thigh.
Sadly, these hold-ups snag like crazy. It's not clear in my photo above, but after just three wears they're simply full of pulls everywhere. Not only that, but one has a big ladder and hole that seemingly appeared out of nowhere (I don't remember catching it on anything). For that reason, I can't recommend them. Unless, like me, you're thinking of chopping the stocking part off and just wearing them as a cool pair of garters!
Verdict – 4 / 10
Most products on APM Fashion are under a tenner, and they've got some other cool designs worth checking out – I particularly like the Marilyn Desire suspender hold-ups, and maybe these Veneziana Ines tights are what I should have gone for to get that silver sparkle!
If you've ever worn Gatta, Marilyn or Fiore hosiery, I'd love to know your experiences with the brands. Will you be trying any of the five designs featured here?