Disclosure: I received this set free of charge from Viva Voluptuous to review. All opinions are, as always, completely my own.
The English line Viva Voluptuous was founded "out of frustration" by Liz Willis, who struggled to find sexy boudoir lingerie and swimwear in her size. The brand is dedicated to crafting comfortable, supportive lingerie that is still beautiful. Bra sizes range from 36-48 D-GG and bottoms range from UK 10-12 to UK 24-26.
As a fellow frustrated, full-figured femme, I was delighted by chance to review a bra set from this brand. I opted for the Skye Blue plus size lace bra and briefs, available on Viva Voluptuous' website.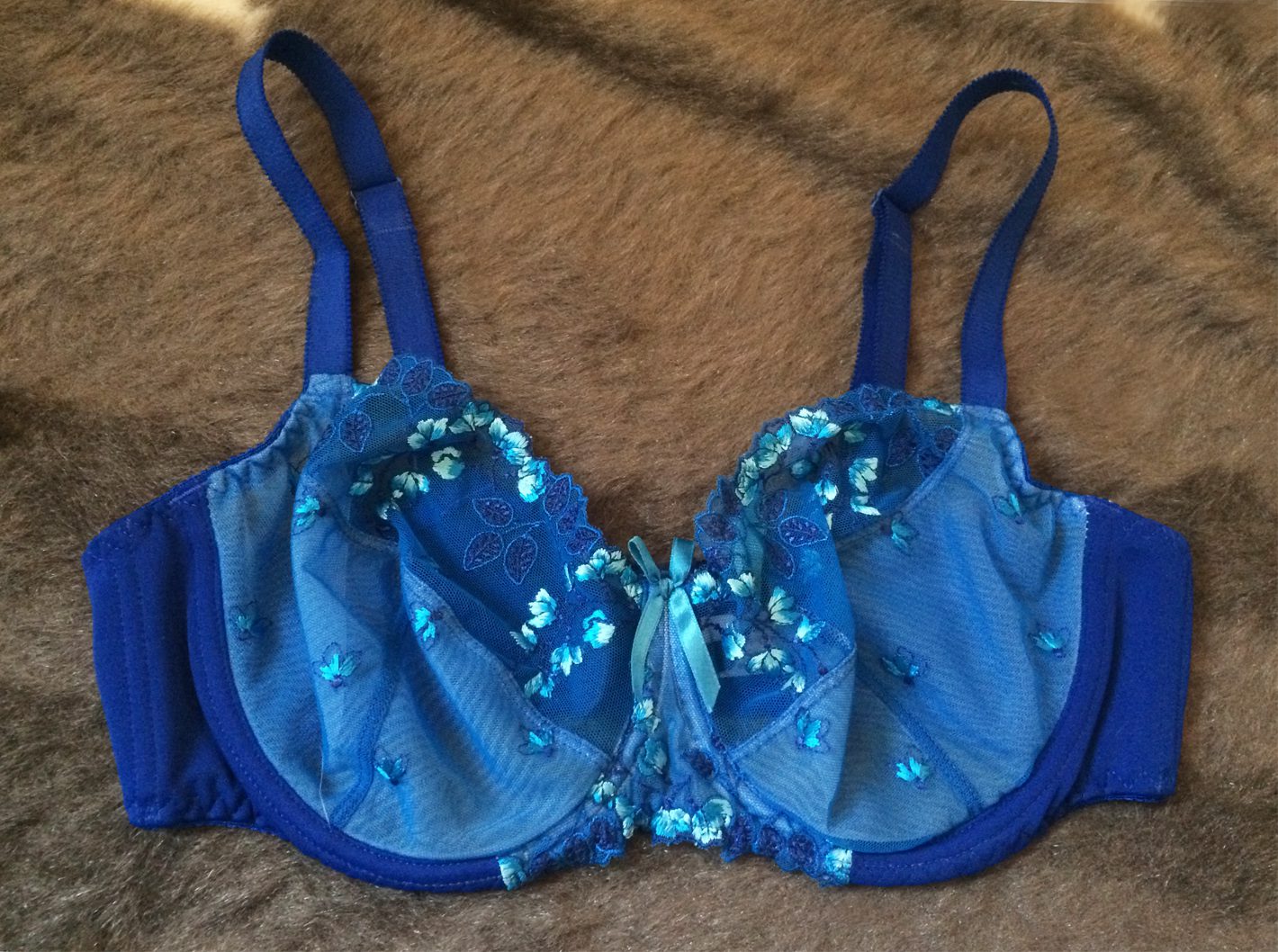 Appearance
With some utilitarian details like wide bra straps and a fairly conservative cut on the brief, this set might not be my first pick for, say, a boudoir shoot. But the pieces are definitely beautiful – I would even say they're date night-worthy. The silhouette of the bra gives great oomph (see below for more) and there are plenty of interesting design details that deserve some extra attention.
One of my favorite things about this set are the rich colors. The blues are eye-catching and bold, and all go together really well. The floral embroidery on the lace panels uses three different shades of blue, which gives it depth and dimension.
Speaking of the embroidery: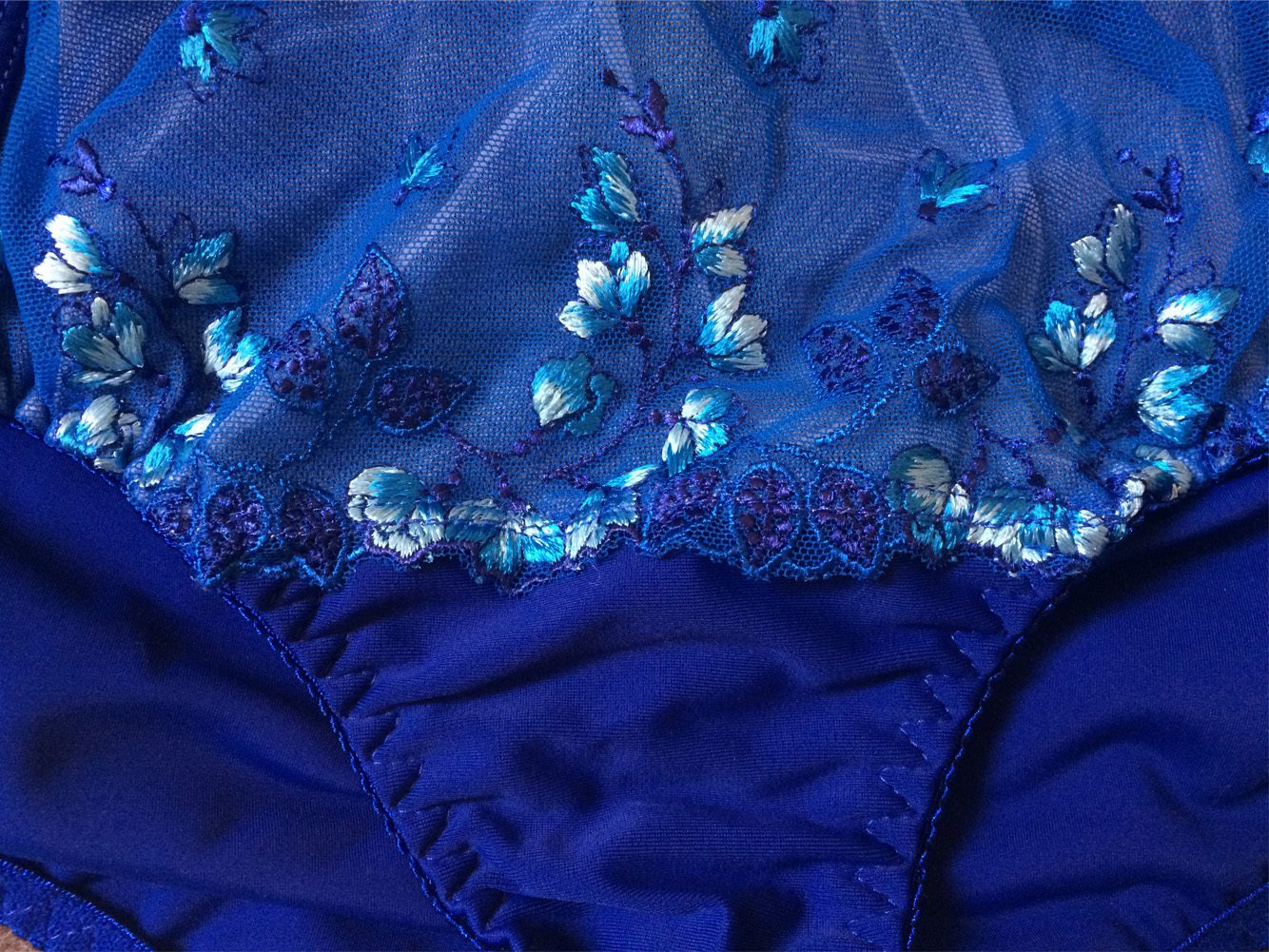 I just can't get enough. It is so delicate, vibrant and also a little bit crafty-looking in a good way. In addition to being completely on-trend right now, it really makes these pieces feel a little more special than your typical bra and brief.
Verdict: 8 / 10
Construction
Viva Voluptuous pieces are all made in the EU by "handpicked, highly trained seamstresses", which is evident in the quality of construction. The stitching on these pieces is tight and neat, the embroidery is flawless and the fabric choices are beautiful and resilient.
The bra cup is made of three panels, which I believe are responsible for the superb silhouette (see more in the Fit section below). The bottom two are sheer blue embroidered tulle over a layer of off-white mesh. The under-layer gives them a little more opacity, but it's still possible to see through them. The panel that covers the top of the breasts is made only of the embroidered blue fabric so it's a little more sheer, which is a pretty touch. The top of the cups are edged with even more of that gorgeous embroidery (seriously, it's the bomb).
The sheer panel on the front of the brief is constructed similarly, with a layer of off-white mesh underneath the sheer blue layer. It has a cotton-lined gusset that is practical but does not interfere with the appearance of the sheer panel in front. As a nice little touch, the gusset is stitched securely on the front and back edge, which is not always the case. It keeps everything in place and preserves the integrity of both the construction and the design.
Verdict: 10 / 10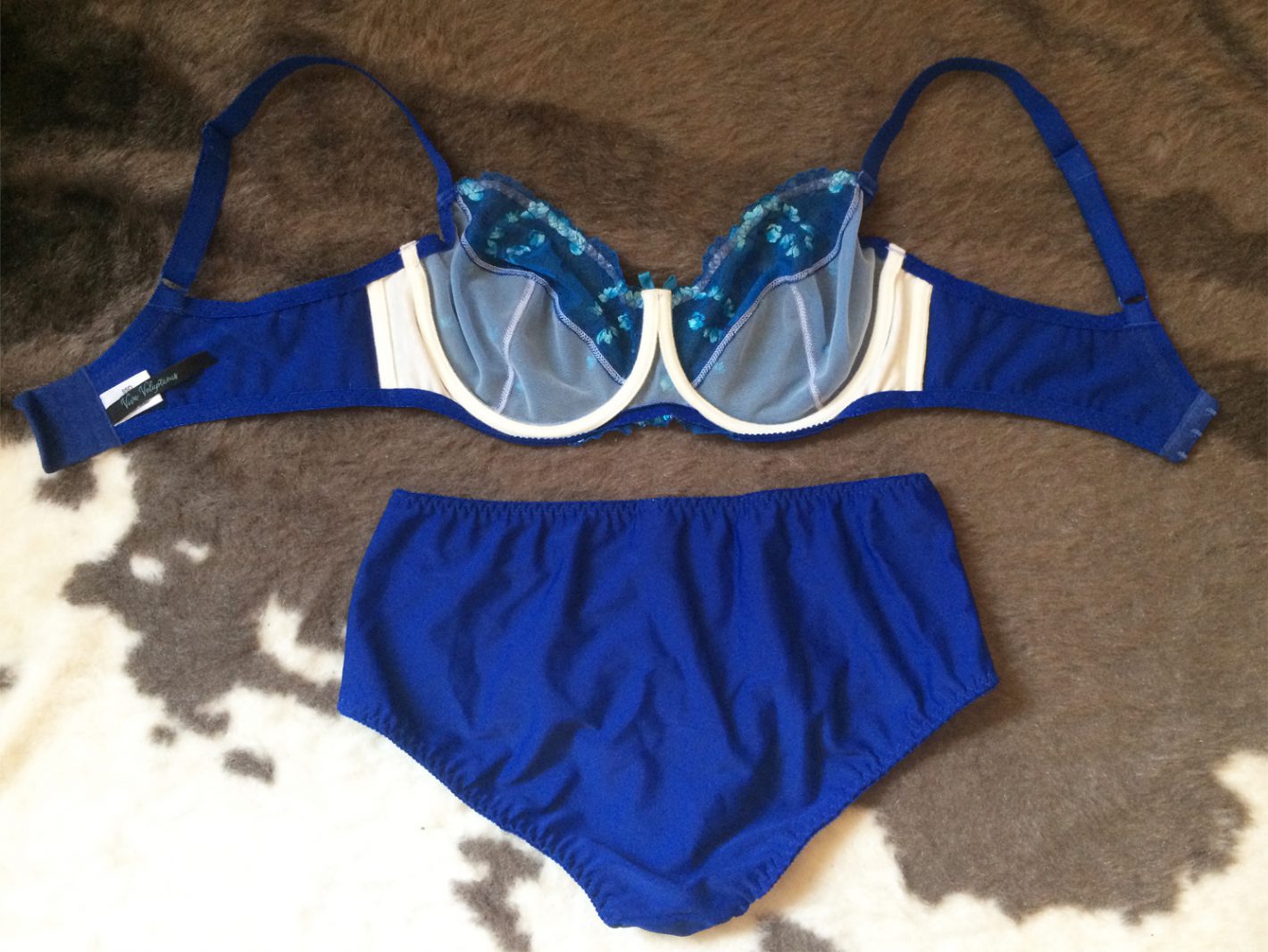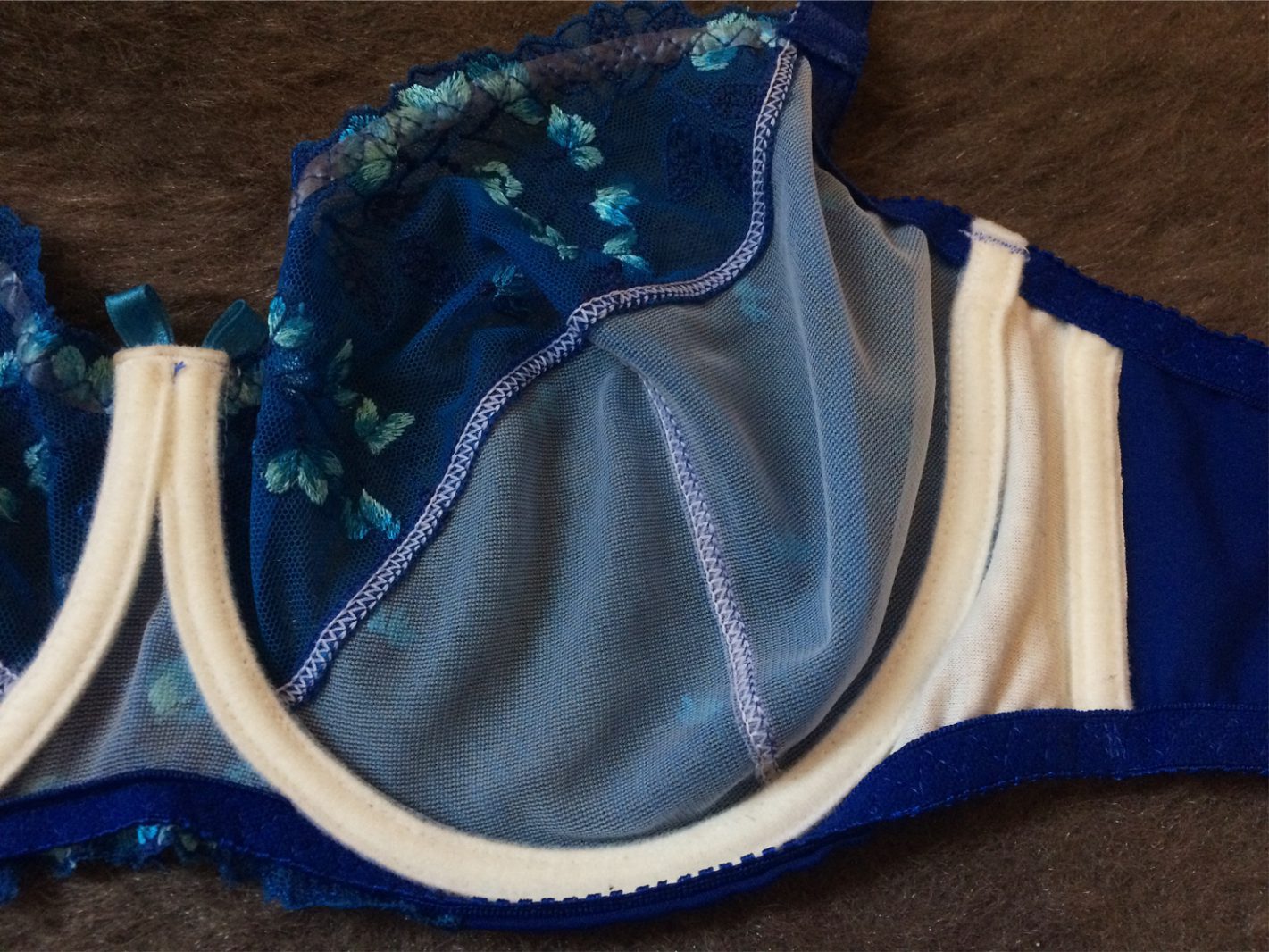 Fit
I love the shape that this bra gives. It lifts and separates with an effect that's almost conical, which my tight sweaters and I are very into. Personally, I have low-density breasts that lazily flop into whatever cup shape they're given (or into no shape at all in a bralette situation). I reach for this bra when I don't want to commit to a full-on bullet silhouette, but do want a little more torpedo action than my everyday bras provide.
I ordered my usual bra size, a 38D, which was the right choice. This bra seems to run true to size, with fully adjustable straps that let you tweak things a bit. The cups are a liiiiittle small on me, giving some unauthorised cleavage under the front band, but being slightly too big for a D and slightly too small for a DD is nothing new to me. If your size is consistent, I would recommend sticking with your usual.
As for the briefs, I ordered my usual size of UK 16-18/US 12-14 (34 inch waist, 45 inch hips these days) and the fit is spot on. Their website doesn't offer quite as much sizing help for bottoms as it does for bras but, considering that knickers are much easier to fit, that makes sense. I have found these to fit true to size without riding up, bunching or giving excessive VPL.
Verdict: 9 / 10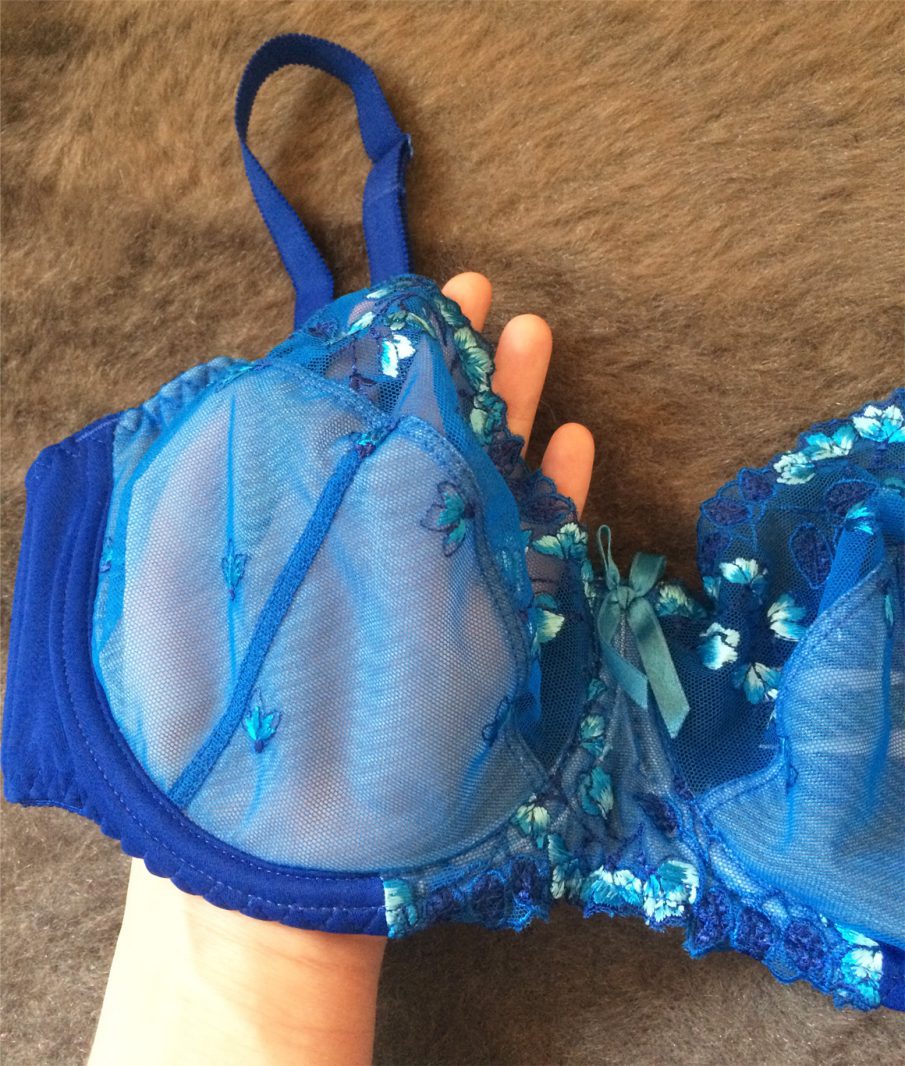 Durability
I've had this set for a few months and, after several wears and washes, it looks good as new. The colors have stayed bright and beautiful, the construction shows no signs of stress and it continues to be a go-to for me.
As someone who constantly rips delicate lace undies despite keeping short nails, I really appreciate the double layering on the sheer bits of this set. That extra layer of insurance gives me faith that the set will continue to hold up well with proper care.
Verdict: 9 / 10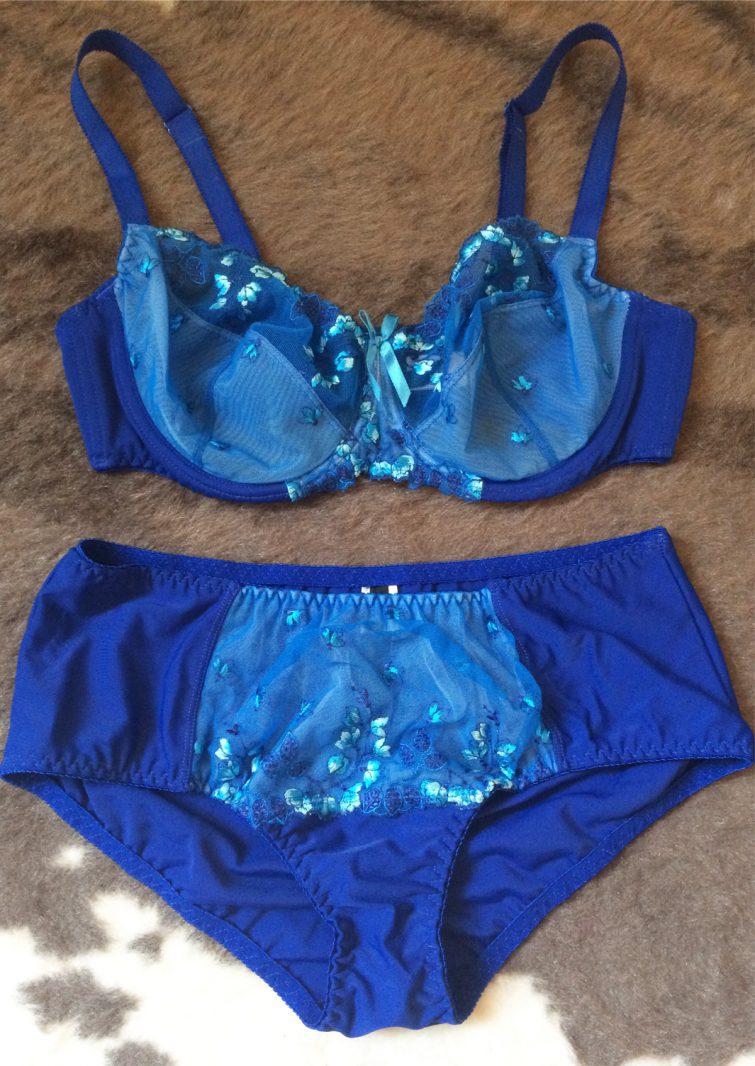 Value for money
This bra sells for £45 (~$63 / ~51€) and the brief retails at £15 (~$21 / ~17€). Honestly, that's right about the top of my price range for what I would consider everyday undies. Normally if I'm going to spend $80+ on lingerie, I'm looking for something a little more lavish or dreamy. But, if it's in your budget, I would say these pieces are worth the price tag.
This line certainly isn't cheap, but it is right on par with other high-quality, ethically-made brands. Considering the quality of construction, gorgeous embroidery and apparent durability, these pieces are priced fairly. It's a substantial amount of money but, considering the wearability and flexibility of this set, it's money well-spent if you're fortunate enough to have it.
Verdict: 8 / 10
What do you think of this collection? Plus-size babes — what are your main gripes when it comes to buying underthings?