Hopeless Lingerie is a darling of the industry. Started in 2008 by Gabrielle and Dominique Adamidis, this Melbourne-based brand has skyrocketed to the top of many a lingerie-lover's list, thanks to its dreamy designs and high quality fabrics. In January of this year, they released the Garden of Earthly Delights collection, also known as G.O.E.D.
It's an exploration of complexity, opposition, and contradiction. According to Hopeless, this is a collection for the angel in hell or the devil in heaven. Just as you'd expect from a description like that, G.O.E.D. features lingerie that is provocative and innocent at the same time.
The title alone indicates the duality that comes into play with these pieces. The phrase "Garden of Earthly Delights" refers to the mythical garden in which Adam and Eve once lived in peace before human sin. The full title comes from the name of Hieronymus Bosch's painting from the 1500s, which depicts unabashed sexual indulgence in the Garden of Eden. Clearly, Hopeless intended this collection to be provocative and sexy.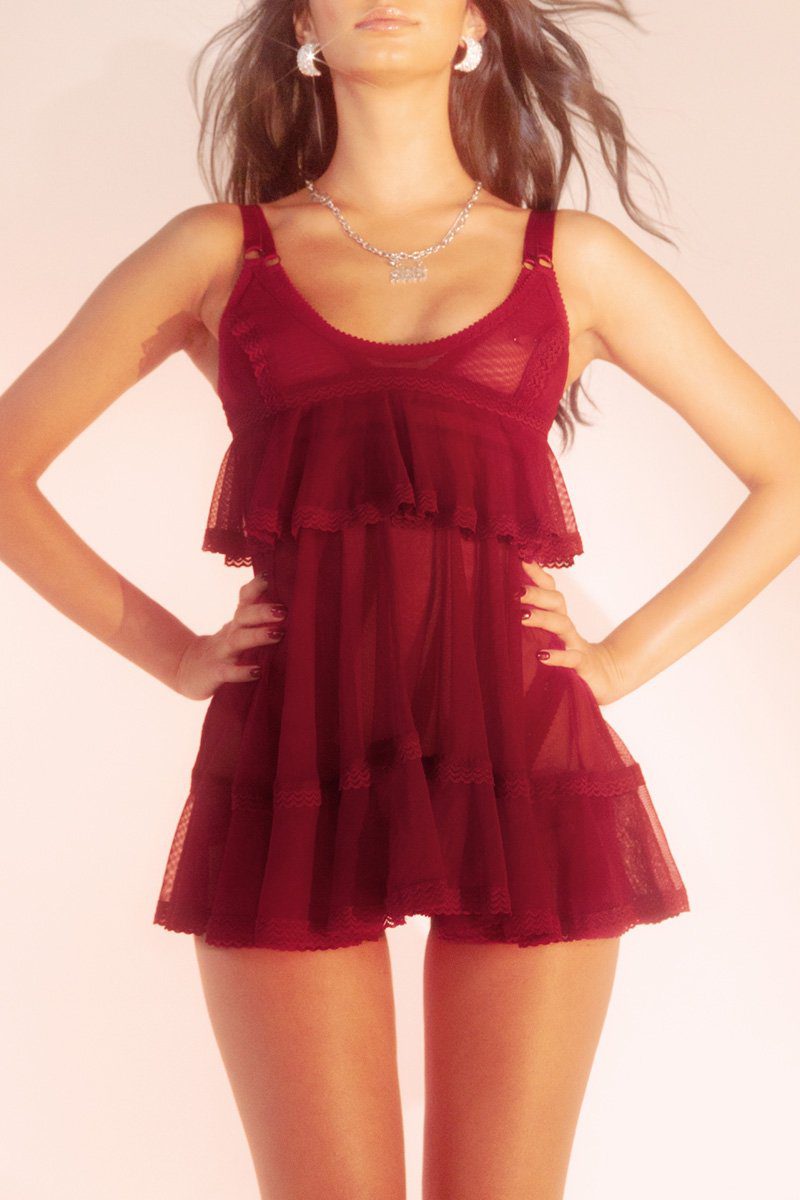 I daresay they succeeded. From sheer fabrics to feminine ruffles, this collection has a lot of sex appeal. Most flattering of all is the cut: the Sabrina Thong sits high enough on wait to accentuate curves, whereas the Susanna Knickers reveal a little extra hip with the placement of the cut-out. Look again at the editorial photoshoot and you'll notice a not-so-subtle wink at the devil on your shoulder – the models' flaming shoes.
G.O.E.D. features all the best things we've come to expect from Hopeless Lingerie. You'll find their signature cutouts and strappy details, along with the mesh and lace we've seen in previous collections, but with a new twist.
Most notably, G.O.E.D. stands out for its colour choice: a deep red that paints this collection as more devilish than angelic. This colour also hints at the inspiration Hopeless draws from horror movies. But, as Hopeless seeks to balance the dark with the light, this collection also features softer elements. Designs such as the Sophia Nightie and Ebony Top, for example, blend the blood-red colourway with soft, flowy ruffles. In this way, the collection is both edgy and delicate.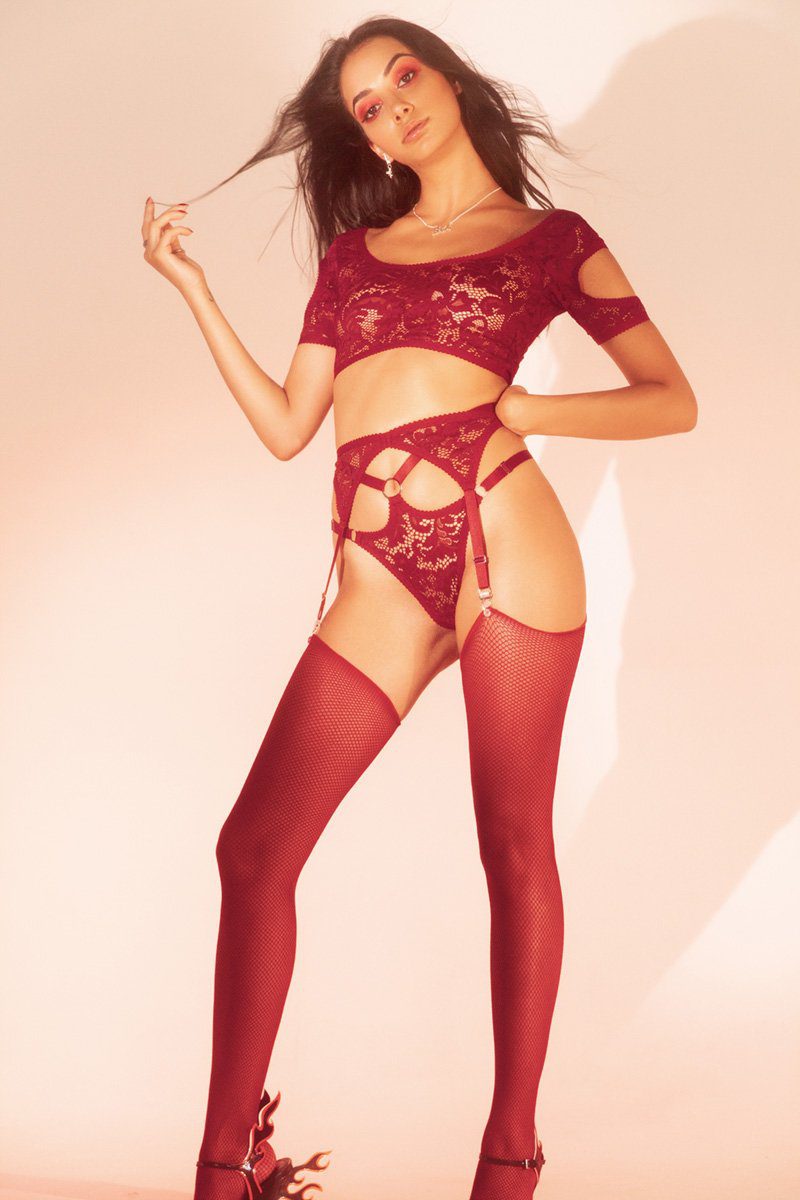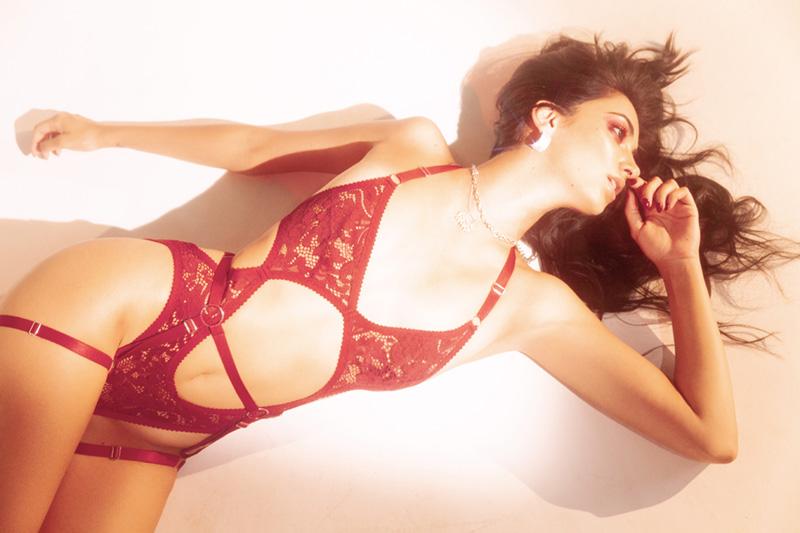 One of the first things I noticed about Hopeless Lingerie is that the fabrics they use are different than what you'll find other brands using. The lace in this collection has a beautiful floral design, but there's also fishnet in between the flowers. Who wouldn't want floral and fishnet at the same time? And the best part? With dozens of pieces in the same colour and fabric, it's easy to mix-and-match different pieces.
New iterations of old Hopeless favorites, such as the Nancy Cami and the Pamela Bralette, appear in this collection. You may have seen them in black mesh or spiderweb lace, but here they are in a bold new colourway. Meanwhile, new styles like the Angela Thong prove that Hopeless isn't just recycling old styles – they are constantly evolving as a brand and creating new designs.
In fact, that piece deserves special recognition from this collection. Strappy lingerie has become ubiquitous in recent years, so it's rare to find a strappy design that seems original. But the Angela Thong does just that with elastic that stretches both vertically and horizontally, hinting at the knickers as a cage.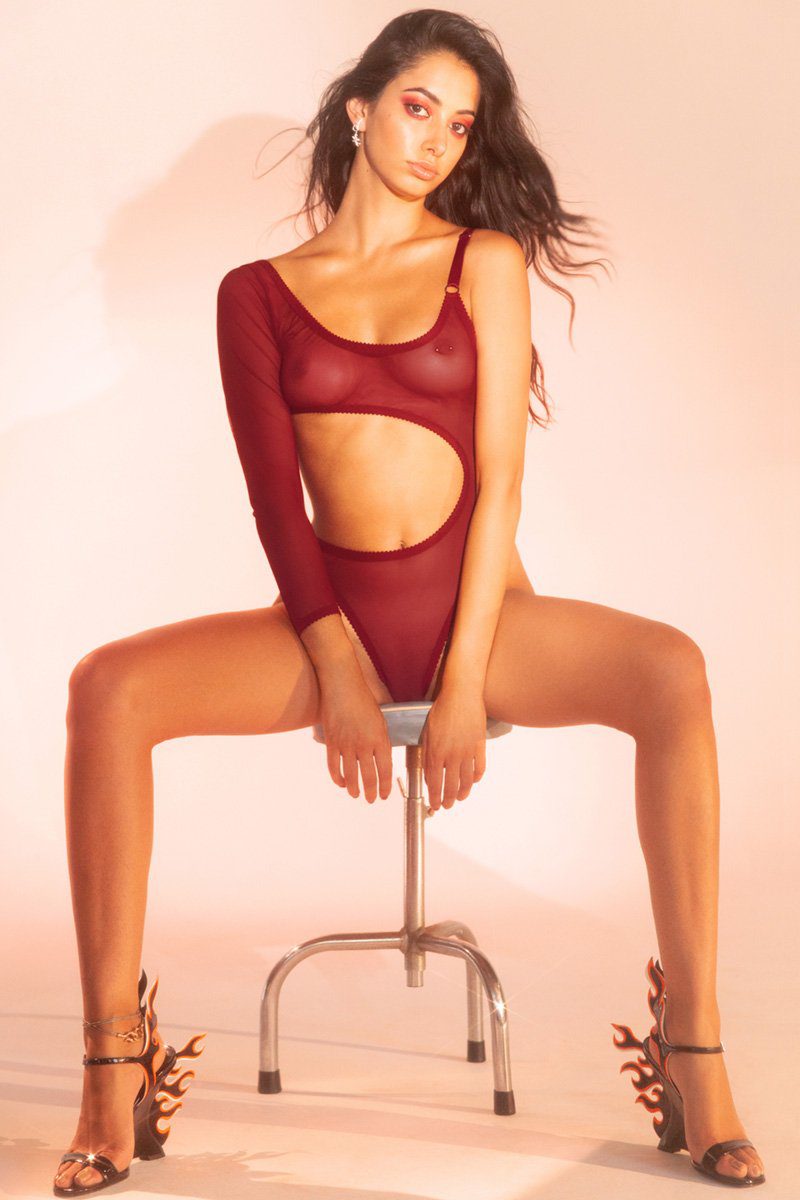 Cut-outs are another staple of Hopeless' aesthetic, and they appear throughout this collection. The Ingrid and Mara bodysuits both feature cut-outs exposing the abdomen. (Mara's one long sleeve and one strap, along with the cut-out along the side, create a completely original look). Cut-outs also appear on the Susanna knickers, Esther Top, and Pamela Bralette.
The Lilith Dress and Naomi Skirt, meanwhile, appear to be a basic mesh dress and skirt until you look a little closer and notice the asymmetry. The ruffles cascade down the model like a waterfall in a design that is especially unique.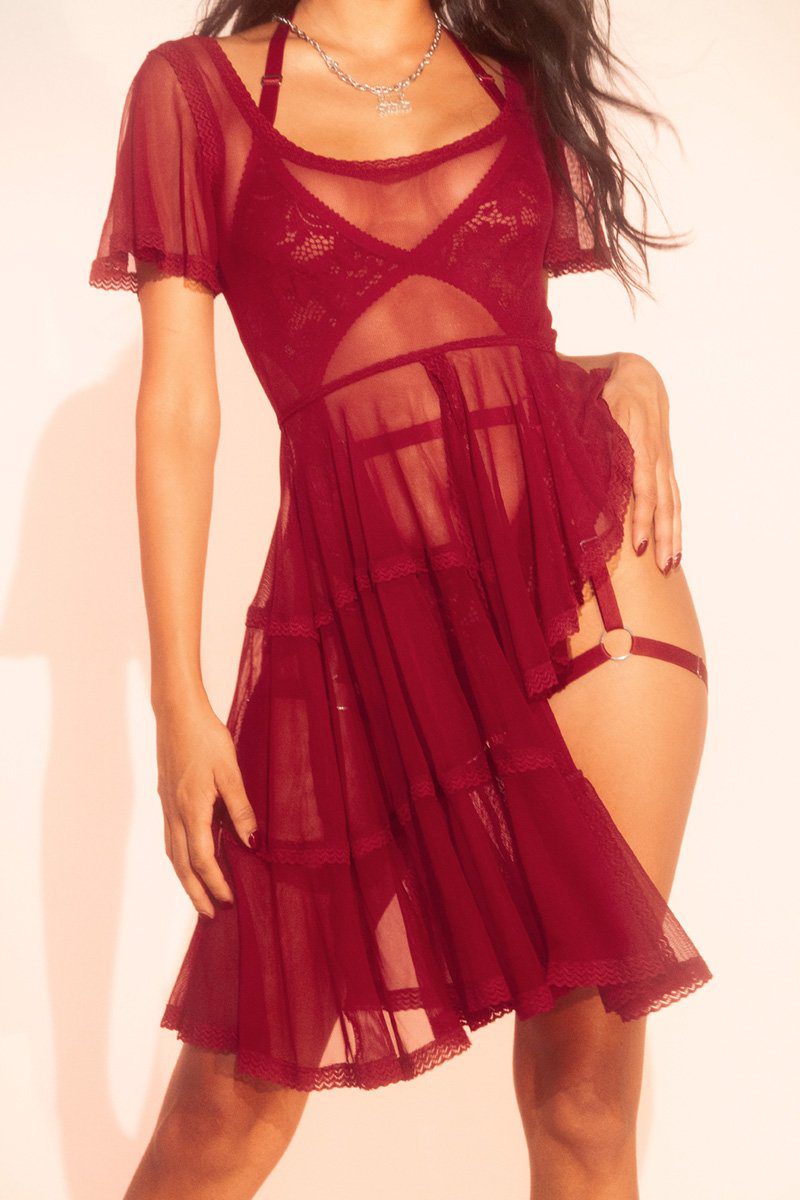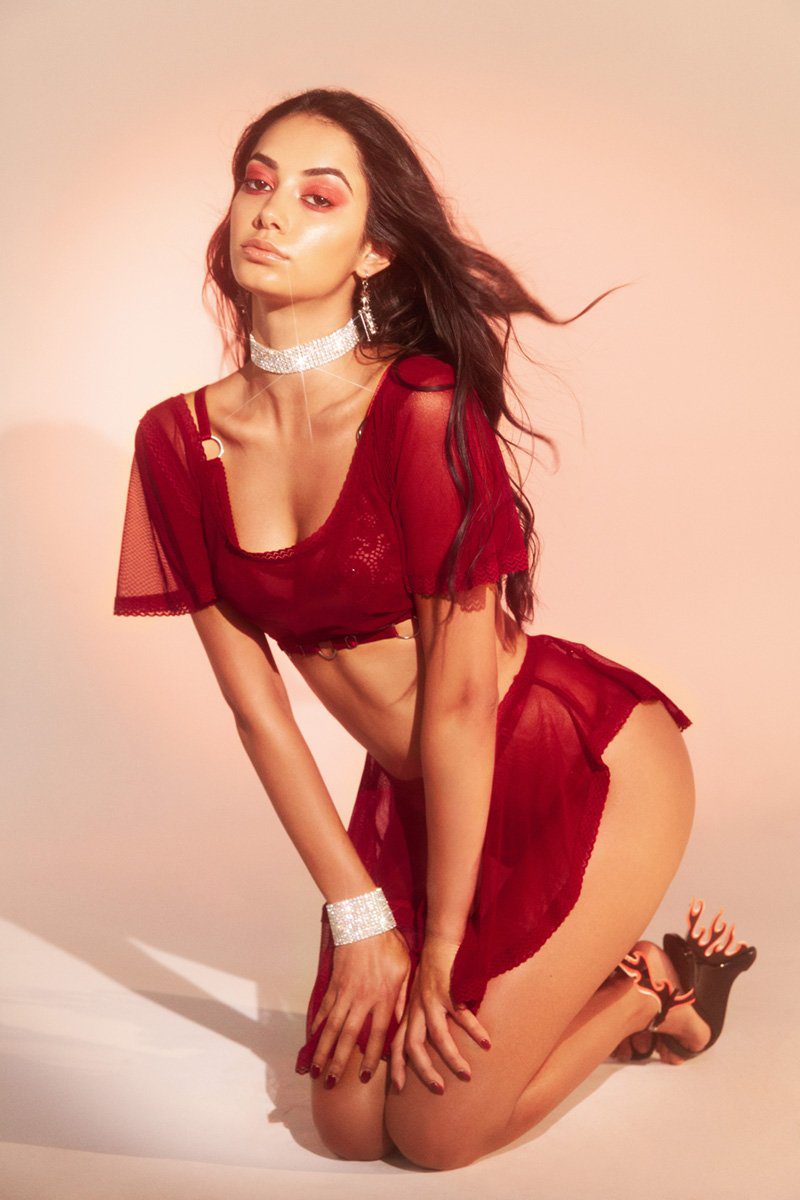 The G.O.E.D. collection features sizes XXS – XXL, and Hopeless offers custom sizing upon request. As they state on their website, everyone deserves beautiful lingerie. Equally great, this collection comes with Hopeless' promise to produce their lingerie ethically and sustainably.
Is Hopeless Lingerie on your list of must-buy brands? Which pieces would you wear from this collection?