Disclosure: I received this lingerie set free of charge to review.
Inamorata London is a lingerie brand created by independent UK retailer Naughty Knickers, which they launched with the goal of expanding their size range. Items are available from a 30B to 38G, and from XS to 2XL.
There are a number of pieces that I quite like, especially the sheer-cupped, faux-leather-banded Dahlia high-apex bra, but in the end I picked the Aster set to review because I couldn't resist the pretty embroidery. Although the floral pattern itself is nothing groundbreaking, it has a glazed, satin-like finish which looks really beautiful in the right lighting.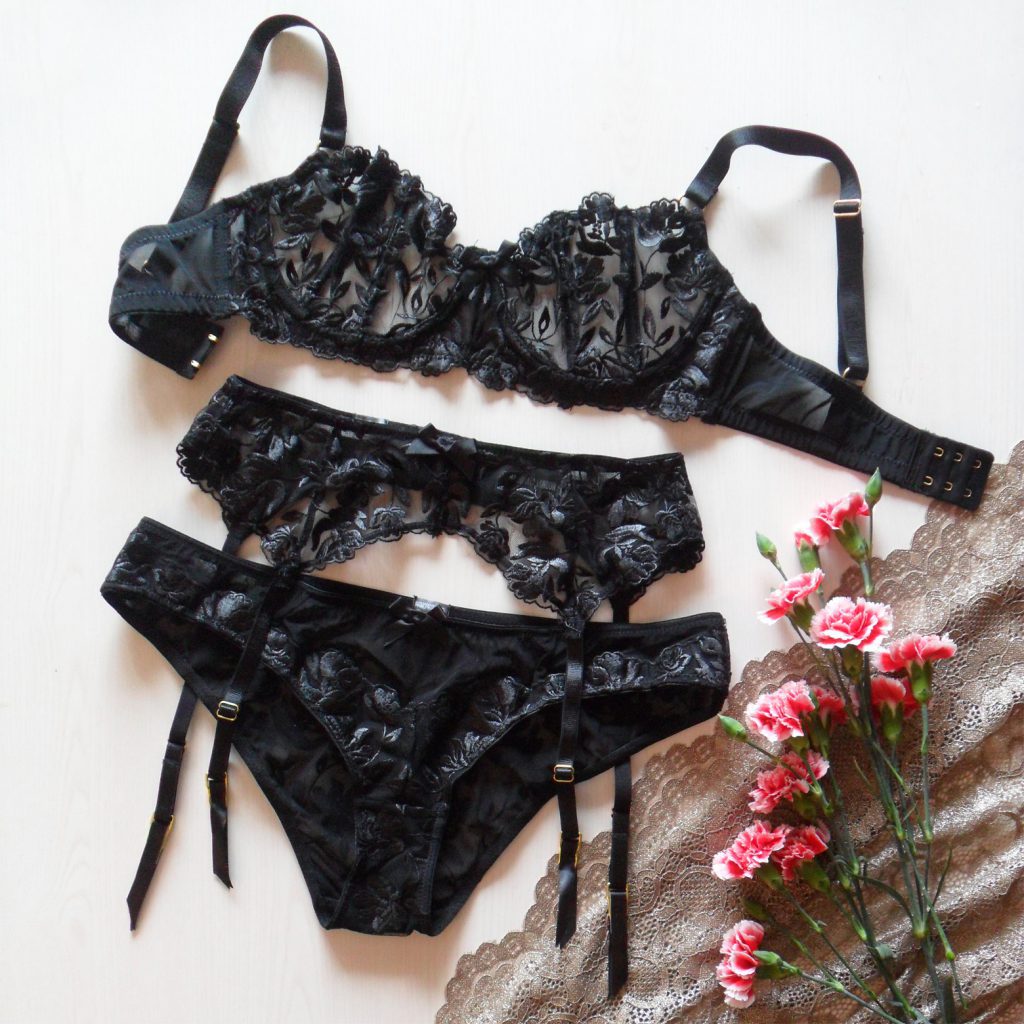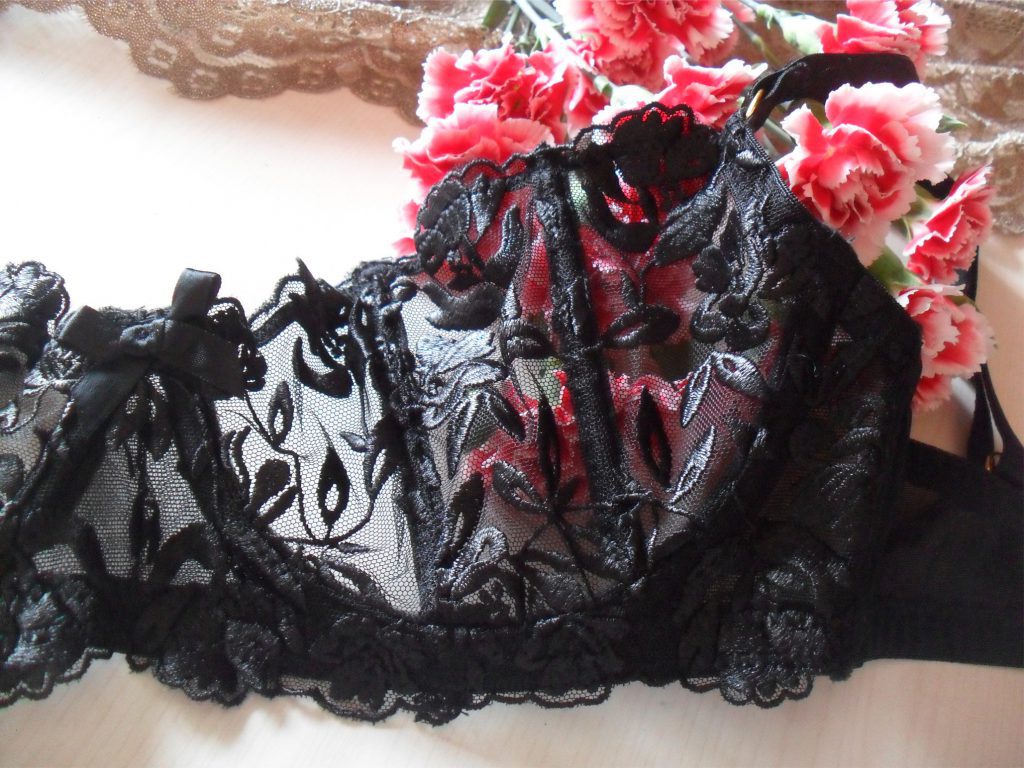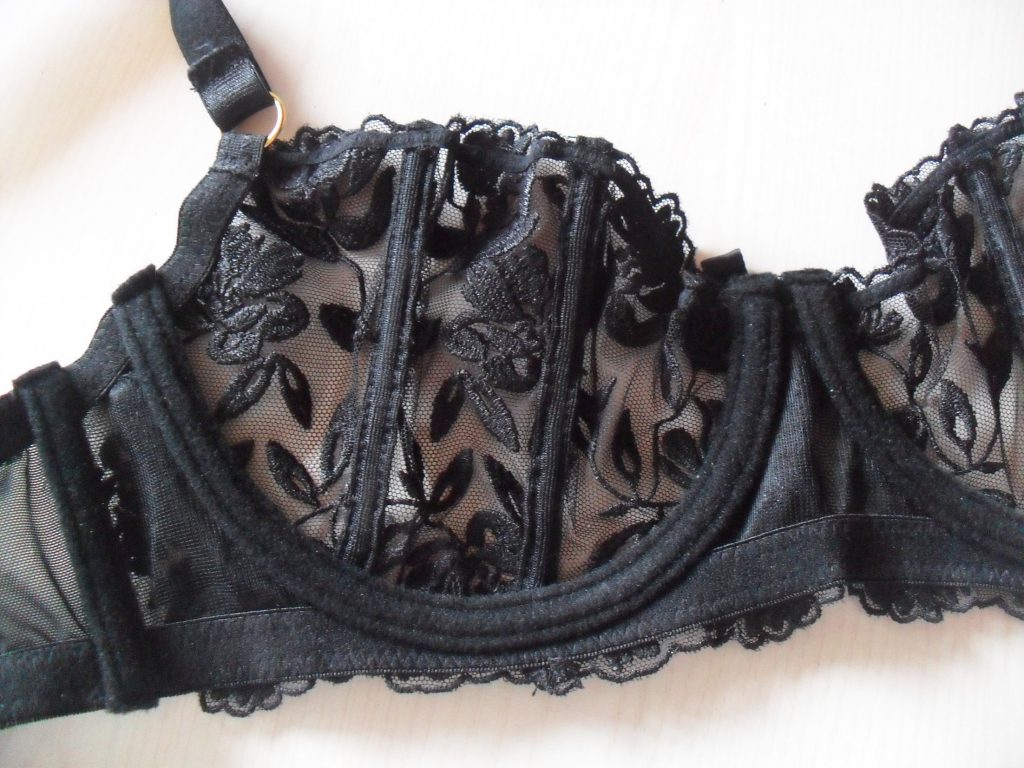 The Aster bra is a sheer balconette with two bones inside either cup. There's no lining, but that's okay because the embroidery feels lovely and smooth on both sides. As for the shape, the vertical seams on the cups are there to create lift, and having them boned for reinforcement just enhances that effect. But the bones are flexible enough that the bra still looks rounded from the side (and not like an inverted triangle as happens with my Chantelle Champs Elysées bra, another vertically-seamed style).
The balconette straps are very wide-set, but not in a way that's uncomfortable or that makes them slip off my shoulders. Overall, I am very happy with the fit of the bra, especially as it feels true to size. I requested a 30DD which is what I typically wear, and both the cups and band are exactly the size I'd want them to be. The label at the back was kind of scratchy and annoying at first, but it softened up quickly with washing.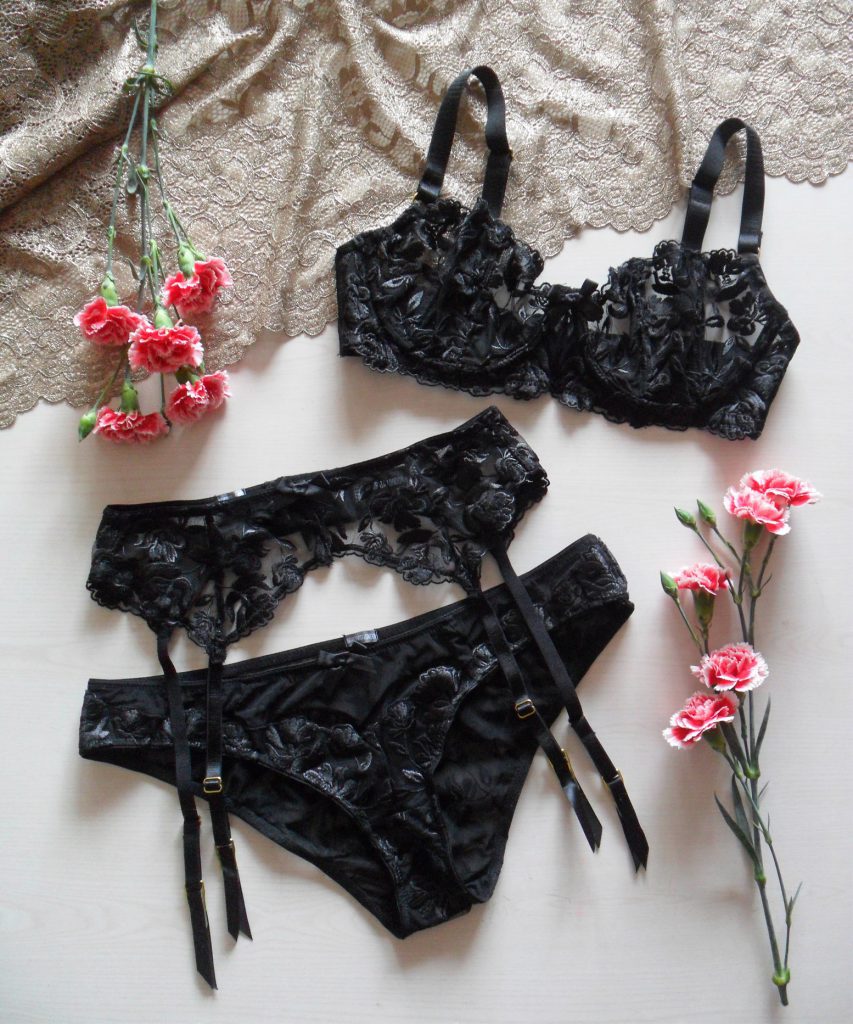 The four-strap style suspender belt, like the bra, is made from embroidery at the front and sides, and plain mesh at the back. And also like the bra, is has a two-row hook-and-eye fastening to adjust the size. I got it in my usual size of XS and am glad to report that it stays perfectly in place, at waist height, and that the straps also remain at whatever length you've adjusted them to. So it has kept my stockings secure all day long every time I've worn it.
There are two brief styles in the Aster range and I couldn't pick a favourite, so I asked the brand to choose for me. The one I received has a half-mesh, half-embroidery back, while the other one has a fully-mesh back but with a large cut-out feature. I received this in a size XS also and it fits fine.
This is however my least favourite part of this lingerie set. The embroidered sections here have been backed by black mesh, instead of being left single-layer as on both the bra cups and suspender belt. While that was probably a comfort-driven decision (which I don't think was entirely necessarily – as mentioned, this embroidery is smooth and soft even on the interior), it makes the knickers look a fair bit darker than the other pieces once put against the skin, and a lot of the detail of the embroidery gets lost. Visually, I kind of get the impression that I'm wearing the bottoms from a different set. So while there's nothing instrinsically wrong with it, it just doesn't feel like the brief matches the other pieces particularly well.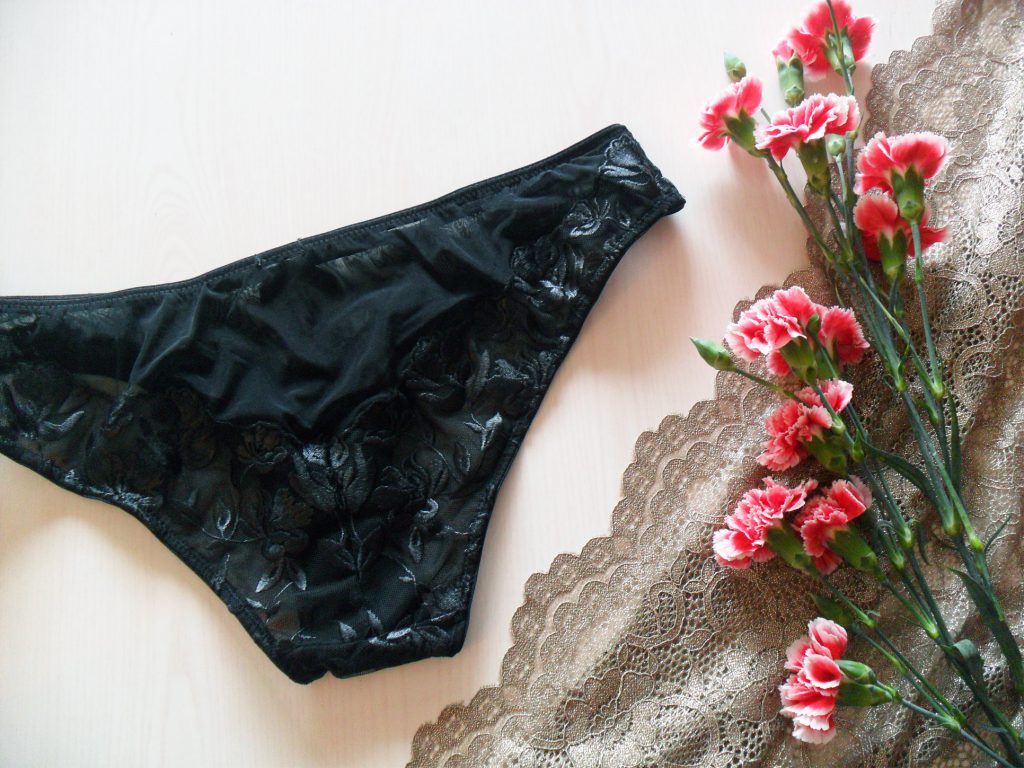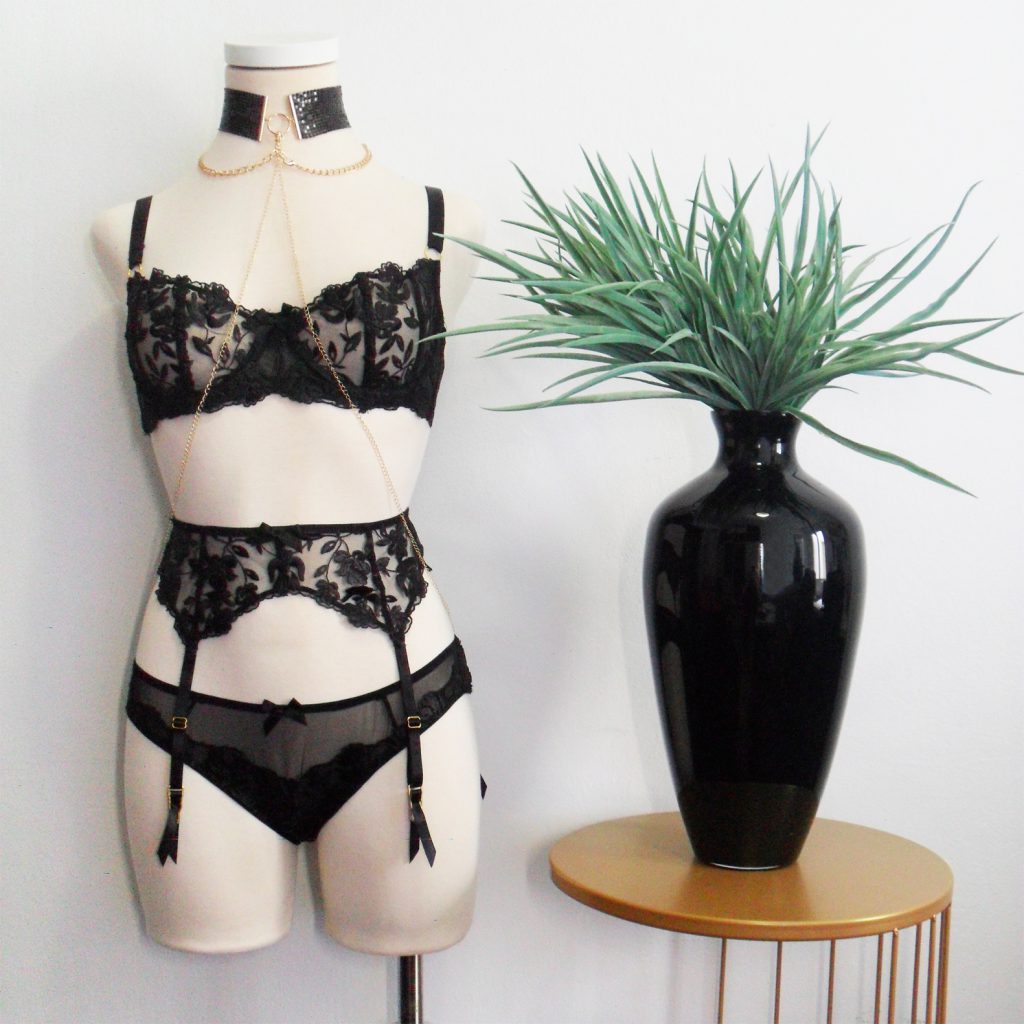 However, overall, I am very pleased with this Inamorata London set, and can definitely see myself continuing to wear it regularly. A classic, three-piece lingerie set in black lace or embroidery will always have a place in my lingerie drawer, and this is a very pretty take on this timeless style. The glazed embroidery and gold-tone hardware give it a subtly luxurious vibe, and I have no complaints about the fit or construction quality. Plus, after multiple wears and hand-washes it's still in as perfect condition now as when it arrived.
It also helps that the Aster set is really well-priced – usually £45 (~$55 / ~51€) for the bra, £35 (~$43 / ~40€) for the suspender, and £27.50 (~$34 / ~31€) for the brief, and currently on sale for under £50 for the full set! And it even arrived with its own organza storage bag, which was a nice additional touch.
What do you think of this Inamorata London by Naughty Knickers design? If you've tried the brand, I'd love to hear your thoughts on it too!