Disclosure: I received this lingerie set free of charge to review.
Independent Russian label Love & Swans is rapidly turning into one of the lingerie brands I write about the most frequently – it's their fault, they keep creating incredible new things I feel compelled to share! Their latest launch is this Cupid set, which they generously gifted me at the start of summer.
Appearance
This striking, smile-inducing design was dreamt up in the space of about ten minutes, showing that sometimes the best designs happen when you aren't thinking too hard about them. It all started with a Venus fly trap that designer Maria and her partner (and fellow co-founder) Ivan have at home, and a joke about what might happen to Cupid if he flew too close to one. Is this a tragedy or a tale of romance? The ending is revealed on the back of the set, and you'll have to scroll down if you want to find out 😉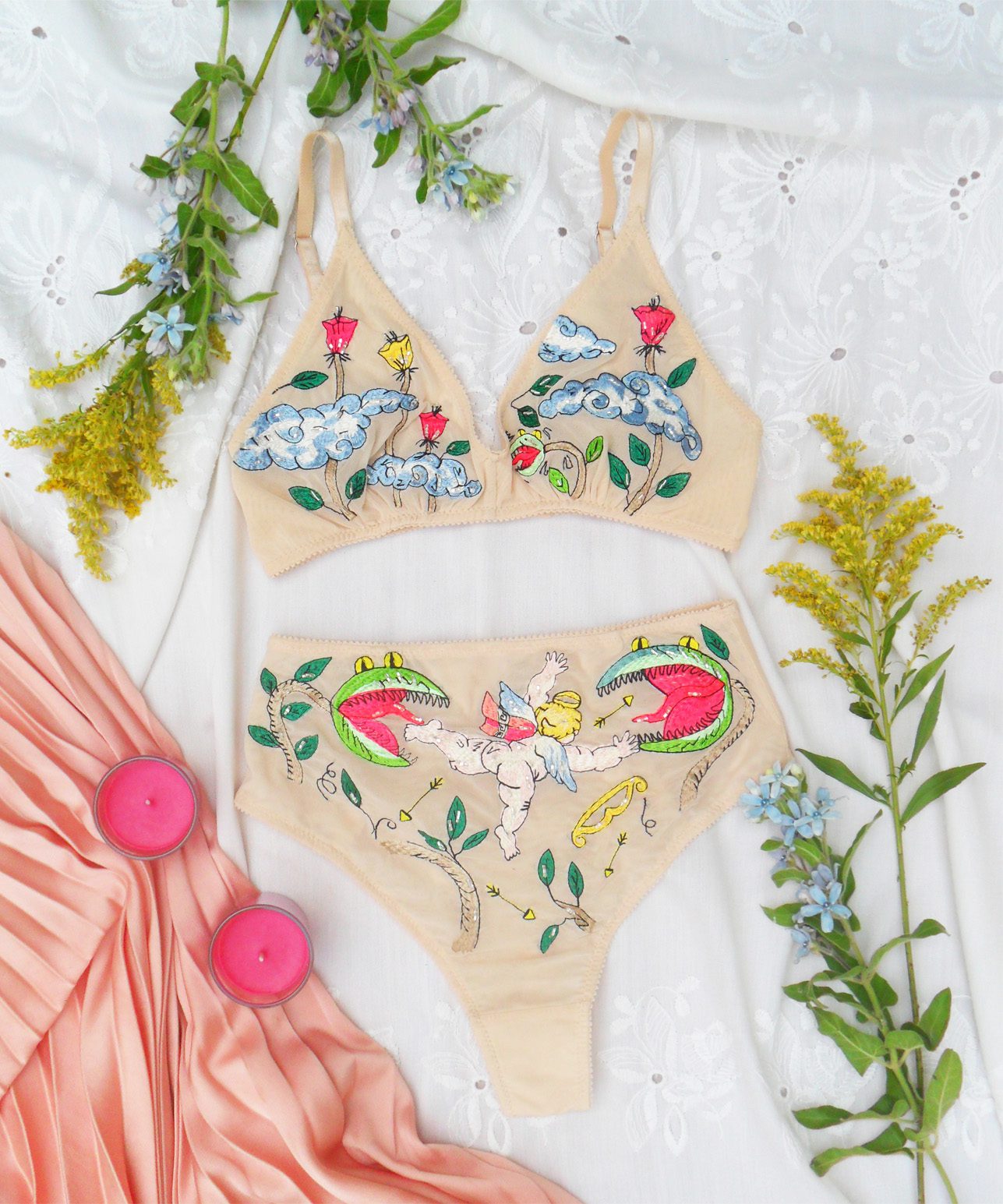 As always, I am blown away by the level of detail in this Love & Swans lingerie set. What may from a distance appear to be a print is actually an embroidery, which gives it a wonderful depth of texture when seen up close. The colour palette is vibrant, and unexpectedly thorough – like the way Cupid's body includes subtle pink shading.
And on top of all this stunning embroidery is that other signature design element of this brand: lavish hand-beading. In the case of the Cupid set, the beads are all clear for a subtle effect, but they're scattered all over the design so that it sparkles and shines as you move. I love that this set manages to be both cartoonish and incredibly luxe – not a combination you often find!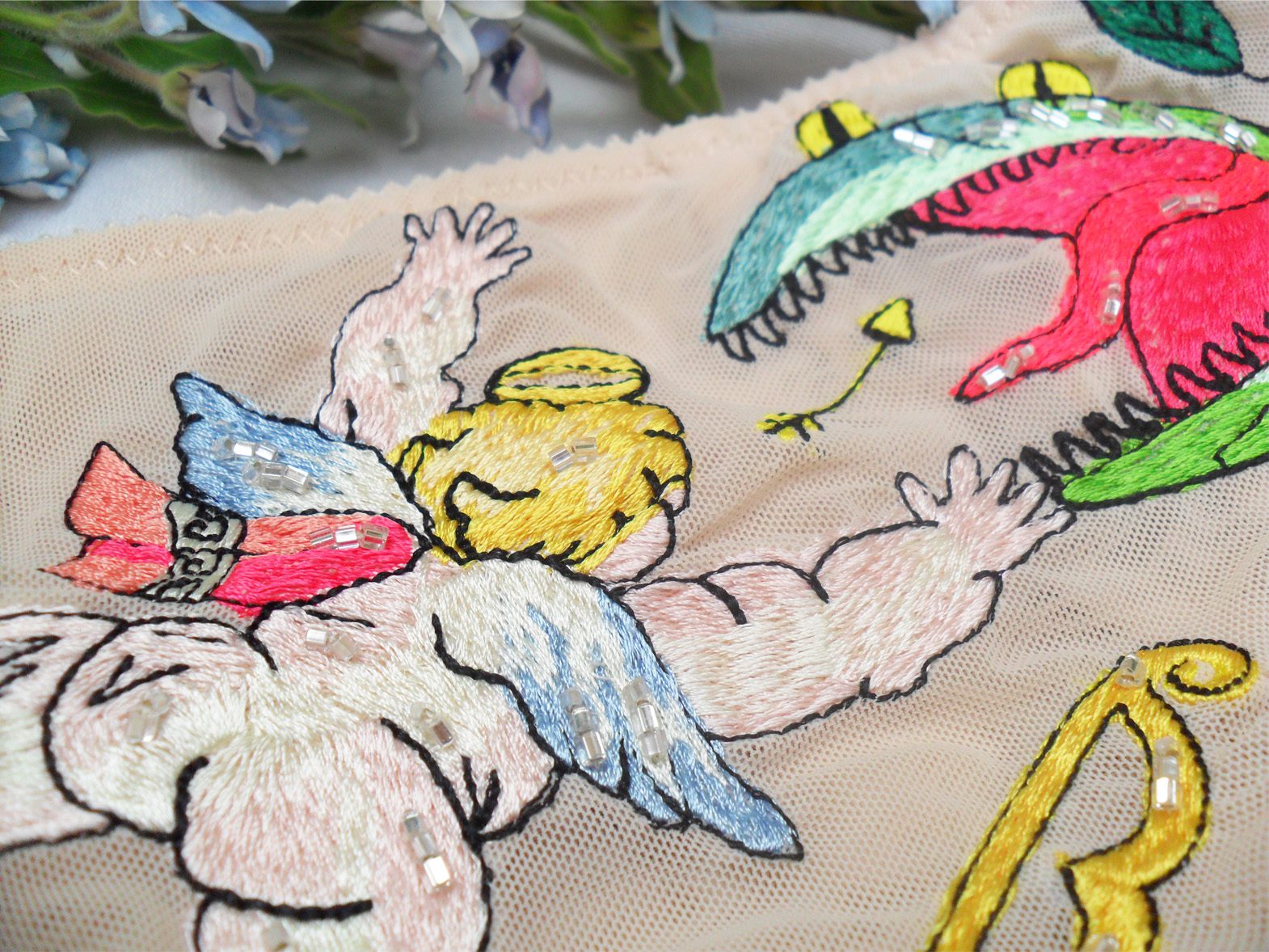 Fit
While interviewing Maria for a Lingerie Briefs article published earlier this month (I did say I wrote about this brand a lot) she mentioned the difficulty of adding heavy embroidery to a piece while maintaining the elasticity of the mesh below. This high-waist Cupid thong (described by the brand as 'knickers') definitely features a lot more embroidery than my other Love & Swans set, and while both thongs are the same size, shape and fabric, this one has rather less stretch. I have to be a bit more careful when putting it on by slowly easing it over my hips, but once it's on none of that is noticeable. It fits just as well, and doesn't feel at all restrictive. I have it in a size S, which aligns with my hip and waist measurements on the brand's size chart.
The bralette is also a size S (side note: Cupid is sold as a set but you can pick different sizes for top and bottoms). In this case, my underbust and overbust measurements are both very slightly below a Small on the size guide, and while I do typically wear a smaller band size than the suggested equivalent one, I'm typically a larger cup size than the EU 70 A-C range given. So I feel the size chart is slightly off.
Nevertheless, the bralette manages to be a great fit too! The band is sufficiently firm without being tight, and the cups are a perfect fit. It doesn't provide any lift, but thanks to the double-layered fabric, it does feel nicely secure.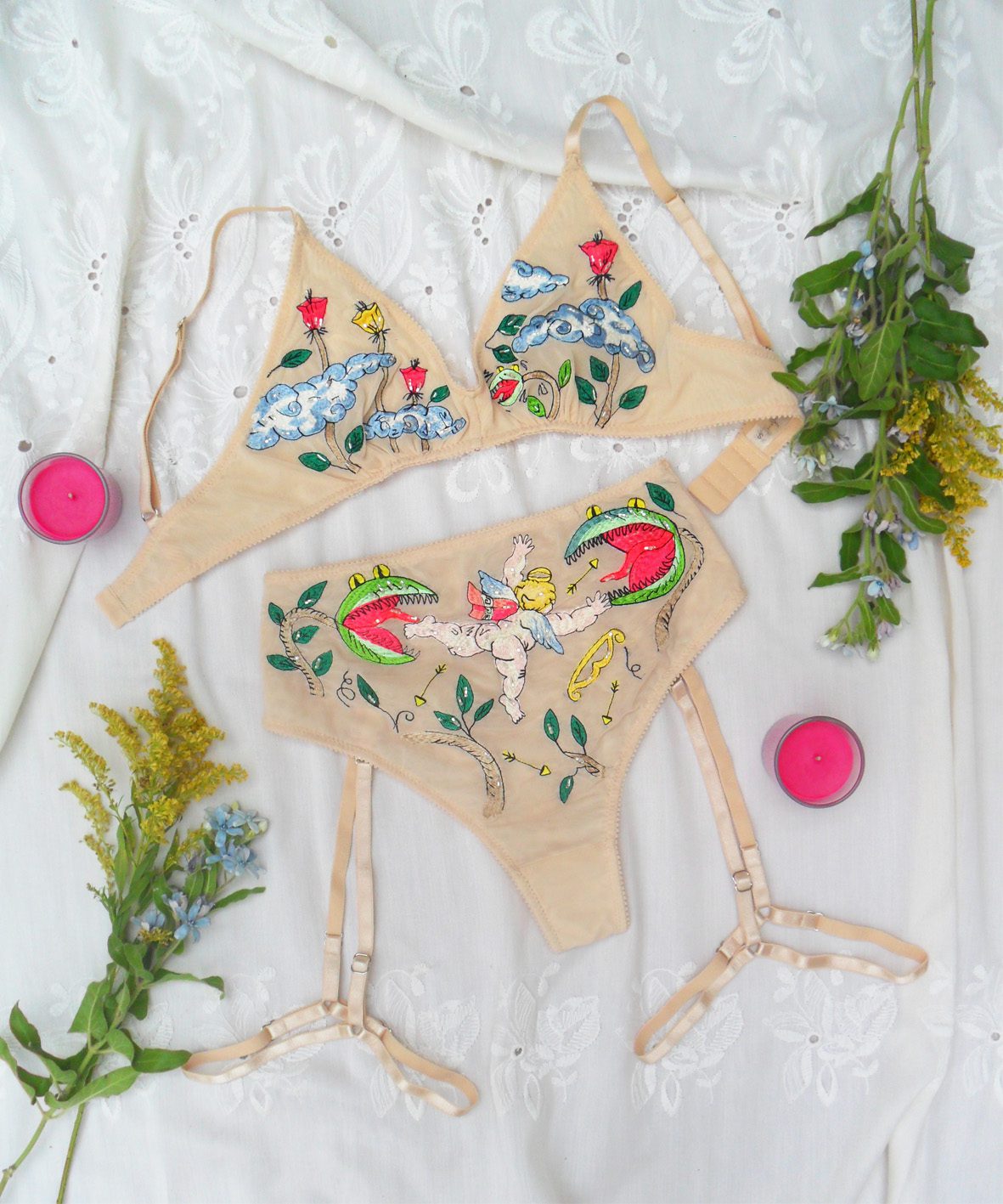 Construction
That double-layering of the mesh is included on both the bralette and thong, and ensures that only soft mesh is against your skin rather than the back of the embroidery. The gusset is lined with a different fabric – it doesn't say what with, but it feels like cotton. Add in the brand's super-smooth and not-at-all-scratchy plastic labels, and you've got a lingerie set that's fabulously eye-catching yet still comfortable enough for all-day wear.
I particularly love that the 'leg harness' garter straps on the Cupid set are removable. On earlier Love & Swans bottoms with this same shape, customers have the choice to order with or without straps. Making them detachable feels like an improvement because you're effectively getting two looks in one, and it's nice to have options.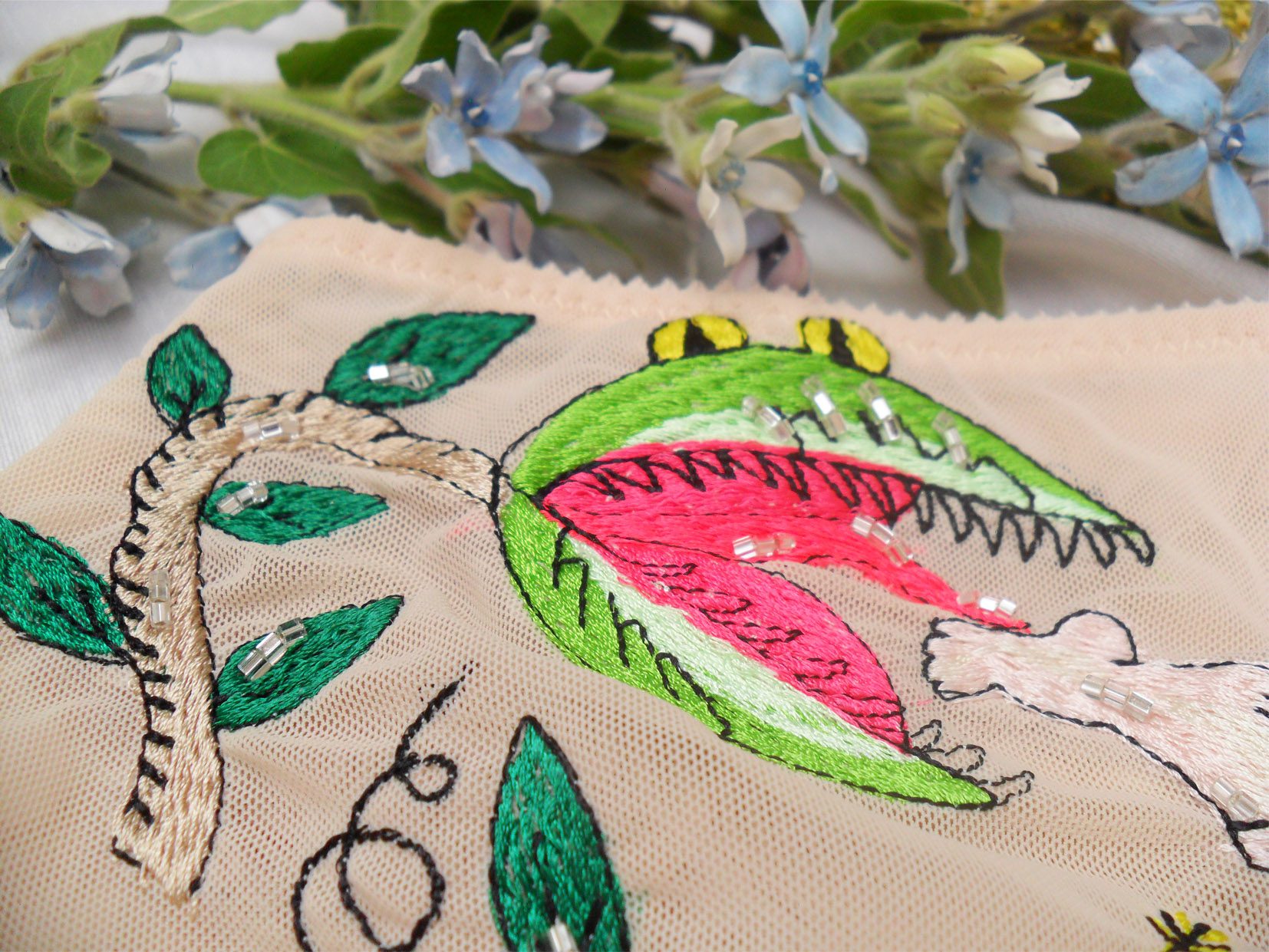 Durability
This whole lingerie set is extremely neatly-sewn, including the embroidery which has tightly-packed threads that would be very hard to snag. The beads are securely sewn on too, so I'm not worried about any of the decoration falling off or unravelling.
As I mentioned in my earlier Love & Swans review, you do need to be a little careful when washing this set. It absolutely needs hand-washing, and just generally a gentle touch – so no wringing it out which might snap the threads or damage the beads! That said, this set feels a lot sturdier and less delicate than some of my luxury lace ones, so if you're already accustomed to hand-washing your lingerie you won't find it difficult to care for.
As well as shipping in a very sturdy, flat box which can be kept to use for storage, all Love & Swans lingerie sets come with a fabric storage bag too in case you want an option that takes up even less space.
Now, still wondering how the story of Cupid and the Venus fly trap ends? It was a love story of course!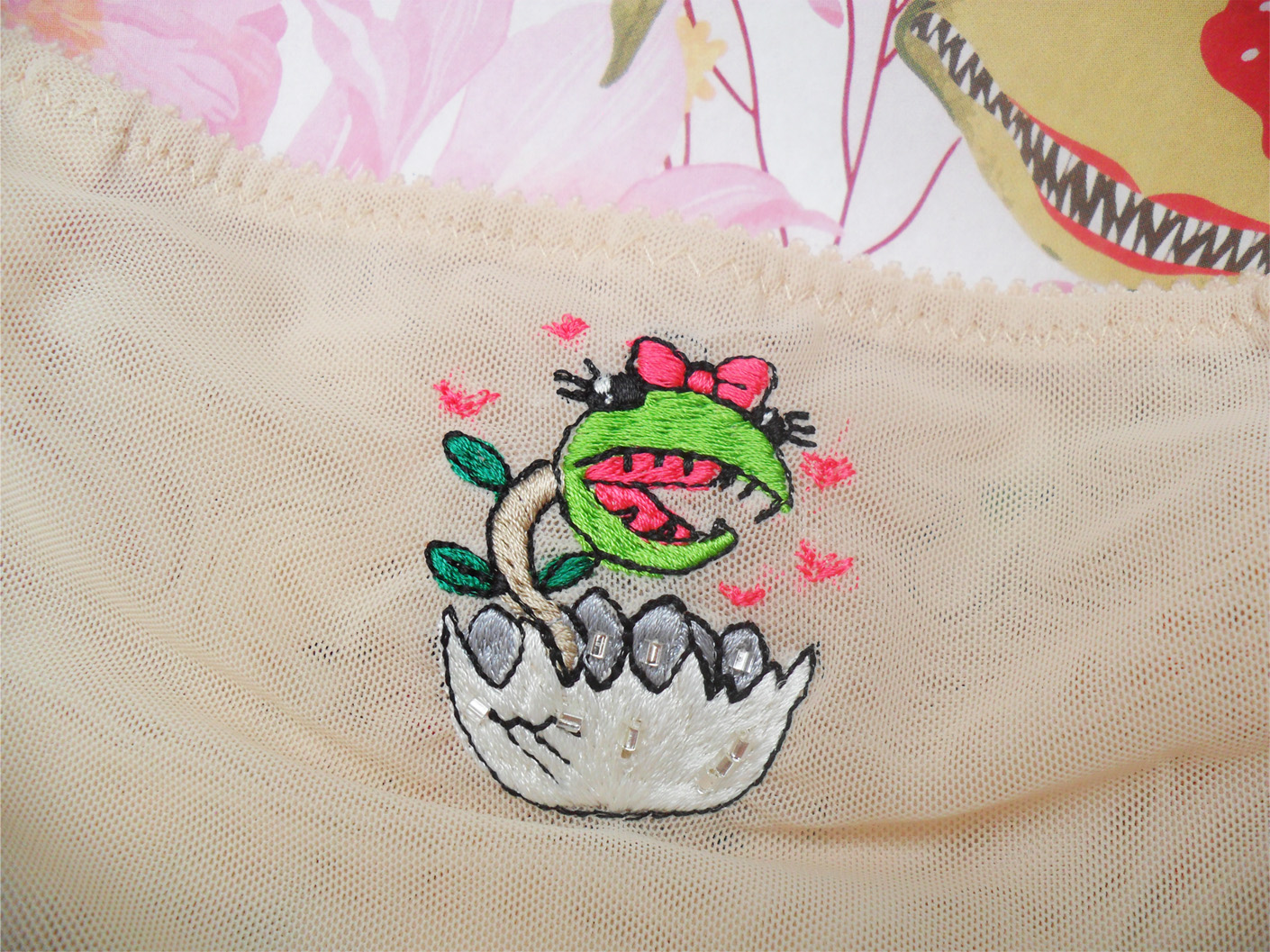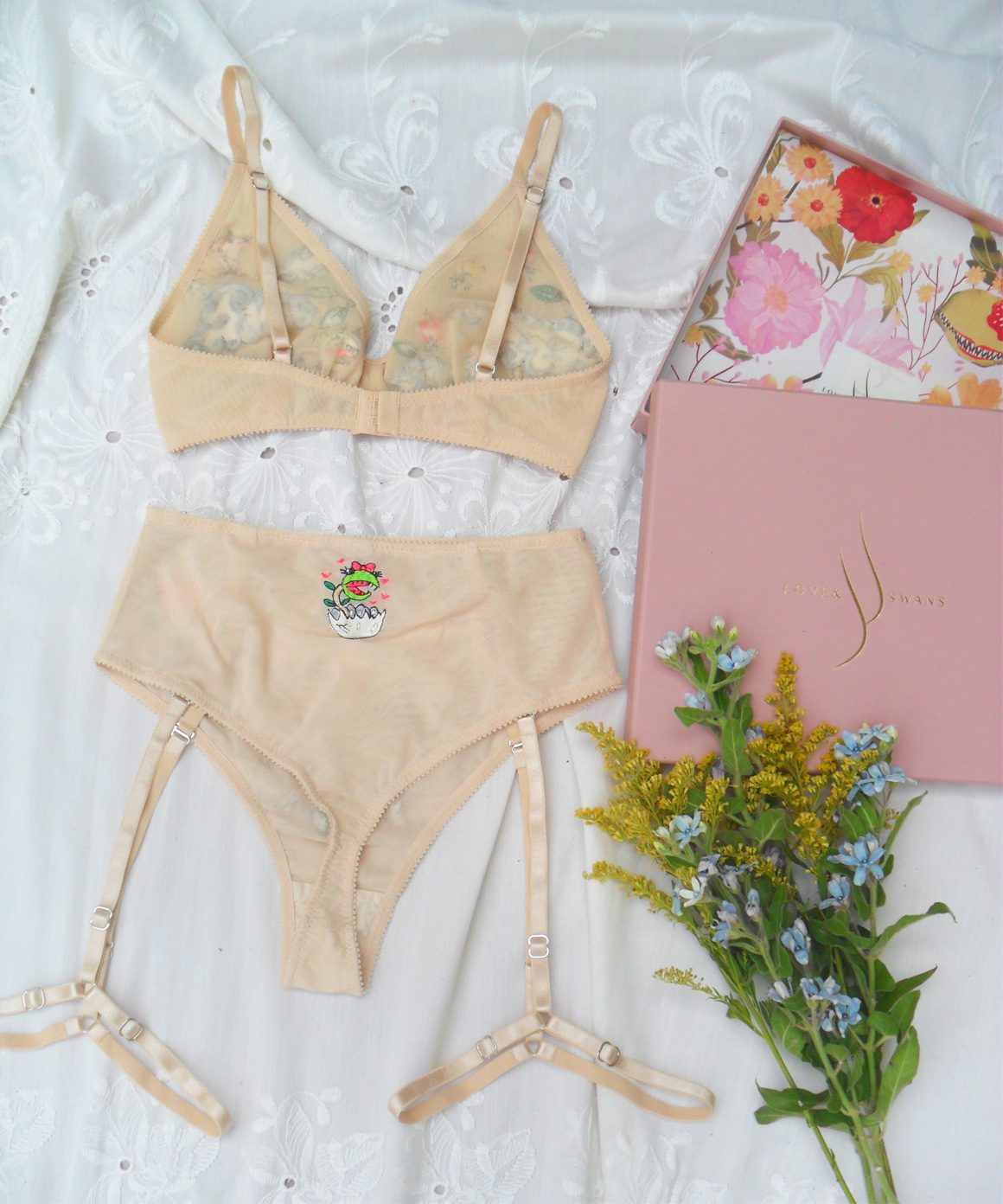 The Cupid set is available in sizes S-2XL. When I first reviewed Love & Swans, the sizing only went up to L for bras and XL for bottoms, so it's great to see that they have expanded what they offer. It costs 240€ (~£206 / ~$283) which I feel is a very fair price for something that I have no doubt would have been very time-consuming to create, and not to mention utterly unique!
I'd love to know your thoughts on this new Love & Swans design. Are you a fan of this 'luxury but make it fun' aesthetic?