Disclosure: I received this lingerie set free of charge, but not with any expectation of a review.
Have you ever been so excited to receive a parcel that instead of tearing into it the moment it arrived, you actually waited a day or two, because you wanted to savour the anticipation of knowing you were about to unwrap something truly special? That's how I felt when my Love & Swans package arrived, a very generous gift from the brand owners after I featured their debut collection here on the blog in May.
To summarise from that article, Love & Swans is a small, independent label based in Russia, which focusses on lingerie with embroidered embellishments. It's these richly-detailed embroideries – vaguely-cartoonish in style but also very chic and adorned with beads for added texture – that set it apart from practically any other lingerie I've seen. To me, Love & Swans feels like a luxury brand that doesn't take itself too seriously, one that's both exquisitely-crafted and incredibly fun.
Since my earlier feature about the brand, they've released a second mini-collection titled Siesta, comprising two bralettes and three coordinating brief/thong styles. I say coordinating rather than matching because, interestingly, they have chosen to go down the route of having a different set of embroideries on every piece. Fruit, shells, martini glasses… each garment has its own story to tell, but with the same beige mesh used throughout and the same general mix of colours for the embroidered details, whatever combination you choose will look cohesive.
I chose the Siesta Soft Bra (90€, approx. £81 or $106) and the Oyster High-Waist Knicker (70€, approx. £63 or $83).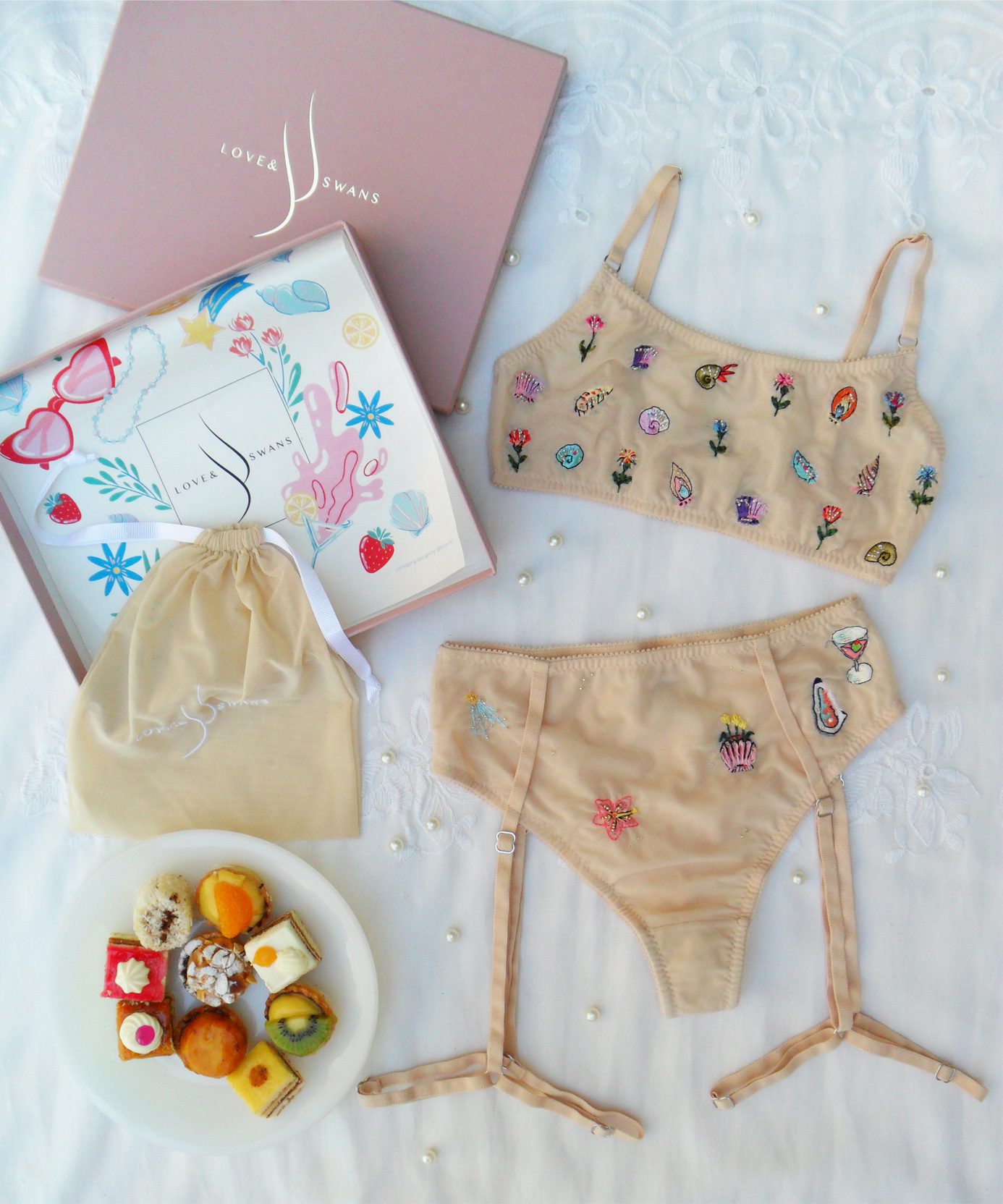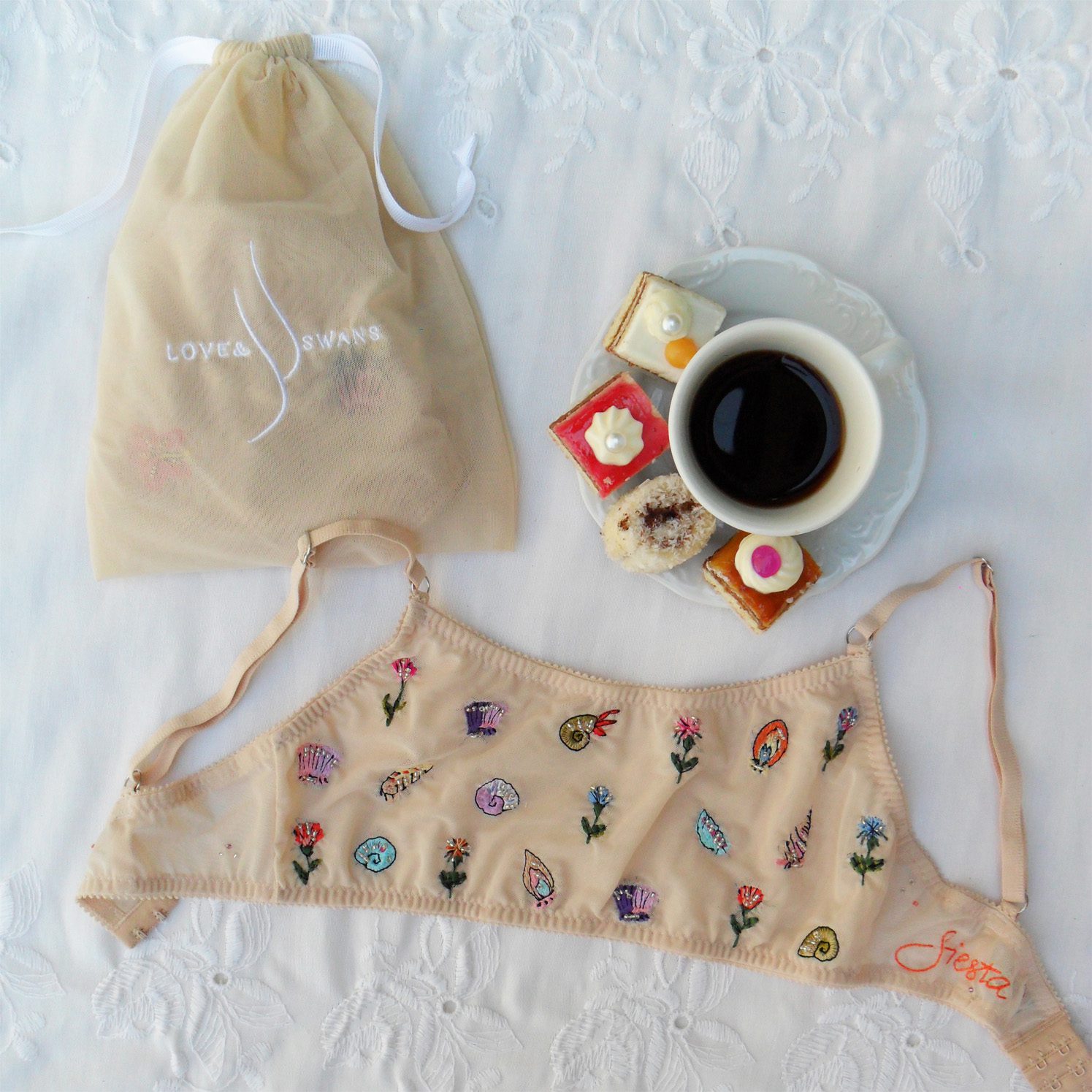 Appearance
Unwrapping my Love & Swans parcel, the packaging definitely felt befitting of a luxury brand. The set came with an embroidered storage bag made from the same fabric, and was wrapped in a sheet of high-quality, illustrated lining paper and placed into a very sturdy, branded gift box.
Of course, all of that paled in comparison with seeing the actual lingerie, which is every bit as beautiful as it looks online! The Siesta bralette is decorated with shells and flowers on the front, and features the word 'Siesta' and a few scattered beads on the back. The Oyster brief is embellished at the front only, and features an eclectic but charming mix of embroideries – an oyster, of course, plus a martini, a shell, a tropical flower, and a shooting star. This design also has some clear beads dotted around in various places. Maria, co-founder of the brand, designs each motif herself.
I knew that the beadwork would have to be done by hand, but I was surprised to find out that the embroidery also contains hand-worked elements. I don't embroider but I do hand-sew a lot, and imagine they are equally time-consuming! The pink shell with yellow flowers on the brief for example is entirely stitched by hand, giving it a more raised texture than the surrounding shapes. I could get lost staring at all the little details of the decoration here – these two garments are truly works of art, and you really feel the 'handmade' aspect in the best way possible.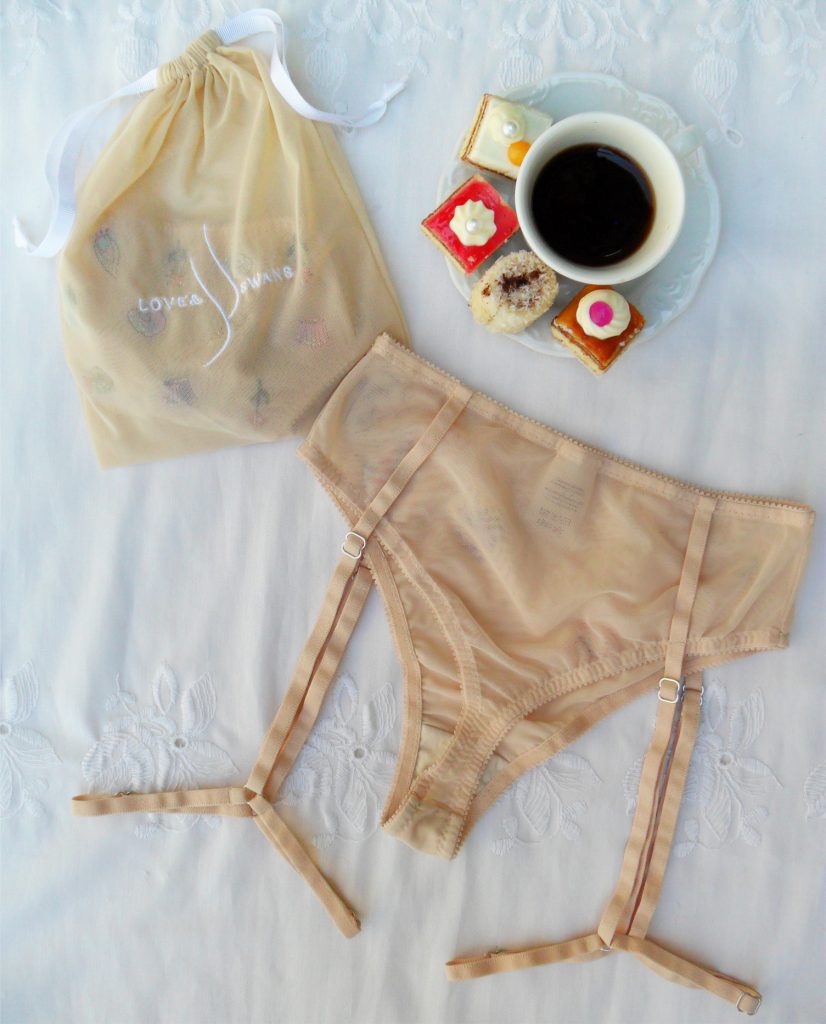 Fit
Let's talk about the fit and construction, because those are important too. Beautiful lingerie's no good if it isn't wearable! I sent in my measurements (66cm underbust, 82cm overbust, 61cm waist, 88cm hips) and received both pieces in a size Small. Bralettes are available in S-L and bottoms in XS-XL.
For bralettes, I would go by the bust measurement guide given for bodysuits more so than the bra sizing chart, because according to that the size S bralette is only intended for a 32A-B, and yet it fits my 30DD / 32D self very well. The band fits snugly but comfortably, and there's no cup overspill. With its wirefree design and lack of cup separation, it's not a bra built for lift, but the sturdy elastic trims and double layer of stretchy mesh do offer a decent amount of support. It also has a slight flattening effect, which is to be expected with this construction.
The 'knicker' is really a thong, which is shown in the product images. It fits very comfortably, neither digging in nor wrinkling with excess fabric. On me, the waistband is right above the navel, and the leg straps are a little above mid-thigh length when adjusted as short as they'll go. They're also very adjustable around the thigh for a perfect fit. If I wear short shorts, the garters peek out, which I kind of like as a styling option. It's possible to have this knicker made without the leg straps if you prefer.
Note that my measurements put me right on the border between XS and S for the bralette, and at the upper end of an XS for the thong, but I think the brand chose correctly in sending two size Smalls. And the bralette, while a great fit on me, might feel more constrictive on someone a cup size or two larger. So my advice would be that if you are towards the top end of a Love & Swans size, choose one size larger.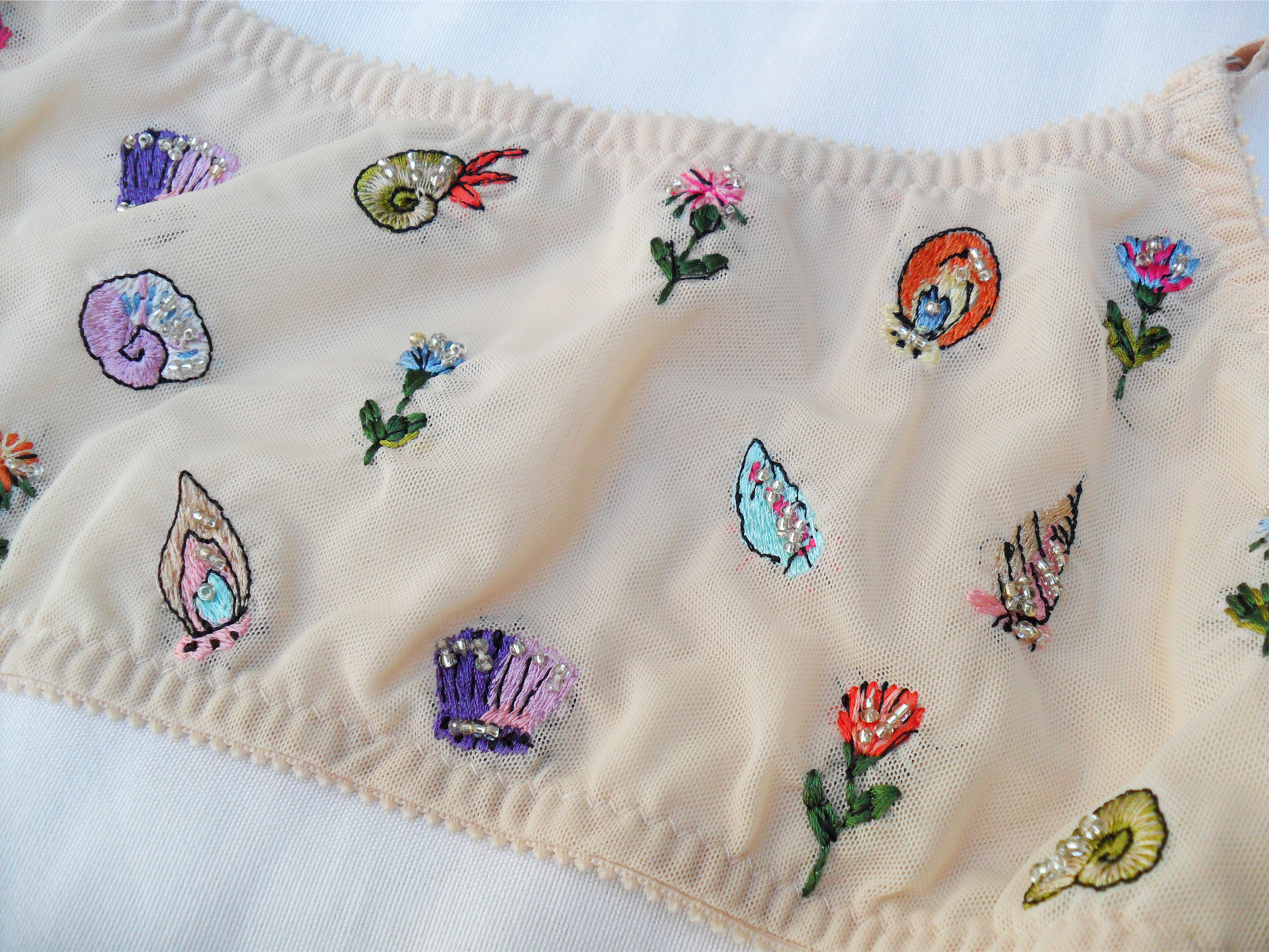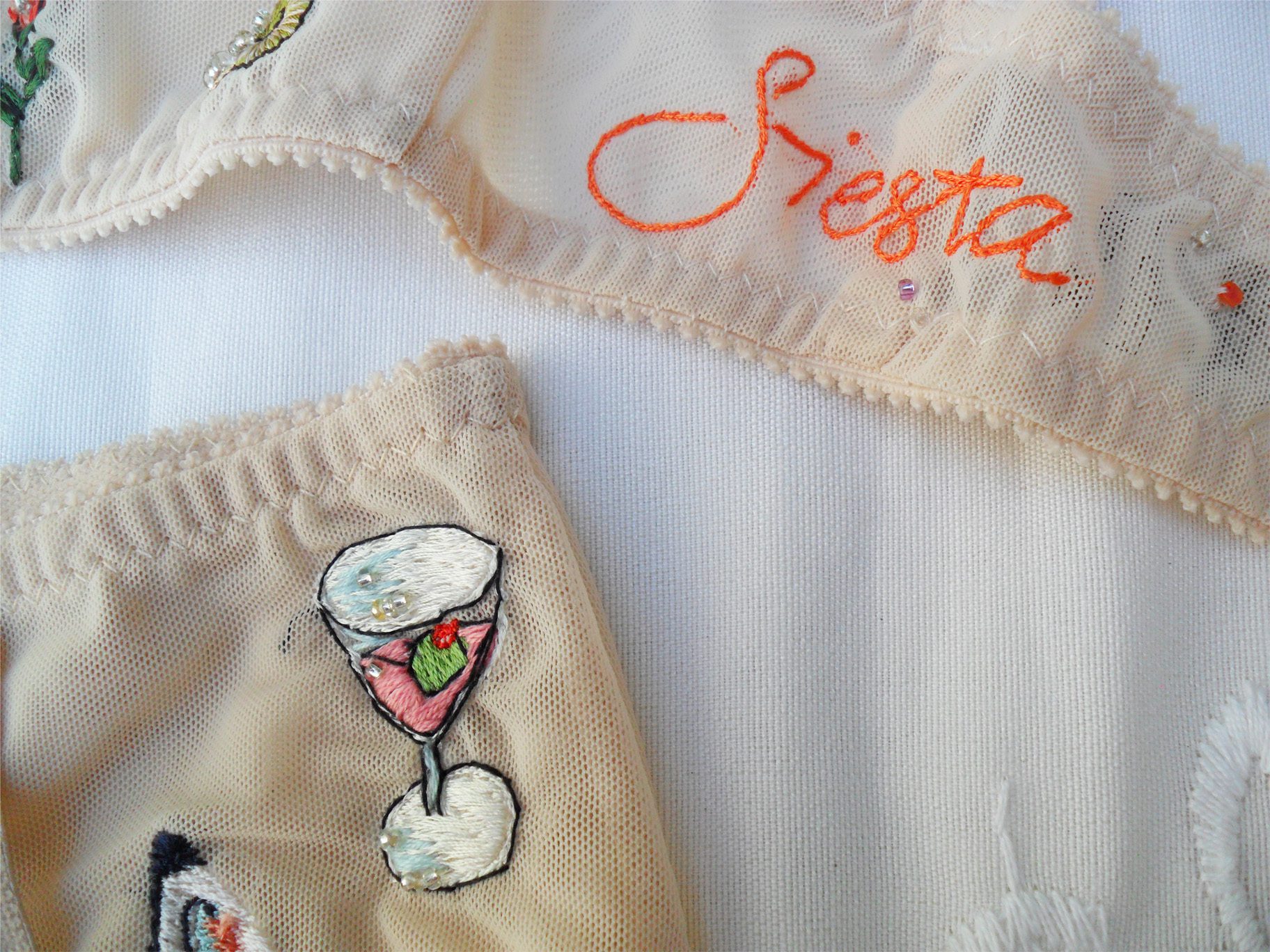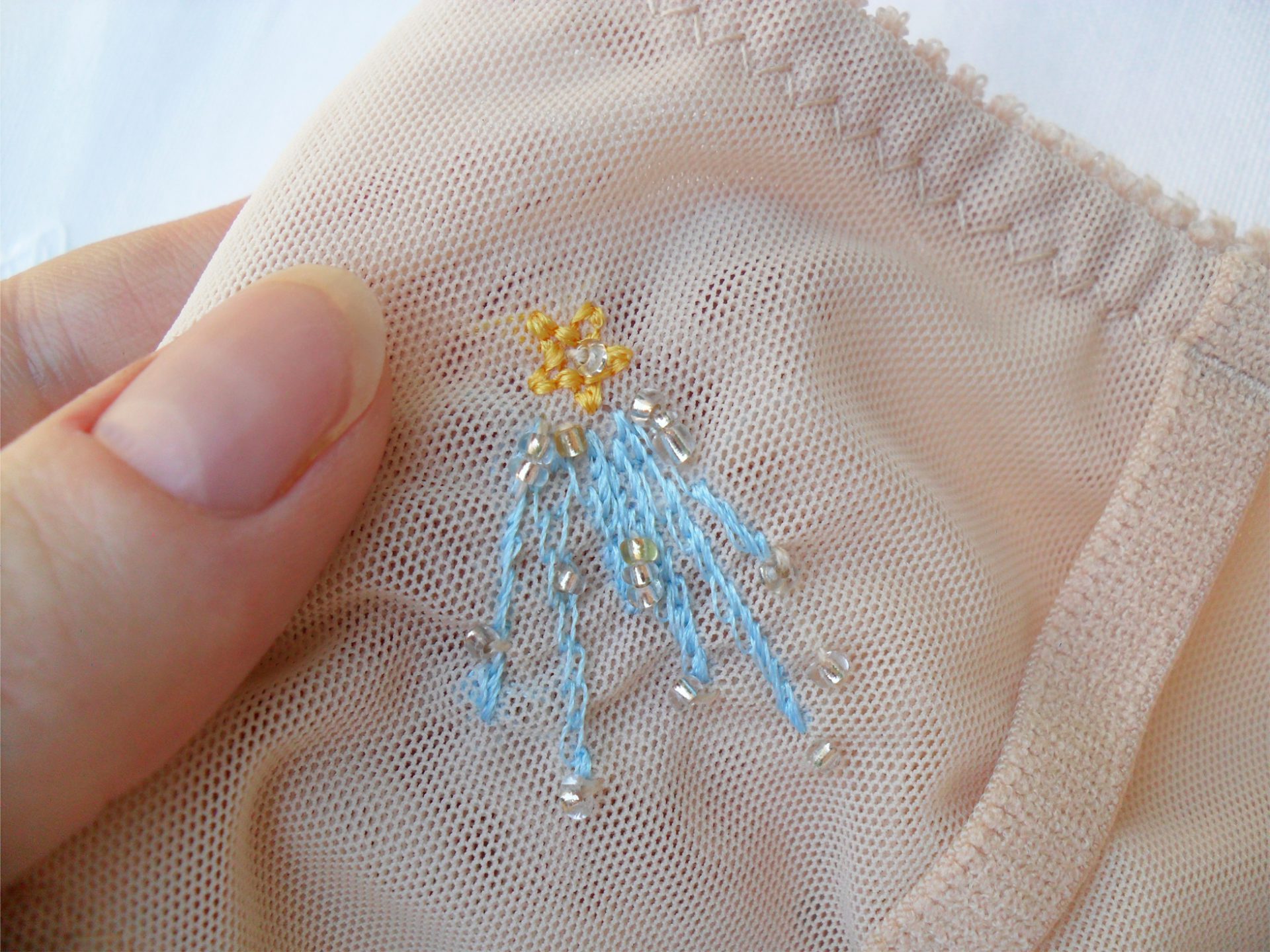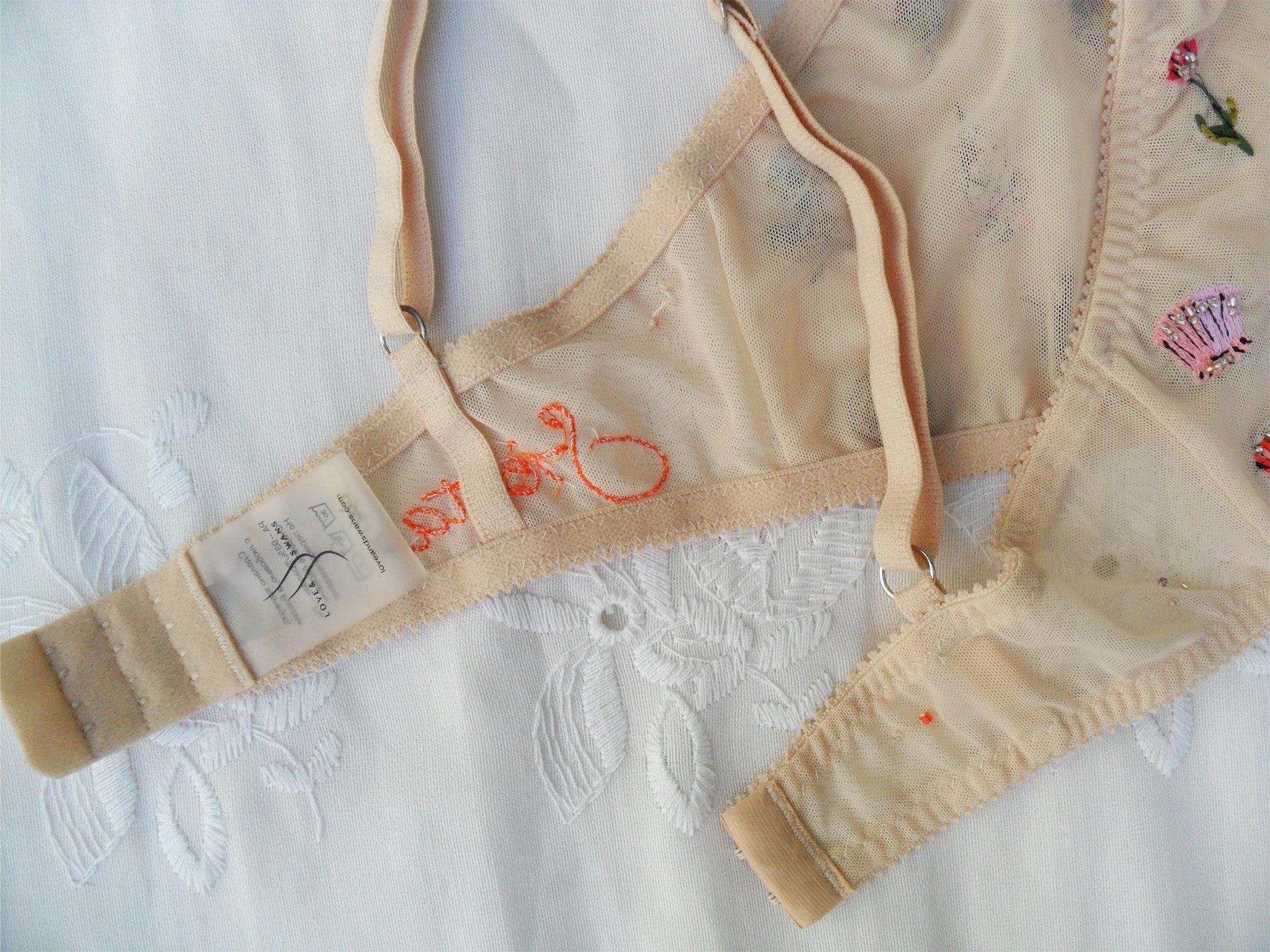 Construction
Both pieces are made entirely of sheer mesh, except for the thong's gusset which I think is cotton. They're edged with a delicate picot elastic, while the shoulder straps and leg straps are made from a very soft, plush elastic. It's an unusual choice considering most brands use satin elastic for decoration, however I like the matte appearance in the context of this set. On close inspection, it's clear that this elastic is intended for trimming edges, since it has a pattern along one side, but it's so subtle that it doesn't detract from the overall appearance. The strap rings and sliders are silver-tone metal.
The front panels of the bralette and thong are lined with a second layer of mesh, to avoid the backs of the embroideries touching the skin. The bra band is left unlined despite having a few embroidered details, but I haven't noticed any discomfort. Also noteable are the clear, rubbery labels instead of the typical fabric ones. I don't actually know what they are made from (silicone, maybe?) but I can't feel them at all when the set is on. Both pieces are very comfy!
The sewing throughout is very neat, and despite the obvious delicacy of the embellishment, it feels like a sturdily-made lingerie set. The gift box also contained a set of washing instructions which, no surprises, say hand-wash only. Love & Swans also advises avoiding the dryer, hot water, and twisting/wringing. This is definitely a set that requires special attention when it comes to cleaning and storage, but as someone who already hand-washes my lingerie, I haven't found it any more difficult to take care of than the rest of my collection. But anyway, a little extra TLC is oh-so worth it to keep something this beautiful looking that way for years to come!
Really, the only special precaution I've taken with this set is to wear it under loose-fitting clothing. I'm worried the beads might eventually work loose if they're rubbing against fabric all day long. But on that note, the double-layer of mesh makes the bralette opaque enough that you could even potentially wear it as a crop top!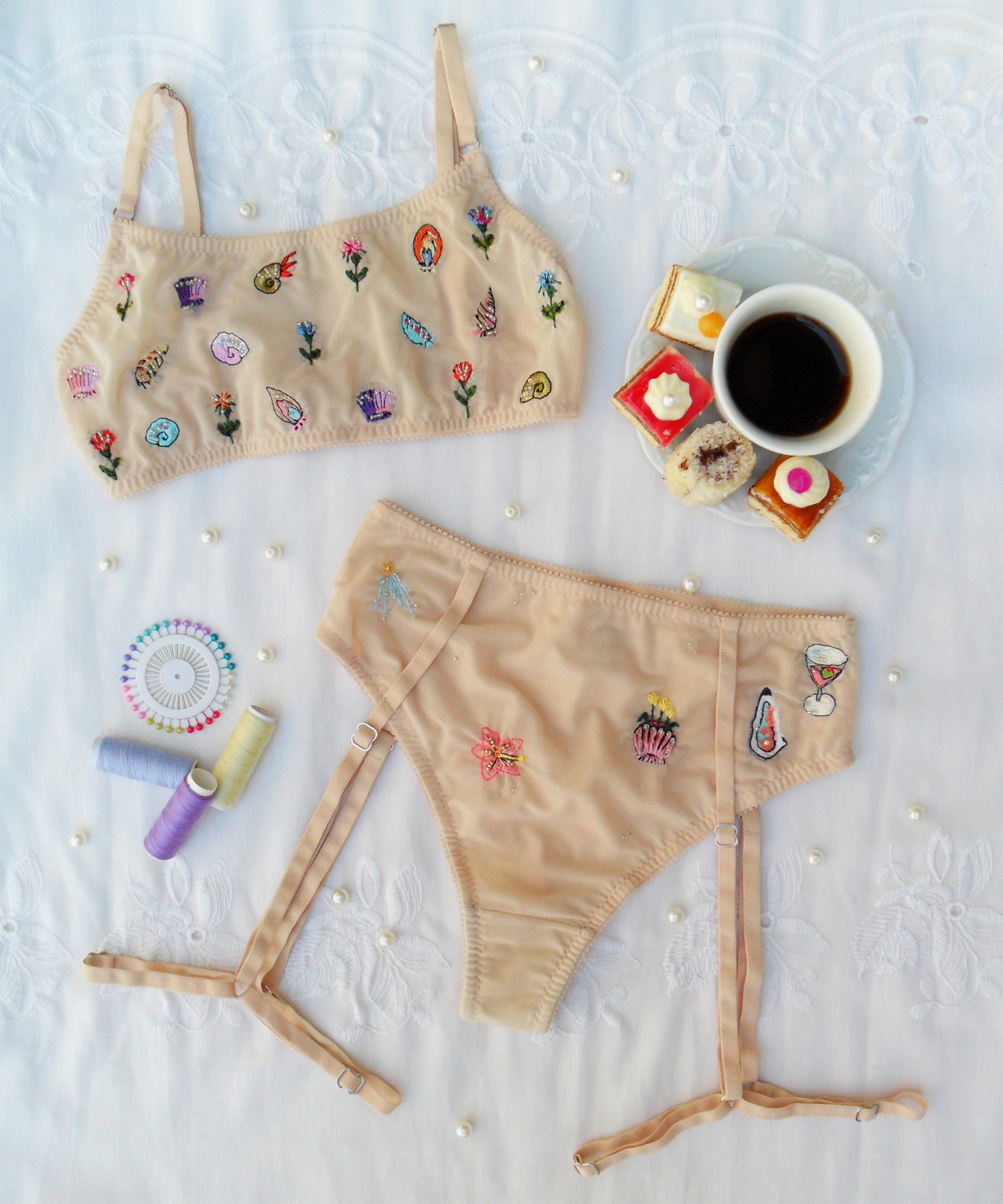 Love & Swans is a unique, artisanal treasure of a brand, and my favourite lingerie discovery I've made so far this year. Having now seen their craft up close, I'm in awe of the level of handiwork that must go into each set, and it is frankly astounding that these two pieces are priced as low as they are. I can only assume it has something to do with the currency value in Russia, but regardless, they should absolutely cost more! (But hey, while they don't, you should definitely go place an order if you like what you see).
Are you as in love with this set / brand as I am? What's your favourite Love & Swans design?