My absolute favourite thing about Instagram is how often I discover new lingerie brands over there, and Love & Swans is one such treasure that made its way onto my feed shortly after its February launch. I was instantly besotted with their beaded embroideries – how could I not be?
Based in Southern Russia, a small handful of employees bring each piece to life under the creative direction of Maria, who designs all of the embroideries and who co-founded Love & Swans with her partner Ivan. "I was thinking about what to do after graduating a Master of Finances. After an internship at a Big Four audit company, it became clear to me that this path is not for me," Maria told me, "A simple question was asked – what do I love? I immediately answered – lingerie. The idea for Love & Swans was that underwear is a kind of treasure, something that a girl can admire ad infinitum… We decided to create collections of underwear that convey stories, concepts, images…".
The brand has so far released four looks (as well as made their signature shapes available in simple beige mesh). Their debut product launch was Champagne, a crop-style bralette and high-waist knicker set that aims to capture the decadence and cheerful atmosphere of the roaring 20s with its fabulously-sparkling sequin embroidery. It's a kitschy and fun design, but as with all Love & Swans creations, the heavy beading adds a definite sense of luxury too.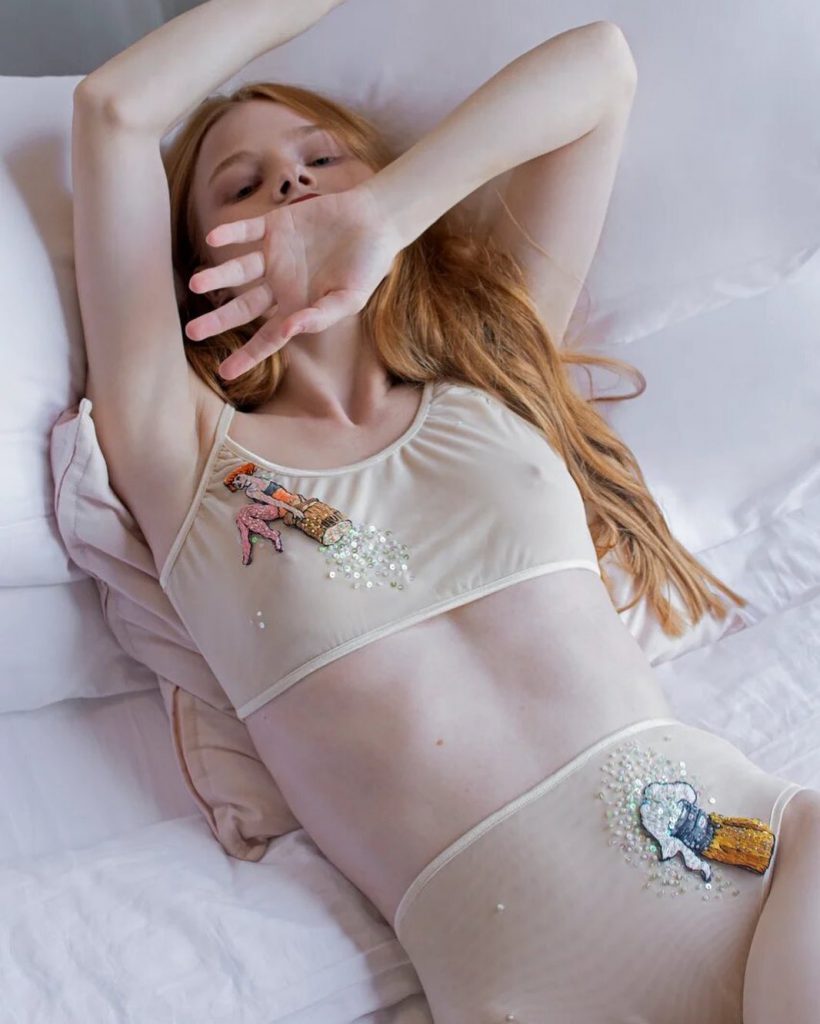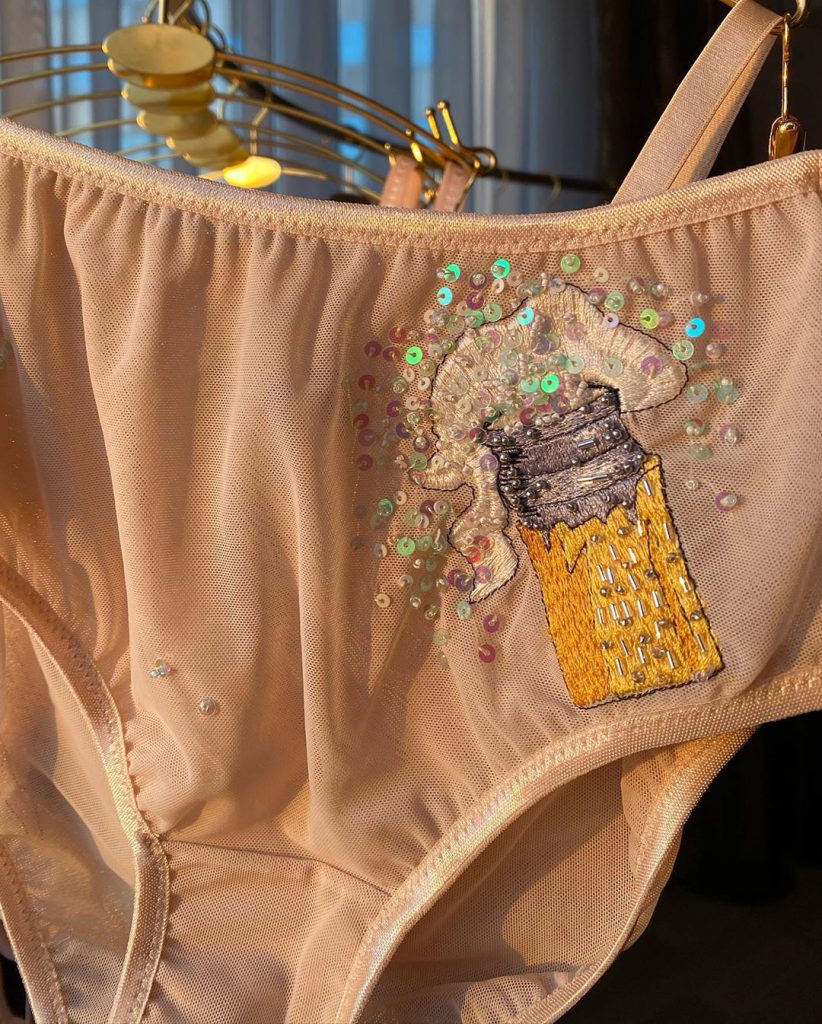 The Japan bra set includes Maria's take on shunga (Japanese erotic art) on the brief, while the bra is embroidered with a multitude of little koi fish, a symbol of good luck. Meanwhile, Santa Muerte, the only non-beige design to date, takes its inspiration from the Mexican 'saint of death' by featuring imagery such as a bejewelled skull and various iterations of a heart (Santa Muerte is also associated with love magic).
And finally there's the Paris bodysuit, which turns typical French clichés, such as coffee-and-a-croisstant, into a scattering of beautiful little works of art. There's also a more unexpected inclusion too – a yellow jacket embroidered onto the back, a subtle nod to the French protests of recent years. As an aside, I love that all angles have been considered, with almost every piece featuring a little something on the back too.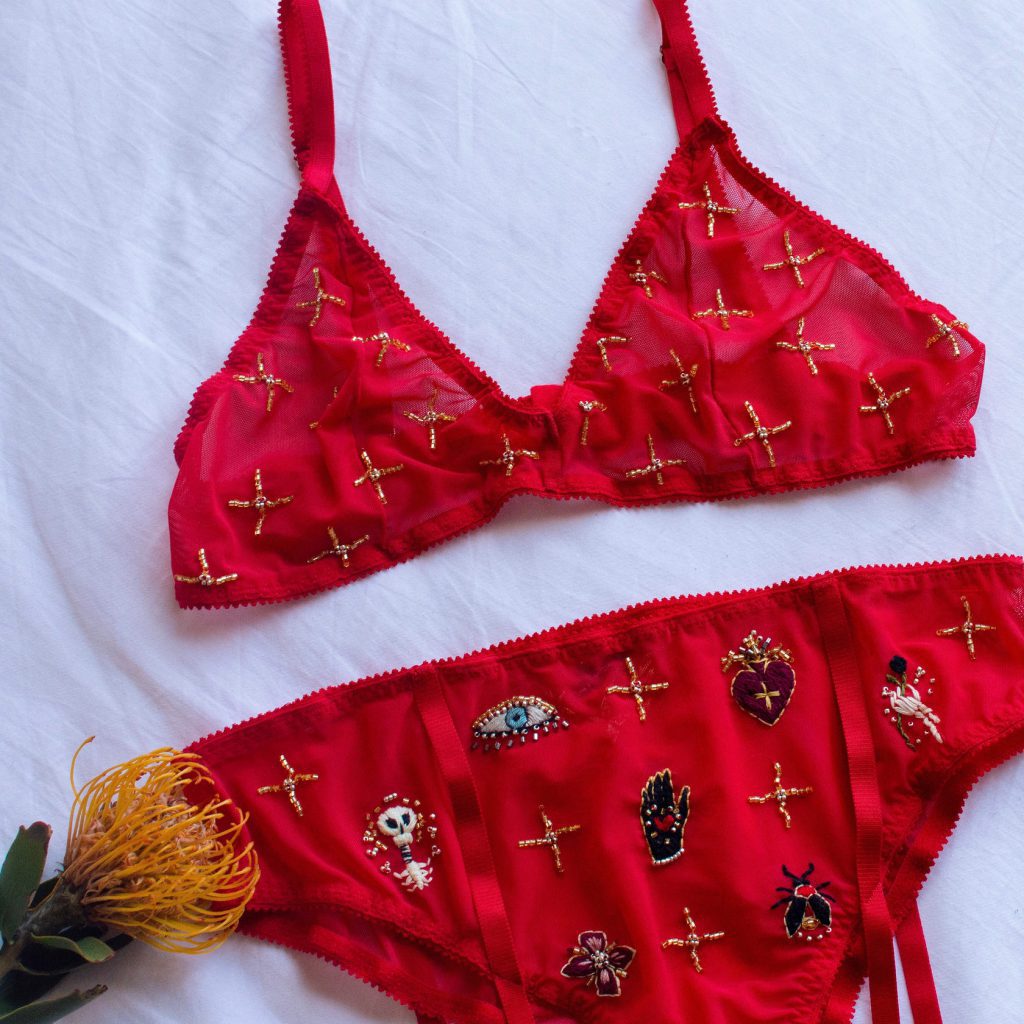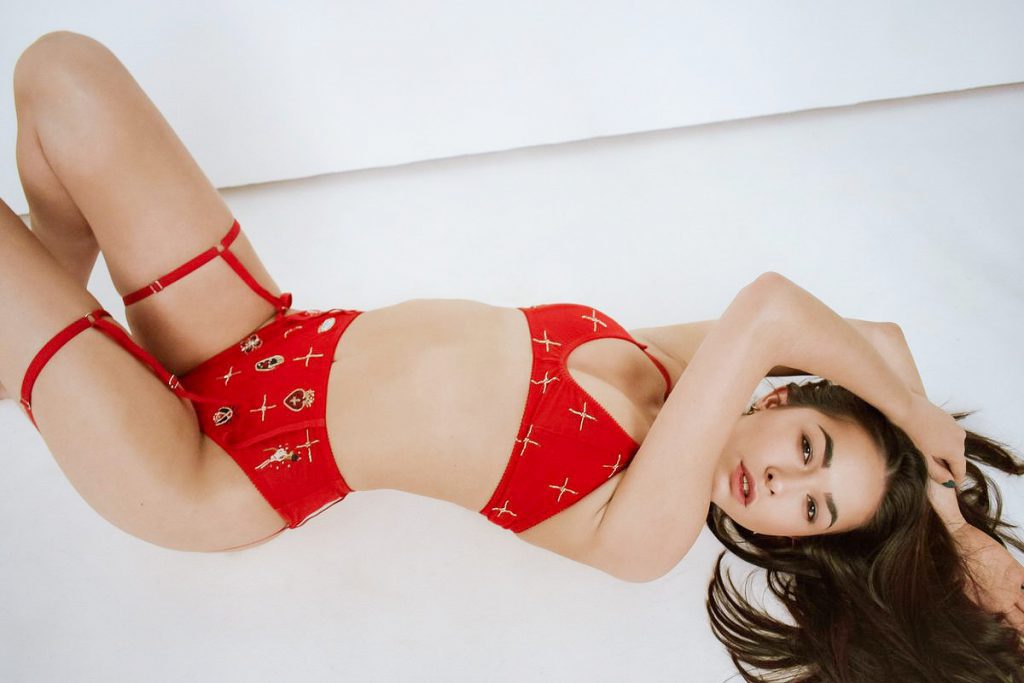 Love & Swans is made using OEKO-TEX certified fabrics, ships all orders in 100% recycled or compostable packaging, and states that its employees get a fair salary. Current prices range from 35€ (~£31 / $39) for a basic, unembroidered thong, through to 145€ (~£129 / $161) for the two-piece Japan set. That seems like incredible value for money to me, considering the amount of work that must go into each embroidered set – all of the beading, for example, is done by hand.
Briefs and bodysuits are available in sizes XS-XL. Bralette sizing is rather more limited, only covering A-B cups on three band sizes according to the size chart. However, when I asked Maria about the sizing, she said that the stretch fabric allows each garment to "easily adapt to the figure". Custom sizing is available for a fee.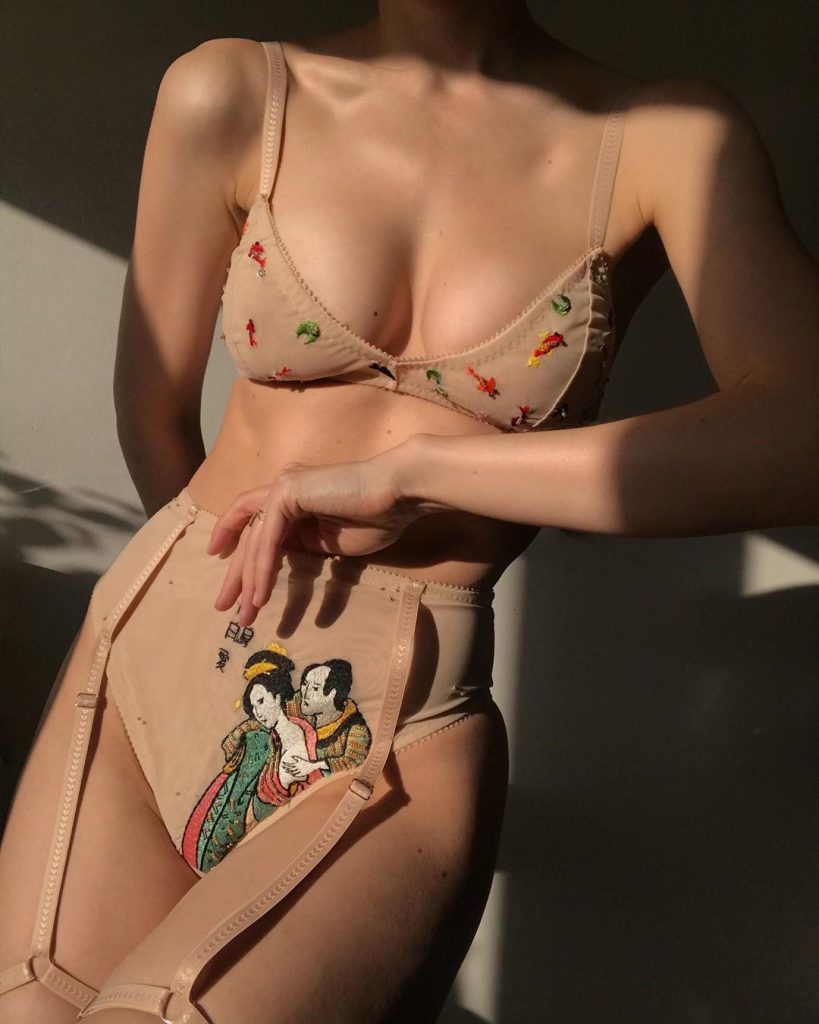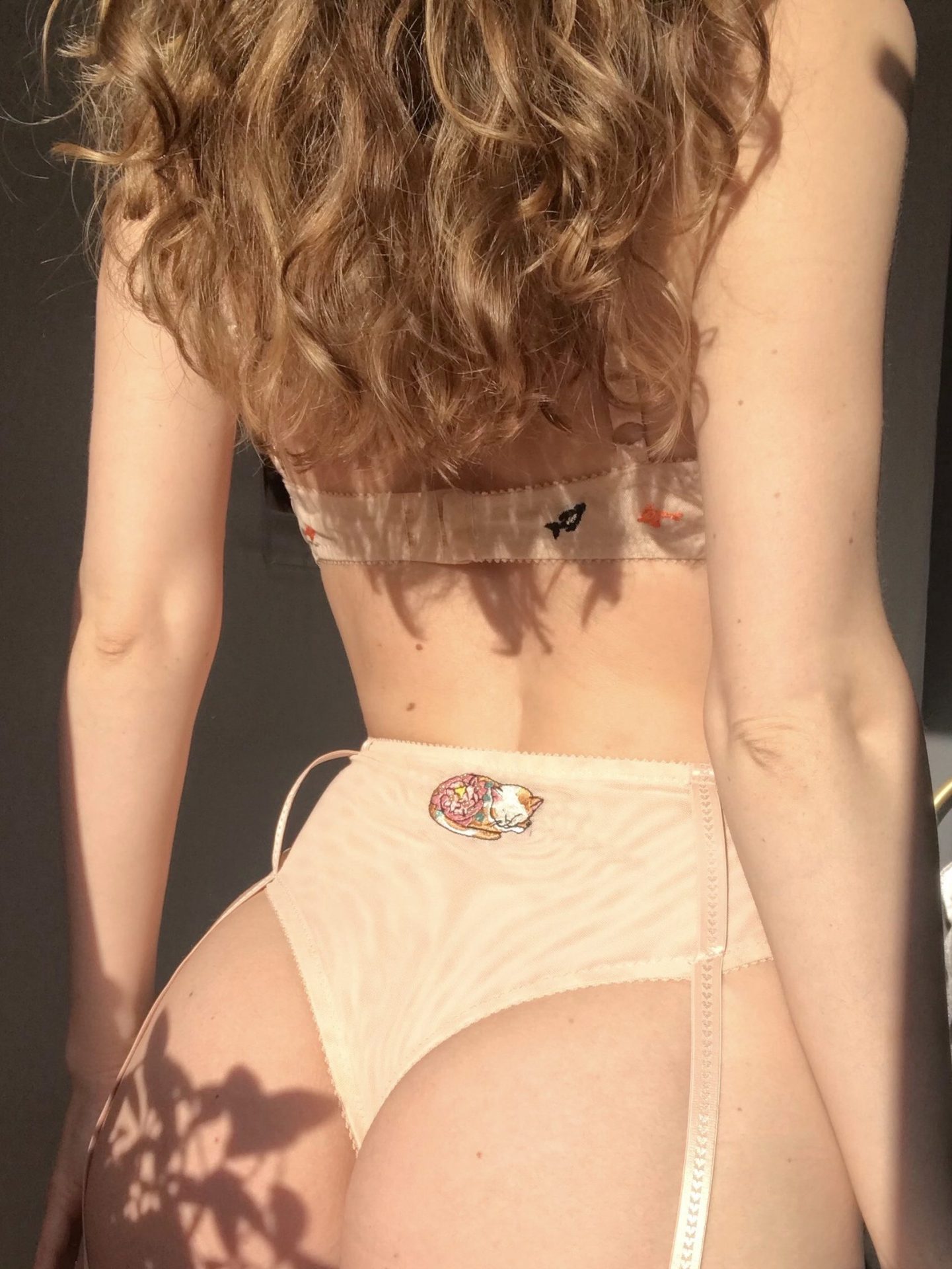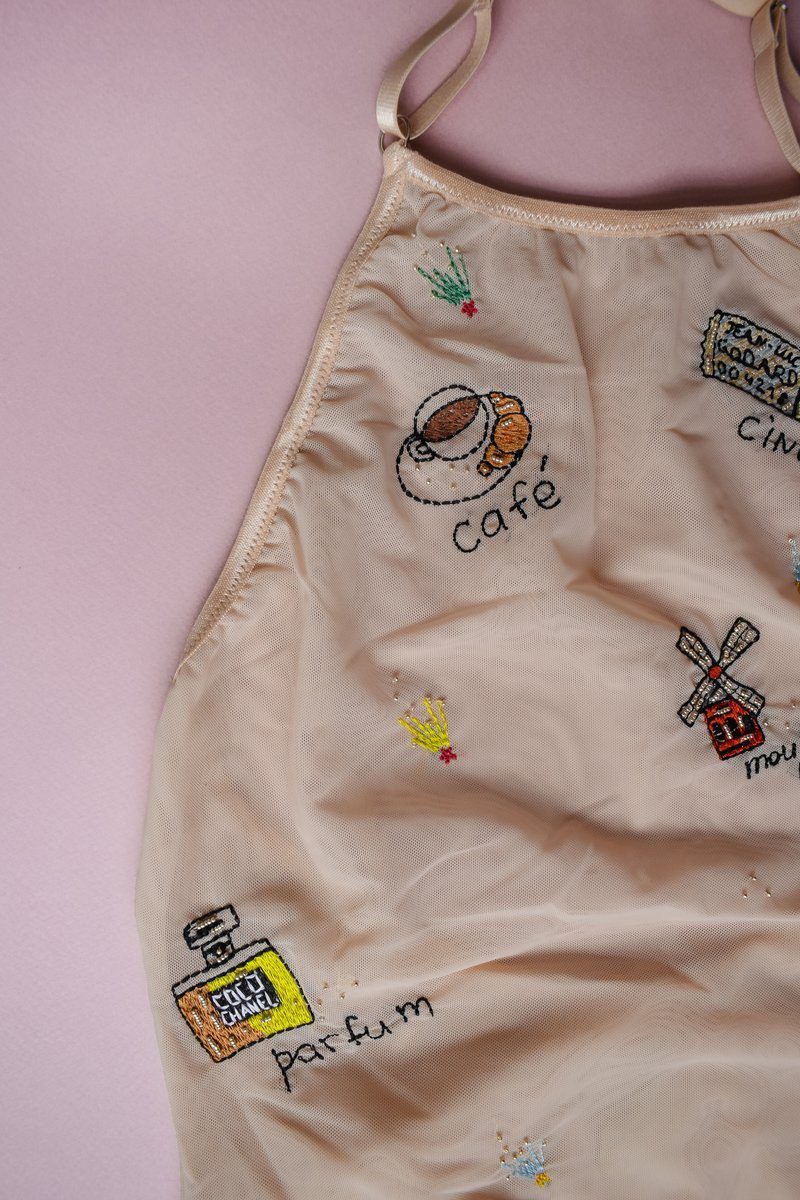 Although Love & Swans has an online storefront, for the time being the 'order' button simply tells the brand what you'd like to buy, and they will then follow up with a Paypal invoice. The Champagne set isn't on the English-language version of the website, but you can contact the brand to buy it (if you're fast, anyway – Maria told me they're down to the last few pieces!).
I'd love to hear what you think of Love & Swans. Aren't these embroideries just delightful?